Your list is empty.
Save musicians, entertainers, speakers, and services, and they'll appear here.
Free Quick Quote
This vendor provides virtual services
Back to Singing Guitarists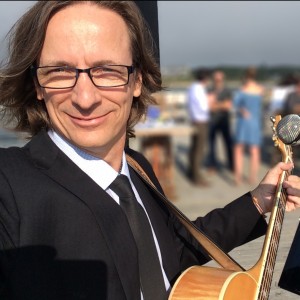 Glen Roethel. Best Acoustic Guitar, Vocal, Ukulele
4.97
(36 reviews)
New York City, NY
Travels up to 60 miles
$400 and up
Get a Free Quick Quote
Overview
Award-Winning Performing Singer-Songwriter, 65 Years of Greatest Hits, Custom-Songs & Entertainment. Insured for Liability.
As heard on Inside The NFL (TV), syndicated radio, US + International radio, many CDs, many stages.
• Virtual concerts, graduations, events, lessons
• Corporate Events: Team-Building Retreats; Department Parties (TED-TV, Legrand North America, Oliver Kinross, LTD - UK, etc.)
• Town Events: Oyster Fest (Oyster Bay, NY); Cruise Night; "Taste of" Events; Concerts
• Libraries
• Art Openings
• Festivals
• Private Parties
• Weddings: More than 2,000!
• Reunions: '50s thru today
• Sing-along, Beach: YES
• Beautiful Music (& dancing): vineyards, country clubs, restaurants.
---
---
Booking Info
Gig Length: 60 - 330 minutes
Languages: English, Spanish
Insurance: $1,000,000 - En
What to Expect
Expect to be entertained, dazzled, and pampered by this energetic and skillful artist. Neat presentation, timely arrival and setup, exceptional sounding compact PA system, professional musical instruments, constant attention to your needs, and flexibility to make adjustments when needed.
The following are genuine testimonials:
**** "A great voice!" ~ John Platt, WFUV-NY
**** "Glen has that gift which brings out a spark in people." ~ Amy Tuttle, Long Island Music Hall of Fame
**** "Monster musician!" ~ Kenny Edwards (Stone Poneys, Linda Ronstadt)
**** "Sounds great!" ~ Billy Joel (Billy crashed Glen's solo performance once and sang with him for 40 minutes)
**** "Glen's music put me in the mood..in a space...before he even started singing." ~ Jeffrey Gaines
**** "I LOVE his voice!" ~ Penny Nichols (Original Jimmy Buffet 'Coral Reeferette')
**** "Glen, how do you know so many Beatles songs...and play them so well?!" ~ John Henry Redgate (Paul McCartney in Beatlemania, on Broadway and in Japan)
**** "Just GREAT. Performances straight from the heart!" ~ Jean Alain Roussel (Cat Stevens, Celine Dion, Bob Marley & The Wailers, Thin Lizzy, 10cc, The Police)
**** "Myrna & I are award winning writers, but words can't express how delighted we are with Glen's participation at our daughter's 50th birthday party. His exceptional talent is matched by his niceness and every one attending the event told us..."Wow, where did you find that fabulous performer?" Glen also accompanied performances by our granddaughter and Lou and as the evening closed, Glen sent everyone out on a high with a fabulous sing-along! We've worked with the biggest names in show business and Glen's performance is up there with the best." ~ Myrna & Lou Binder
About
GLEN ROETHEL
Generally speaking...
Somewhere between Folk and Rock, classic and modern, original and pop there walks a very fine award-winning singer-songwriter named Glen Roethel. He is a powerful vocalist and skillful guitarist who will impress any crowd but *always* stays mindful of why you *really* are there listening – in your earbuds, at the concert, or at the event – to have a great time.
About that...
"Glen has that gift which brings out a spark in people." - Amy Tuttle, Long Island Music Hall of Fame
Glen tours singing his own songs with guitar and ukulele – often improvising new songs on-the-fly – and even providing custom songwriting for special events.
Born in San Diego, Glen grew up in New York, developing his easy rapport with audiences in and around the Big Apple. He's a real crowd-pleaser and having learned from the best music of our era he's attracting fans of artists as diverse as the Righteous Brothers and Joni Mitchell, Jason Mraz and John Denver, the Black Eyed Peas and the Beatles. Applying these skills as a corporate and private entertainer, he gives performances which earn him 5-star reviews and "Best of" awards year after year. Glen has performed at literally thousands of events and parlays that experience into a great time for every audience member at every show. Every performance and song list​ is customised to the event, so no two shows are alike!
As an artist...
"A great voice!" - John Platt, WFUV-NY
He's a beloved national Posi (Positive Music) artist. His songs and music have been heard on nationally syndicated commercial radio, college and international radio, as well as on TV. His voice, music and performances inspire praise from celebrities like Billy Joel, Jeffrey Gaines, Kenny Edwards (Stone Poneys, Linda Ronstadt), Jean Alain Roussel (Cat Stevens, Celine Dion, Bob Marley & The Wailers, Thin Lizzy, 10cc, The Police), Penny Nichols (original Jimmy Buffet Band 'Coral Reeferette'), John Redgate (Paul McCartney in Beatlemania, on Broadway and in Japan) and others. To his credit are several self-produced CDs (From Beginning to End, Smaller Things, Unfolding [solos, Inspireline Records]; Red Apples And Gold, Songs of Hope and Freedom [Gathering Time, Inspireline Records], ambition [gush, Indigo Records]), new compilations by emPower Music & Arts (More Than A Season, Infinite Surface Of The Heart, Go Out and Shine!), as well as performances, cowrites, and production credits on gorgeous and award-winning recordings by Penny Nichols, Sue Riley, Joe Iadanza, Paul Helou, Mara Levine, Josh Joffen, Kayli Joseph, Phil Teumim, Mitch Katz, Amy Soucy & Sharon Goldman, Michael Carr, DejaVoodoo, Grimm Jack, Pat Nichols Band and more.
More tidbits…
Glen is the founder of the recently popular (now reformed) folk-rock harmony trio Gathering Time, co-creator of AcousticMusicScene.com, and sole proprietor of his indy label, Inspireline, and music publishing company, Laughing Buddha Music/BMI. He teaches guitar, songwriting, and performance at Summersongs in New York (Summersongs.com – a not-for-profit organization for which he now serves on the Board of Directors), at the Posi Music Festival in Tampa, FL. He was a songwriter contest finalist for the Susquehanna Music & Arts Festival and a jury-selected performer at the 5th Annual Singer-Songwriter Cape May festival and at the Northeast Regional Folk Alliance conference (NERFA) in Tricentric, Quadcentric, and Main-stage showcases. In 2014, Glen received honors from the Mid-Atlantic Song Contest (MASC), Songwriters' Association of Washington, DC for four songs ("Too Much Crying" [God prize in the General category], "Sweet Cider" [Honorable Mention in the Country / Bluegrass category], "The Family Tree" [Honorable Mention in the Acoustic / Folk category] and "Dandelion Dreams" [Honorable Mention in the Open category], a cowrite with Sue Riley), as well as three Posi Award nominations for his songs "Beautiful Now," "Family" and "Together" (all from his 2013 CD, Unfolding, on Inspireline).
His song "Namaste" was featured in a multi-media exhibit at the Presidential Museum in Texas for three months; his songs "People of the Earth" and "Morning Prayer" are published in New Thought songbooks for Unity Worldwide Ministries ("People of the Earth" was also included in the Hal Leonard Corp songbook, 101 Inspiring Songs: The Ultimate New Thought Fakebook in 2013). Glen enjoys making a habit of encouraging songwriters and other artists, both young and old; he gives guitar lessons to select students (at all levels of ability); and is a frequent record production consultant, vocal arranger, studio guitarist/vocalist, recording engineer, and graphic/web designer.
==================
Radio promotion:
Tracey Delfino
Trespass Music
Inspireline Records: Inspireline.com
Publishing: Laughing Buddha Music/BMI
Additional Booking Notes
My only requirements, generally, are as follows:
• shade cover and rain protection, if outdoors
• staging area (or stage) at least 7' wide and 5' deep
(1) grounded electrical outlet
(1) small table (approx. 2' x 2' min.)
(1) stool, if a long (or quiet) event
• spring water or seltzer, especially if outdoors
* I generally provide my own excellent compact sound system if event is within driving distance for me. If that is not the case, you may have to provide sound.
* No lighting requirements.
Services Offered
Set List
Different at every event, drawn from thousands of songs, special requests, original songs) - maybe a custom song just for you! Here are some partial lists with fun combinations:
*** GET UP AND DANCE! ***
I Got A Feeling (Black Eyed Peas)
Shut Up And Dance (Walk The Moon)
Counting Stars (OneRepublic)
Message In A Bottle (Police)
Hit Me With Your Best Shot (Pat Benatar)
Locked Out Of Heaven (Bruno Mars)
Hey Ya (Outkast)
Born To Run (Bruce Springsteen)
Build Me Up Buttercup (The Foundations)
Crazy Little Thing Called Love (Queen)
Good Lovin' (Young Rascals)
Love Shack (B-52s)
I'm A Believer (Monkees)
Joy To The World (Three Dog Night)
La Bamba (Los Lobos)
Marry You (Bruno Mars)
Summer of '69 (Bryan Adams)
Mony Mony (Billy Idol)
My Sharona (The Knack, 1979)
Proud Mary (CCR)
Old Time Rock and Roll (Bob Seger)
Pink Cadillac (Bruce Springsteen)
Your Momma Don't Dance (Loggins & Messina)
Rock And Roll Music (Chuck Berry)
Rock Around The Clock (Bill Halley's Comets)
Surfin' USA (Beach Boys)
Fun Fun Fun (Beach Boys)
The Twist (Chubby Checker)
Wild Night (Van Morrison, John Mellencamp)
Wild Thing (The Troggs)
Will It Go Round In Circles (Billy Preston)
You May Be Right (Billy Joel)
You Really Got Me (Kinks)
She Loves You (Beatles)
*** ROMANTIC, SLOW DANCE ***
All Of Me (John Legend)
Marry Me (Train)
Perfect (Ed Sheeran)
Thinking Out Loud (Ed Sheeran)
I Won't Give Up (Jason Mraz)
I'm Yours (Jason Mraz)
Budapest (George Ezra)
Count On Me (Bruno Mars)
Everything (Michael Bublé)
I Can't Help Falling In Love (Elvis Presley)
Over The Rainbow (IZ, ukulele)
What A Wonderful World (IZ, ukulele)
Love Me Tender (Elvis Presley)
She Will Be Loved (Maroon 5)
Unchained Melody (Righteous Brothers)
Book of Love (Peter Gabriel)
Have I Told You Lately (Van Morrison)
My Girl (Temptations)
Wonderful Tonight (Eric Clapton)
I Choose You (Sara Bareilles)
Just The Way You Are (Billy Joel)
She's Always A Woman
She's Got A Way
The Way I Am (Ingrid Michaelson)
I Will (Beatles)
If I Fell (Beatles)
Here There And Everywhere (Beatles)
The Wedding Song (P. Yarrow)
You're Beautiful (James Blunt)
Your Song (Elton John)
You're My Home (Billy Joel)
*** BOATS & BEACHES, REGGAE & CALYPSO ***
Into The Mystic (Van Morrison)
Beyond The Sea (Bobby Darin)
Sea of Love (Honeydrippers)
Blue Bayou (Linda Ronstadt)
Bridge Over Troubled Water (Simon & Garfunkel)
California Girls (Beach Boys)
Day-O - Banana Boat Song (Harry Belafonte)
Help Me Rhonda (Beach Boys)
Over The Rainbow (IZ, ukulele)
What A Wonderful World (IZ, ukulele)
Dock of the Bay (Otis Redding)
The Tide Is High (Blondie)
Jamaican Farewell (Harry Belafonte)
Limbo Rock (Chubby Checker)
One Love (Bob Marley)
Red Red Wine (Neil Diamond - UB40)
Margaritaville (Jimmy Buffet)
Volcano (Jimmy Buffet)
Kokomo (Beach Boys)
Sloop John B
Surfin' USA
*** COUNTRY, AMERICANA, ROOTS, CALIFORNIA, SOUTHERN ***
Ho Hey (Lumineers)
Wagon Wheel (Old Crow Medicine Show)
Home (Phillip Phillips)
Cotton-Eyed Joe (Rednex)
Brown Eyed Girl (Van Morrison)
Into The Mystic
Moondance
Wild Night
Amy (Pure Prairie League)
Sweet Caroline (Neil Diamond)
Friends In Low Places (Garth Brooks)
Chicken Fried (Zac Brown)
Bless The Broken Road (Rascal Flatts)
Walking in Memphis (Marc Cohn)
Shake It Off (Shania Twain)
Runaround (Blues Traveller)
A Thousand Years (Christina Perri)
Bad Moon Rising (CCR)
Have You Ever Seen The Rain (CCR)
Proud Mary (CCR)
Our House (CSNY)
Teach Your Children (CSNY)
Ramblin' Man (Allman Brothers)
Garden Party (Ricky Nelson)
Summer Breeze (Seals & Crofts)
Dance With Me (Orleans)
Crazy Love (Poco)
Cracklin' Rosie (Neil Diamond)
Longfellow Serenade (Neil Diamond)
Rock Me Gently (Neil Diamond)
Song Sung Blue
A Horse With No Name (America)
Don't Cross The River (America)
Daisy Jane (America)
I Need You (America)
Lonely People (America)
Sister Golden Hair (America)
Tin Man (America)
Ventura Highway (America)
The Weight (Band)
Raindrops Keep Fallin' On My Head (B.J.Thomas)
Morning Has Broken (trad, Cat Stevens)
The Wind (Cat Stevens)
Where Do The Children Play (Cat Stevens)
Wild World (Cat Stevens)
Longer (Dan Fogelberg)
Beautiful Sunday (Daniel Boone)
King Of The Road (Roger Miller)
And I Love You So (Don McLean)
Vincent (Don McLean)
Black Water (Doobie Brothers)
Listen To The Music
Long Train Runnin'
Save The Last Dance For Me (Drifters)
Best Of My Love (Eagles)
Desperado (Eagles)
Lyin' Eyes (Eagles)
One Of These Nights (Eagles)
Peaceful Easy Feeling (Eagles)
Pretty Maids All In A Row (Eagles)
Take It Easy (Eagles)
Take It To The Limit (Eagles)
Tequila Sunrise (Eagles)
Witchy Woman (Eagles)
Daniel (Elton John)
All Shook Up (Elvis Presley)
Don't Be Cruel (Elvis Presley)
Hound Dog (Elvis Presley)
I Can't Help Falling In Love (Elvis Presley)
Love Me Tender (Elvis Presley)
That'll Be The Day (Everly Brothers)
Rhinestone Cowboy (Glen Campbell)
Pumpkin Street (Glen Roethel)
If You Could Read My Mind (Gordon Lightfoot)
Ripple (Grateful Dead)
Cats In The Cradle (Harry Chapin)
Carolina In My Mind (James Taylor)
Fire And Rain (James Taylor)
How Sweet It Is (To Be Loved By You) (James Taylor)
Shower The People (James Taylor)
Something In The Way She Moves (James Taylor)
Sweet Baby James (James Taylor)
Your Smiling Face (James Taylor)
You've Got A Friend (James Taylor)
Bad Bad Leroy Brown (Jim Croce)
I'll Have To Say I Love You In A Song (Jim Croce)
I've Got A Name (Jim Croce)
Jack And Diane (John Cougar)
Annie's Song (John Denver)
Achy Breaky Heart (Billy Ray Cyrus)
American Pie (Don McLean)
Rocky Mountain High (John Denver)
Take Me Home Country Roads (John Denver)
Thank God I'm A Country Boy
Sunshine On My Shoulders
A Boy Named Sue (Johnny Cash)
Ring Of Fire (Johnny Cash)
The Gambler (Kenny Rogers)
Through The Years (Kenny Rogers)
Dancin' In The Moonlight (King Harvest)
Danny's Song (Loggins & Messina)
Your Mama Don't Dance (Loggins & Messina)
Sweet Home Alabama (Lynyrd Skynyrd)
Heart Of Gold (Neil Young)
Dance Dance Dance (Steve Miller Band)
Down In The River To Pray (traditional)
Always On My Mind (Willie Nelson)
City Of New Orleans (Steve Goodman)
*** BEATLES! ***
A Day In The Life
All You Need Is Love
All My Loving
All Together Now
Blackbird
Can't Buy Me Love
Do You Want To Know A Secret
Eight Days A Week
Eleanor Rigby
Fixing A Hole
From Me To You
Get Back
Give Me Love (George Harrison)
Good Day Sunshine
Got To Get You Into My Life
Hard Day's Night
Help
Here Comes The Sun
Here There And Everywhere
Hey Jude
I Feel Fine
I Saw Her Standing There
I Should Have Known Better
I Want To Hold Your Hand
I Will
I'll Follow The Sun
I've Just Seen A Face
If I Fell
Imagine
In My Life
Julia
Lady Madonna
Let It Be
Love Me Do
Magical Mystery Tour
Maxwell's Silver Hammer
Michelle
Norwegian Wood
Nowhere Man
Ob-la-di Ob-la-da
Octopus's Garden
Photograph (Ringo Starr)
Please Please Me
Revolution 1
Sgt. Pepper's Lonely Hearts Club Band
She Came In Through The Bathroom Window
She Loves You
She's Leaving Home
Something
The End
The Long And Winding Road
Things We Said Today
This Boy
Twist And Shout
Two Of Us
We Can Work It Out
When I'm Sixty-Four
While My Guitar Gently Weeps
With A Little Help From My Friends
Yellow Submarine
Yesterday
You Can't Do That
You Never Give Me Your Money Medley
You Won't See Me
You've Got To Hide Your Love Away
Your Mother Should Know
*** DEFINITELY '80s! ***
Abracadabra (Steve Miller Band)
Always Something There To Remind Me (Naked Eyes)
Down Under (Men At Work)
Faith (George Michael)
It's Still Rock & Roll To Me (Billy Joel)
Love Shack (B-52s)
Maneater (Hall & Oates)
Missing You (John Waite)
My Sharona (The Knack)
Never Surrender (Corey Hart)
Situation (Yaz)
Still Haven't Found What I'm Looking For (U2)
Still Rock And Roll To Me (Billy Joel)
Tainted Love (Soft Cell)
The Tide Is High (Blondie)
Time After Time (Cyndi Lauper)
True Colors (Cyndi Lauper)
Walk Like An Egyptian (Bangles)
*** FEELS LIKE 50's ***
A Teenager In Love
Another Saturday Night
At The Hop
Big Girls Don't Cry
Chantilly Lace
Come Go With Me
Crocodile Rock (Almost '50s! Elton John)
Cupid
Earth Angel
Havin' A Party
I Only Have Eyes For You
In The Still Of The Night
Jamaican Farewell (Harry Belafonte)
Johnny B. Goode (Chuck Berry)
Let The Good Times Roll
Limbo Rock (Chubby Checker)
Only You (Platters)
Poison Ivy (The Coasters)
Pretty Woman (Roy Orbison)
Rock And Roll Music (Chuck Berry)
Rock Around The Clock (Chubby Checker)
Runaround Sue (Dion)
Sea Of Love (Phil Phillips, Honey Drippers)
She Was Only Sixteen (Dr Hook)
Stand By Me (Ben E. King)
The Lion Sleeps Tonight (The Tokens)
The Twist (Chubby Checker)
The Wanderer (Dion)
The Way You Do The Things You Do (Temptations)
This Magic Moment (Drifters)
Tutti Frutti (Little Richard)
Up On The Roof (TDrifters)
Under The Boardwalk (Drifters)
Why Do Fools Fall In Love (Teenagers)
Wonderful World (Sam Cooke)
You Send Me (Sam Cooke)
*** CLASSIC FOLK & FOLK-ROCK ***
American Pie (Don McLean)
Blowin' In The Wind (Bob Dylan)
Both Sides Now (Judy Collin)
California Dreamin (Mommas & The Poppas)
He Ain't Heavy, He's My Brother (The Hollies)
Helplessly Hoping (CSNY)
Just A Song Before I Go (CSNY)
Teach Your Children (CSNY)
Woodstock (CSNY)
Leavin' On A Jet Plane (Peter, Paul & Mary)
Puff The Magic Dragon
Mr Bojangles (Nitty Gritty Dirt Band)
Get Together (The Youngbloods)
Turn Turn Turn (The Byrds)
Mr Tambourine Man (The Byrds)
Mrs Robinson (Simon & Garfunkel)
The Weight (The Band)
Moonshadow (Cat Stevens)
Oh Very Young (Cat Stevens)
We Shall Overcome (traditional, Pete Seeger)
*** CLASSIC ROCK ***
Any Way You Want It (Journey)
Baker Street (Gerry Rafferty)
Barely Breathing (Duncan Sheik)
Big Yellow Taxi (Joni Mitchell, Counting Crows)
Free Fallin' (Tom Petty)
I Can See Clearly Now (Johnny Nash)
I Want You To Want Me (Cheap Trick)
Is She Really Going Out With Him (Joe Jackson)
Jet Airliner (Steve Miller Band)
Kokomo (Beach Boys)
Landslide (Stevie Nicks)
Life's Been Good (Joe Walsh)
Love Potion #9 (Clovers)
It's Still Rock & Roll To Me (Billy Joel)
Takin' Care Of Business (BTO)
*** PEACE IN THE WORLD ***
From A Distance
Imagine
Let It Be
Peace Train
We Shall Overcome
*** CROONERS, DIVAS, LOUNGE ***
All of Me (Sinatra)
Autumn Leaves
Crazy
Fly Me To The Moon
Summer Wind
I Left My Heart In San Francisco
Can't Get Enough Of Your Love Babe
Mac The Knife
Moon River
NY, NY
My Eyes Adored You
The Rose
You've Lost That Lovin Feelin
*** ANTHEMIC ***
Drift Away
From A Distance
Hallelujah
Lean On Me
Hotel California
Somewhere Over The Rainbow (IZ)
Piano Man
Imagine
Yesterday
American Pie
America the Beautiful
*** BROADWAY ***
On Broadway (George Benson)
Don't Cry For Me Argentina
Somewhere (There's A Place For Us)
The Prayer
Try To Remember
Kiss The Girl
Lullabye of Broadway
Summertime
*** FAVORITES NEW & OLD ***
Yellow (Coldplay)
Carry On (Fun)
I'm Gonna Be / 500 Miles (Proclaimers)
As Long As You Love Me (Backstreet Boys)
Summer Highland Falls (Billy Joel)
NY State of Mind
Three Little Birds
Don't Worry, Be Happy
Monster Mash
Brandy
Ants Marching
Influences & Inspiration
Jason Mraz, James Taylor, Jack Johnson, Paul Simon, Beatles, Paul McCartney, George Harrison, Cat Stevens, Steely Dan, Styx, Genesis
Setup Requirements
If amplifying: one grounded electrical outlet
room for 2 speaker stands
a small end table
If unplugged outdoors: shade from sun
In both cases: a bunch of people ready to have fun!