Your list is empty.
Save musicians, entertainers, speakers, and services, and they'll appear here.
Free Quick Quote
This vendor provides virtual services
Back to Guitarists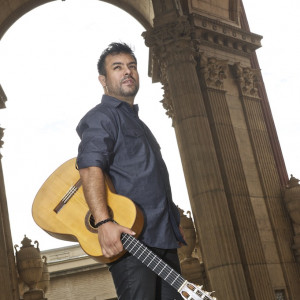 Gabriel Navia - Guitarist
5.0
(13 reviews)
New York City, NY
Travels nationwide
$600 - $5,000
Get a Free Quick Quote
Overview
Latin grammy nominated guitarist, composer and producer Gabriel Navia emanates an intimate and high energy level with latin passion and soul in his music. Navia has toured extensively around the world.
Gabriel's stylistic range is breathtaking from latin-based Carlos Santana and Alejandro Sanz to jazz- flamenco world-fusion pioneers Paco de Lucia and Vicente Amigo. You can hear this wealth of influences in the soulfulness of his playing.
Enjoy the best of this latin artist whether as solo guitarist or in duo, trio or with the full band
Gabriel offers to bring together a combination of some of the best professional musicians for a high quality live band experience.
---
---
Booking Info
Price Range: $600 - $5,000
Gig Length: 45 - 90 minutes
Languages: English, Spanish
What to Expect
A unique musical experience that combines virtuosity and sensibility. The strings of Navia bring sororities and vibrations both with traditional echoes as well as new and contemporary spices.
About
Gabriel Navia is one of Bolivias most internationally renowned emerging latino artist. Producer, guitarist, singer and composer, he has collaborated in 2 albums nominated for the Latin Grammys in 2012 and 2013. Gabriel is one of the most foremost exponents of latin music in the Bay Area.
Born into a musical family in Bolivia, Gabriel's career in music began at age eleven, with his performance in the disc "Encuentros" with Grammy nominee Eddy Navia and andean group Sukay in 1993. Since then he has recorded in over a dozen albums including a 2012 Latin Grammy nominated album "Piano y Charango" by Chuchito Valdes and Eddy Navia and 2013 Grammy nominated album "Carnaval en Piano Charango" by Eddy Navia and Chuchito Valdes.
Fusioning Latin music, flamenco, cuban, brazilian, jazz and traditional bolivian music in a contemporary and personal way, he has performed on many stages around the world including Asia, Europe, North and South America. Working on stage and in the recording studio with artist such as Chuchito Valdes, Eddy Navia, Fito Reinoso, Georges Lammam, Wayne Wallace, Jack Douglas (John Lennons recording enginier), Orestes Vilato, Karl Perazzo and Jeff Cressman (from the Santana band), John Santos, Calixto Oviedo, Roger Glenn, John Handy, Alfredo Coca, Joe Craven, Jeff Massanari, Alex Conde, Edgardo Cambon & Candela, Jesus Diaz, Sandy Perez, Fogo Na roupa, Los Kjarkas, Willy Claure, Grillo Villegas, Savia Andina, Colin Douglas, Melecio Magdaluyo, John Calloway, Ernesto Oviedo, Diablo Ballet and the San Francisco Symphony among others.
He studied at Instituto Eduardo Laredo in Cochabamba Bolivia with cuban master guitarist Gerardo Perez, The School of the Arts of San Francisco and the Jazz School of Berkeley CA. In 2002 he was honored with an Outstanding Musicianship Recognition by Berklee College of Music of Boston MA. In 2007 he received a scholarship by Fundacion Carolina to study in Barcelona with Flamenco guitar master Manuel Granados at the Conservatori del Liceu de Barcelona.
Gabriel is widely respected as one of the top guitarist in the field of latin and flamenco music in the San Francisco Bay Area community. He has participated and conducted workshops, lectures and clinics in the US and Latin America since 2003 at institutions of all types including Waldorf Schools from California, The Glass House of Stourbridge West Midlands England to Instituto Eduardo Laredo and the Conservatorio Milan of Cochabamba Bolivia.
Gabriel was founder and director of the instrumental andean music group Inti Wayna (1995- 1998), co-founder and director of latin pop group Simbao (1999-2001). Co-founder and director of the bolivian jazz ensemble Take five (1998 - 2000). He was co-founder and director of latin pop group Nomade which had hit single "Pensar en ti" among the top charts of bolivian pop music (2004- 2005). Co-founder of the instrumental contemporary music duo Arias-Navia (2003 - 2005). Founder and director of the Gabriel Navia trio, latin jazz and flamenco ensemble (2003 - 2005). He produced and recorded his first full lenght solo album "Latin Guitar Waves" in 2006. He produced and recorded the album "Madera" in a Jazz-Flamenco guitar duo with Ari Caprow in 2009. He participated in the production of 2 albums nominated for the Latin Grammys in (2012 - 2013} with Chuchito Valdes and Eddy Navia.
Gabriel's work has been recognized and supported by the San Francisco Latino Community Foundation, Fundacion Carolina in Spain, Berklee College of Music in Boston, Club Cultural Deportivo Bolivia of Los Angeles California. Among celebrities and supporters such as former San Francisco mayors Willie Brown and Lt. Gov. of California Gavin Newsom and legendary comedian Robin Williams.
Additional Booking Notes
TECHNICAL REQUIREMENTS FOR PRIVATE EVENTS :
ONE (1) Armless Chair
- Access to power 15 feet away from the performance area. 1 dedicated 20-amp circuit is required to ensure safe performance.
-Protection from the elements (tents/umbrellas for outdoor performances, specially in direct sun) and/or an indoor option if rain is to occur prior to or during outdoor performances. Tents should be no less than 15' x 10'.
Level performance surface. (Performing on grass, gravel, or slanted floors is unacceptable.)
GABRIEL NAVIA GROUP
TECHNICAL REQUIREMENTS FOR THEATERS AND BIG HALLS ONLY:
CHAIRS: -THREE (3) concert type armless chairs
STOOLS: TWO (2) LARGE STOOLS
STAGE: Black Curtain Chamber or Rigid Wings - Stage Width: 40 feet (12 meters)
- Stage Depth: 36 feet (10 meters)
House Audio
The promoter will provide a high quality system, multiway active, this system must produce 100 DB A at average level at the mix position. It will have a flat response from 20Hz to 20KHz
P.A. SYSTEM - MEYER MSL 4, CLAIR BROTHERS.
Example: 1-500 people - 6000W 500-800 people - 10.000W 1000 people - 2000 people 15.000W
The mixing desk will be placed between both sound systems and in 2/3 of the venue, NEVER under balconies and always in the same level as the audience. If there is no area for the P.A desk, the PROMOTER will eliminate some seats in order
to have this desk in a perfect position. No exception will be made to this issue.
In Theatres or big halls, the sound system will also have "delays" to assure that the sound will produce the same dB pressure in all the audience seats. These delays should be speakers from the same manufacturer as the P.A. and will be rigged from the ceiling to reach the balconies.
Lighting Director must have full use and operation of desk/computer during set-up and performance, use of horizon and backdrop and legs. Backlights to be hung and not be seen by the audience.
- ONE (1) Hazer
- ONE (1) 2ft. Black Crown Row (to hide floor lights)
- ONE (1) Smoke Machine
* * Lighting requirements subject to change * *
TECHNICIANS/ASSISTANTS: House technicians must be available from set-up through performance.
- ONE (1) monitor engineer is needed for the monitor mix.
- ONE (1) Lighting director that knows how to program and explain the functions of the
desk / computer. This technician has to be available during dress Rehearsal and Sound Check.
- ONE (1) technician during set-up and performance to operate house bars on stage.
Influences & Inspiration
Paco de Lucia, Vicente Amigo, Santana, John McLaughlin, Al di Meola, Alejandro Sanz.
Setup Requirements
MIXING DESK YAMAHA PM3500, MIDAS XL3 or MIDAS XL4
ONE (1) Equalizer Klark Teknik 1/3 octave - DN 360 (stereo
Rack equipped with: TWO (2) LEXICON PCM 70 {or ONE (1) LEXICON PCM 90 and ONE (1) LEXICON PCM 90} TWO (2) YAMAHA
EIGHT (8) channel compressors BSS or DBX connections systems with multi-cable (with boxes)
TWO (2) AKG 451 CK1, 460's or KM184's ( For Acoustic Guitar)
- TWO (2) Shure SM 58 Beta (Vocals)
ONE (1) AKG D 112 (For Kick Drum)
- TWO (2) Direct Input Boxes
TWO (2) Articulated Arm Stands Floor Medium Size
TWO (2) Articulated Arm Stands Floor Large Size
-ONE (1) Roland Guitar Amplifier AC 90