Your list is empty.
Save musicians, entertainers, speakers, and services, and they'll appear here.
Free Quick Quote
This vendor provides virtual services
Back to Violinists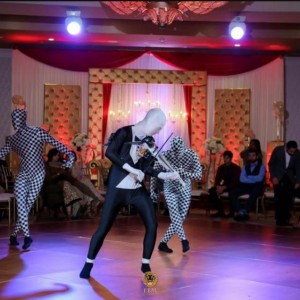 Fiddlers Dream Productions
5.0
(35 reviews)
West Hempstead, NY
Travels up to 120 miles
Starting at $225
Get a Free Quick Quote
Overview
We transform the ordinary to extraordinary, producing music for PBS, Madison Square Garden, the Wallstreet Reserve Cut Restaurant, and everything in between, for entertainment they will never forget.
We represent a variety of talented performers including Asher Laub, one of the most versatile classical and electric violinists in the NYC area. With over 2 decades of managing djs, live bands, breakdancers and celebrity performers we know how to make your special occasion memorable and exciting, whether it's a corporate event, wedding, concert, mitzvah, sweet16, fundraiser or special event.
---
---
Booking Info
Price Range: Starting at $225
Gig Length: 60 - 420 minutes
Languages: English, Hebrew
Insurance: $1,000,000 - Fiddlers Dream Productions can provide liability insurance if the venue does not already.
What to Expect
Asher often impresses guests with a clean, young and hip look, dressed in custom-fit suits complementing his uniquely designed glass electric violin. For cocktails Asher greets guests on the violin with his wireless strolling accompanied by high quality classical, broadway, celtic, bollywood, pop and disney backing tracks. During a concert he dances in sync with 2 other professional hip-hop back dancers supported by programmed stage lights. At a fundraising dinner he'll often perform a number of show pieces on stage with youthful energy that engages the crowd.
About
We are a unique entertainment group providing high-end musical services for a range of clients. Services include, but are not limited to live bands, strolling musicians, breakdancing performances, DJ and lighting services for weddings.
We have almost 2 decades of experience booking wedding musicians and musical entertainment for concerts, corporate fundraisers, private parties, mitzvahs, quinceaneras, sweet16s and other special occasions.
We provide some of the most versatile djs, bands, and electric violinists that perform pop, rock, jazz, broadway, classical, jewish/Israeli music, bollywood and popular south asian tunes.
We offer pop string ensembles , LED violinists, dueling violinists, a dancing violinist, and dj violinists for corporate events, weddings, and other special occasions.
Our live band dj hybrid features deejay with live saxophonist, trumpet, electric violinist, singers, percussionist, keyboardist and lighting for both corporate entertainment and wedding entertainment.
Our disc jockey and lighting package includes dj, vertical trusses supporting dmx-controlled moving heads, uplights, a logo spot of your choice, and custom-monograms on LCD screens. Customers love our interactive dance motivators, wireless electronic violinist and dedicated MC who are all masters at keep guests on the dance floor!
Our djs have thousands of tunes ready in any requested genre included top 40s, latin, salsa, rock, edm, house…you name it, we've got it!
Visit (link hidden) to learn more
Our featured violinist, Asher, began classical violin training at the tender age of 2 and had already performed with the Buffalo philharmonic by age 13.
Asher's expertise in trans-genre improvisation has led him to a career as a soloist in demand, performing at venues such as Madison Square Garden, Hammerstein Hall, Lincoln Center, the Jacob Javitz Center and across four continents. Asher has also been featured on PBS, and has made headlines on CNN, WABC, NBC, and the New York Post among many other major news sources.
Asher performs with three state of the art violins - a traditional acoustic violin and 2 modern LED electric violins, both of which can be amplified. His performances are enhanced with custom-edited audio tracks a wireless unit for dance performances along with his world-class breakdancing crew. Check out the videos and enjoy!
Asher also uniquely performs as a DJ violinist bringing his experience as a live performer and technical prowess as an audio editing and mixing guru to countless clubs and stages across the country.
Additional Booking Notes
Asher typically performs with both state of the art classical acoustic and glass electric violins. He has a sure wireless setup to stroll around the room in addition to a very high end acoustic amplifier. He can also provide a sound system for larger venues (250+ guests) for a 120$ fee. Plugging into any DJ, one-man-band or sound company is frequently and easily done for further amplification.
Services Offered
Past Booked Events
July 02, 2019

•

6:30pm - 7:00pm
Personal Occasion

March 21, 2019

•

6:00pm - 8:00pm
Religious Celebration

October 13, 2018

•

4:00pm - 6:00pm
Wedding Cocktail Hour

August 04, 2018

•

3:30pm - 5:30pm
Wedding Ceremony

August 02, 2018

•

9:30pm - 9:45pm
Wedding Ceremony

July 01, 2018

•

6:30pm - 7:00pm
Birthday Party

May 26, 2018

•

8:00pm - 8:30pm
Teen's Birthday Party

May 25, 2018

•

7:30pm - 9:30pm
Wedding Reception

February 16, 2018

•

7:30pm - 8:00pm
Fundraiser

January 13, 2018

•

11:00am - 11:45am
Wedding Engagement

December 18, 2017

•

11:00am - 12:00pm
Nonprofit Event

December 14, 2017

•

6:30pm - 6:45pm
Talent Competition

October 26, 2017

•

12:30pm - 3:00pm
House Party

September 10, 2017

•

7:00pm - 8:00pm
Corporate Event

August 26, 2017

•

9:30pm - 10:30pm
Wedding Reception

July 23, 2017

•

12:30pm - 1:30pm
Baby Shower

July 08, 2017

•

1:30pm - 3:00pm
Wedding Ceremony

June 24, 2017

•

7:30pm - 9:00pm
Graduation

June 09, 2017

•

6:00pm - 9:00pm
Wedding Reception

March 31, 2017

•

7:30pm - 7:45pm
Birthday (Adult)

January 28, 2017

•

7:00pm - 8:00pm
Bar/Bat Mitzvah Party

January 08, 2017

•

5:00pm - 7:00pm
Birthday (Child)

December 23, 2016

•

9:30pm - 9:45pm
Wedding Engagement

December 17, 2016

•

10:30pm - 10:45pm
Surprise

December 15, 2016

•

7:00pm - 9:00pm
Anniversary Party

December 15, 2016

•

6:00pm - 9:00pm
Corporate Event

December 11, 2016

•

5:00pm - 9:00pm
Corporate Event

October 28, 2016

•

1:00pm - 2:00pm
School Assembly

October 01, 2016–October 02, 2016

•

6:00pm - 12:00am
Wedding Cocktail Hour

August 28, 2016

Wedding Reception

July 16, 2016

•

8:30pm - 9:00pm
Quinceañera

June 18, 2016

•

8:00pm - 8:30pm
Wedding Ceremony

June 11, 2016

Wedding Ceremony

May 28, 2016

Birthday (Adult)

May 22, 2016

Wedding Ceremony

May 09, 2016

•

8:00pm - 8:15pm
Wedding Engagement

April 14, 2016

•

6:00pm - 7:30pm
Dinner Party

March 16, 2016

Wedding Reception

February 07, 2016

Sporting Event

December 31, 2015

Holiday Party (New Year)

December 19, 2015

Wedding Reception

December 12, 2015

Corporate Event

December 05, 2015

Wedding Engagement

December 02, 2015

Funeral/Memorial Service

November 26, 2015

Wedding Engagement

November 22, 2015

Anniversary Party

November 21, 2015

Cocktail Party

November 17, 2015

Cultural Event

November 03, 2015

Funeral/Memorial Service
Set List
Below is a categorized list of high quality backing tracks that Asher typically uses during solo performances. A complete list is provided for clients:
BROADWAY
Somewhere Over the Rainbow
Sunrise Sunset – Fiddler on the Roof
If I Were A Rich Man - Fiddler on the Roof
My Favorite Things
Oklahoma – Oh What a Beautiful Morning
Phantom of the Opera – Think of Me
Phantom of the Opera – Theme Song
"I Dreamed a Dream" - Les Miserables
*The Sound of Music Medley
CLASSICAL
Monti's Czardas
*Les Bicyclettes De Belsize
Hallelujah
Meditation from Thais
O Mio Babbino Caro
Time to Say Goodbye
A Thousand Years
La Cumparsita Tango
You Raise Me Up
*Kalinka - Russian tune
carmen habanera
Pachelbel's Canon
*Flower Duet
Green Sleeves
Hungarian Dance
Barcarolle
Bach, Air on the G string
Blue Danube
The Swan
Jupiter – the Planets
Ode To Joy from Symphony No. 9 in D Minor, Op. 125
Eleanor Rigby quartet - Beatles
The arrival Of The Queen Of Sheba*
DISNEY
Beauty and the Beast
Can you Feel the Love Tonight
Celtic Woman – the voice
Charlie and Chocolate Factory – Pure Imagination
Colors of the Wind - Pocahontas
Do you want to build a snowman - Frozen
Let it Go – Frozen
My Heart Will Go On – Titanic
The Circle of Life – Lion King
A Whole New World – Aladdin
A Dream Is a Wish Your Heart Makes – Cinderella
When You Wish Upon A Star
Tarzan- You'll be in my heart instrumental
(the sun will come out tomorrow)
Bella Notte – Lady and the Tramp
JAZZ/SHOWTUNES
Can't Take My Eyes Off Of You
Les Bicyclettes De Belsize
Frank Sinatra - I've Got You Under My Skin
Frank Sinatra - The Girl from Ipanema
Fly Me To The Moon
Tony Bennett - The Shadow Of Your Smile
Bei Mir Bist DuSchon
Beyond the Sea - Bobby Darin
All The Things You Are - Ella Fitzgerald
Tango 'Por una cabeza'
Mack The Knife – Bobby Darin
Blue Bossa
This Masquerade – George Benson
Little Sunflower – groove
Spain – Chic Corea
Blues Jam
(autumn leaves, watch what happens)
SLOW POP TUNES
Beautiful – Christina Aguilera
All Of Me – John Legend
Mirrors - Justin Timberlake
Bee Gees - How Deep Is Your Love
Just the way you are - Billy Joel
She's always a woman to me - Billy Joel
Lindsey Stirling- Crystallize
The prayer
Someone Like You – Adele
Change the world- Eric Clapton
Viva La Vida – Coldplay
Piano Man - Billy Joel
Can't help falling in love with you - Elvis
Love me tender – Elvis
What a wonderful world – Louis Armstrong
Kiss From A Rose –Seal
Bitter Sweet Symphony ( The Verve )
River Flows In You - slow rock instrumental
Stay With Me - Sam Smith
UPBEAT POP/HIP HOP/ROCK
Marry You - Bruno Mars
Michael Jackson Medley
Wake Me Up! - Avicii
Kashmir-Led Zeppelin
Beat it – Michael Jackson
Rather Be - Clean Bandit
Victory – Bond
Halo – Beyonce
don't stop believing –Journey
Katy Perry – Firework
Timber - ft. Ke$ha & Pitbull
Cotton Eye Joe - Rednex
UPBEAT SHOW PIECES
Misirlou
Smooth Criminal
Palladio Allegretto
Contradanza – Vanessa Mae
Storm (Vivaldi)
CLASSIC ROCK/alternative
Let it Be -The Beatles
Hey Jude -The Beatles
Yesterday -The Beatles
Norwegian wood -The Beatles
Paradise-Coldplay
Game of Thrones
JEWISH ROCK
Hafachta mispedi_Avraham Fried
Shabechi
TRADITIONAL JEWISH/KLEZMER
Abba ImaOd Nagaholeh
And the Angels Sing
Artza Alenu
Bride and Groom Entrance Milwaukee March
Dayainu
Havah Nagilah
Hevenu Shalom Alechem
Kazatzke
Mein Shtetle Belz
Nagilkail Ha Kavodekol Yisroel
Shein Vi Di Lvone
Ushavtem Mayim
Ushavtem Mayim Harmonikah Shibbolete Sovi
Yesh Lanotayish
Yiboneh lfonov boree Olam avraham Yogayl
COUNTRY/BLUEGRASS
When You Say Nothing – Alison Krause
Lucky One – Alison Krause
Big Country - Bela Fleck
Take me home Country Road - John Denver
LATIN/GYPSY/GREEK
Tico Tico
Zorba's Dance
Monti's Czardas
Brahms Hungarian Dance
Lambada - Kaoma
CHRISTMAS TRACKS
O Christmas Tree
Jingle Bell Rock
Bridle Chorus-wagner
Jingle Bells
Santa Claus is Coming to Town
All I want for Christmas is you - Mariah Carey
Rudolph the red nosed reindeer
White Christmas – Michael Buble
Let it Snow - Michael Buble
Frosty The Snowman - Jazz Standards
We Wish You a Merry Christmas
Silent Night
Santa Baby
Winter Wonderland
Sleigh Ride - The Ronettes
Deck The Halls in the style of Traditional
Hark the herald angels sing
CELTIC
Riverdance Medley
Drowsy Maggie/Devil Amongst The Tailors/Soldiers Joy (Medley)
Other Ceremonial Classical
Wagner Bridal Chorus
BOLLYWOOD
Tum Hi Ho-Karaoke & Lyrics-Aashiqui 2
Tujh Mein Rab Dikhta Hai-Karaoke With Lyrics
Bond-shine
Influences & Inspiration
Asher began taking classical violin lessons at the tender age of 2, performed with the Buffalo Philharmonic as a teenager and soon-after began to master jazz, bluegrass, Middle Eastern and other styles. His musical versatility got him noticed by major producers in NY and LA where he continues to push the boundaries of musical convention.
Setup Requirements
A reliable power outlet