Your list is empty.
Save musicians, entertainers, speakers, and services, and they'll appear here.
Free Quick Quote
This vendor provides virtual services
Back to One Man Bands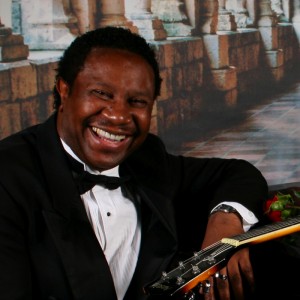 Eugene Genay
5.0
(7 reviews)
Columbia, SC
Travels nationwide
$500-2000 and up
Get a Free Quick Quote
Overview
Eugene a Solo entertainer guitarist, singer, will give you the best music for any occasion, Weddings, Birthday Parties..etc. He Performed on cruise ships world wide for years, Eugene plays music because he loves to do it, he gives and plays from the heart. Equipment for out door, or indoor concerts. Plays R&B, Country, Jazz, Easy Listening, Rock & Roll, Line Dancing, Old school, Motown and more, and will entertain you and your guest for out door festivals and formal evening events. Sings and plays guitar, or acoustic guitar, with or with out tracks. Can travel around the US and abroad, Price range from $500.00 - $1500.00. Available when needed.
---
---
Booking Info
Price Range: $500-2000 and up
Gig Length: 45 - 240 minutes
What to Expect
A great party for your event, he always gets the audience involved, Always doing everything at a professional level, and is very skilled in singing, playing, performing, and having fun for you and your guest!
About
Born and raised in East Orange, New Jersey, he was the second child born of eight children. Eugene started playing the guitar at the early age of 4. He later attended East Orange High School. His father, Roscoe Williams, was a member of the gospel group called the Williams Brothers. He noticed that Eugene had a special ability to play the guitar. Roscoe took Eugene to church on Sundays to perform.

During high school, Eugene began playing music with his brothers, as the band leader. As time progressed luck arrived in Eugene's favor when he met Steve Washington a.k.a. The Fearless Leader, who was a member of the famous group Slave. Slave generated a hit song called Slide during the late 70's. Additionally they went on to record; Walking Down The Street Watching Ladies.
Twelve years later, Eugene enrolled for his academic training at Berklee College of Music in Boston, Massachusetts. While pursuing his Associate degree at Berklee, Eugene traveled back home on weekends to perform at shows around local towns, with his brothers. They performed in Broadway theaters throughout New York City. During the 1980's his father eventually became manager of the group and they traveled to New Zealand and Canada in pursuit of emulating their career, as performers.
During life in New York, Eugene met the owner of Clarence Music who recognized Eugene for his extraordinary talents, which then enveloped into recording sessions. Clarence Music prompted Eugene to embark on a solo career and he accepted under contract, a series of songs that would move him to the next level. Within a short period Eugene then released his first solo 'Cruising with You' that rose to the top ten in 2006, and sustained a period of 10 weeks on the international charts.

In 2004 Eugene embarked and was awarded a contract with both Carnival Cruise Lines and Holland Cruise Lines, as an entertainer. It was Eugene's first global travel experience to see countries and locations that he earlier dreamed of visiting. Over 10 years, he went to countries such as; Canada, The Bahamas, Australia and New Zealand.
Having attained status as an international Singer, Songwriter, Jazz Guitarist and Composer, Eugene met Leroy Green who is the writer of the song Disco Inferno that was performed by the Tramps, an earlier emerging group during the 1980's. Further adding to his ongoing interaction with famous individuals and groups within music, Kool & The Gang invited Eugene to become a writer for their material.

Eugene represents a developing generation of great singers, songwriters, performers and entertainers. He is inspired by the genius of The Beatles, AC/DC, Marvin Gaye, Sam Cooke, Michael Jackson, George Benson, Jimi Hendrix and Stevie Wonder, who are all personal favorites of Eugene.
Additional Booking Notes
Full light show, Extra Mics for groups to sing, and people to talk, Extra Drums for drummers, Extra Keyboards, Extra Bass. and extra Guitars.
Upcoming Booked Events
August 01, 2021

•

6:00pm - 9:30pm
Birthday Party
Past Booked Events
August 20, 2020

•

7:30pm - 8:30pm
Surprise

January 23, 2020

•

3:30pm - 6:30pm
Corporate Event

September 15, 2017

•

4:30pm - 7:30pm
Festival

May 12, 2017

•

8:30pm - 10:30pm
Dinner Party

April 26, 2017

•

5:30pm - 7:30pm
Cocktail Party

April 01, 2017

•

8:30pm - 11:00pm
Cocktail Party

June 18, 2016

•

7:00pm - 7:30pm
Birthday (Adult)

June 26, 2015

Graduation

June 19, 2015

Cocktail Party

June 01, 2015

Wedding Ceremony

March 22, 2015

Other

January 01, 2015

Birthday Party

November 08, 2014

Birthday Party

September 06, 2014

Wedding Ceremony
Set List
SONG LIST
EUGENE WILLIAMS
Song List
1. Send in the clowns Barbara S
2. Evergreen "
3. Memories "
4. I just called to say I love you Stevie Wonder
5. You are the sunshine of my life " "
6. Love's in need of love " "
7. Brick house Commodores
8. Under the boardwalk Drifters
9. Make it with you Bread
10. Rapture Anita Baker
11. Same old love
12. Rock with You " "
13. I'll be there (MichaelJackson)
14. Billy Jean Michael Jackson
15. Bad " "
16. Thriller
17. I wanna be your lover Prince
18. U got the look "
19. When doves cry "
20. Kiss "
21. Lets go crazy "
22. Them changes Jimi Hendrix
23. Star Spangle Banner " "
24. Electric slide
25. Stroking Clearance Carter
26. It's my house Diana Ross
27. My world is empty w/out you " "
28. You can't hurry love " "
29. Endless love " "
30. Mahogany " "
31. My girl Motown Temptations
32. Get ready " "
33. You are " Commodores
34. Tears of a clown Smokey Robinson
35. Mercy Mercy me " Marvin Gaye (Pg 2)
36. Lets get it on " " "
37. Misty
38. Cupid Sam Cooke
39. Wonderful world this would be " "
40. Darling you send me " "
41. Only sixteen " "
42. Everybody like to cha cha " "
43. I love you " "
44. Summertime " "
45. Chan gang " "
46. Twisting the night away " "
47. My baby done gone and left " "
48. We're having a party " "
49. Bring it on home to me " "
50. Summertime (baby don't cry) " "
51. A change is gone come " "
52. I wanna dance w/somebody Whitney Houston
53. So Emotional " "
54. Turn your love around George Benson
55. Never give up on a good thing " "
56. Hot Hot Hot
57. La Bonita
58. Could you be love Bob Morley
59. Do you love me
60. Twist and shout
61. I'm gonna make you love me
62. Celebration Kool & the gang
63. Cherish the love " '
64. Some kind of lover
65. When I think of you Janet Jackson
66. Daddy's Home
67. Super Freak Rick James
68. You can't touch that " "
69. Sususudio Phil Collins
70. Just got paid Bobby Brown
71. Pink Cadillac
72. Sign you name Trent Darby
73. Mercedes
74. Together forever Rick
75. Always & Forever Heatwave
76. For the love of you Isley Bros.
77. Sitting on the dock of the bay Otis Redding
78. Just a gigilo
79. Back to life
80. That's what friends are for Dionne Warwick
81. Something Beatles (Pg 3)
82. Killer Joe Quincy Jones
83. Hello Darling Armstrong
84. When a man loves a women Various Artist
85. Stand by me Ben E. King
86. Play that funky music Wild Cherry
87. I can't get enough of your love Barry White
88. Georgia Ray charles
89. Get down on it Kool & the gang
90. To Hot Kool & the gang
91. Higher Sly and the family
92. Bridge over trouble water Simon & Garf.
93. Proud Mary Ike & Turner
94. Chain of fools Aretha Franklin
95. Respect " " '
96. Unchained Melody Righteous Bros.
97. Tighten up Archie Bell
98. Sex machine James Brown
99. Hold the line Toto
100. The best of me Double Vision
101. Twist & Shout Chubby Checker
102. Tear the roof off the sucker Parliament Funk
103. For the love of you Isley Bros.
104. Cloud nine Temptations
105. 1999 Prince
106. Dancing Marvin Gaye
107. Sexual healing Marvin Gaye
108. The thrill is gone BB King
109. YMCA Village people
110. My Sharona
111. Little red corvet Prince
112. Whats going on Marvin Gaye
113. Purple rain Prince
114. Purple Haze Jimi Hendrix
115. Hey Joe Jimi Hendrix
116. Who knows Jimi Hendrix
117. Brown eyed girl Jimmy Buffet
118. Margaritiville Jimmy Buffet
119. Party time man Shaggers
120. I feel good James Brown
121. Just my imagination Temtations
122. Breezin George Benson
123. Easy Commodores
124. Wind beneath my wings Bet Medler
125. Can't help falling in love Elvis Presley
126. Teddy Bear Elvis presley
127. Don't be cruel Elvis Presley (Pg. 4)
128. They long to be close to you Carpenters
129. Hopeless Devoted to you Grease
130. Stone at the Jukebox Hank Williams
131. I'm to sexy
132. You are so beautiful Joe Crocker
133. Knocking on heavens door
134. I can't stop loving you Ray Charles
135. The power of love Celon
136. Girls just wanna have fun Cyndy Lauper
137. Dancing Oueen ABBA
138. I'm so lonesome I could cry Elvis Presley
139. Diamonds are a girls best friend M. Monroe
140. Three times a lady Commodores
141. Superstious Stevie Wonder
142. Lets stay together Al Green
143. You've got a friend James taylor
144. Tracks of my tears Smokey Robinson
145. Beat it Michael Jackson
146. Say you say me Lionel Richie
147. Stuck on you Lionel Richie
148. Hello Lionel Richie
149. Unforgetable Nat King Cole
150. Natural Woman Aretha Franklin
151. When a man loves a woman Various Artis
152. Love me Tender Elvis Presley
153. You'll never find Lou Rawls
154. Fly me to the moon Frank Sanatra
155. I can't get no satisfaction Rollin Stones
156. When I fall in love Nat King Cole
157. You were always on my mind Willie nelson
158. Respect Aretha Franklin
159. Every breath you Take Police
160. Crazy Patzy Cline
161. Sitting on the dock of the bay Otis Redding
162. Hotel California Eagles
163. Mustang sally Johnny Taylor
164. Shook me all night long AC DC
165. Dead or alive Bon Jovie
166. Crazy little thing called love Queen
167. Who could it be now Men at work
168. We will rock you Oueen
169. Eight days a week Beatles
170. Sweet home Alabama Alabama
171. Staying alive Bee Gees
172. How deep is you love Bee Gees
173. Last dance Donna Summers (Pg. 5)
174. I believe I can fly R. Kelly
175. Time after time Cyndy Lauper
176. Love hangover Diana Ross
177. Something Beatles
178. Old time Rock & Roll Bob Seger
179. Living in America James Brown
180. The closer I get to you Donnie Hathaway
181. Thriller Michael Jackson
182. Save the last Dance for me Drifters
183. It"s Alright to have a good time Curtis Mayfield
184. Your song Elton John
185. La isla bonita Madonna
186. Just the way you are Elton John
187. I'll take you there Stapel singers
188. I will survive Gloria Gainer
189. You look wonderful tonight Eric Clapton
190. Country road John Denver
191. I will always love you Celon Dion
192. Hero Meriah Carey
193. My baby love Supremes
194. With or without you U2
195. Careless Whispers Wham
196. Never been to spain Elvis Presley
197. Because you love me Celone Dion
198. Woman John Lennon
199. Imagine John Lennon
200. What a wonderful world Louie Armstrong
201. Sunny
202. On and ON
203. Cupid Shuffle
204. Cha Cha Slide
205. I'll be watching you Police
Team
| | |
| --- | --- |
| Eugenegenay | Sings and plays Guitar |
Influences & Inspiration
Motown, Marvin Gaye, Sam Cooke, Michael Jackson, George Benson, Jimi Hendrix, Barry White, Lionel Richie, Stevie Wonder, Billy Joel, Prince, The Beatles, Queen, Earth Wind & Fire, The Bee Gees, James Taylor, Elvis Presley.
Setup Requirements
Stage or platform