Your list is empty.
Save musicians, entertainers, speakers, and services, and they'll appear here.
Free Quick Quote
This vendor provides virtual services
Back to Elvis Impersonators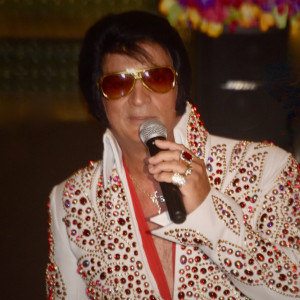 Elvis Impersonator John Monforto
4.99
(25 reviews)
Philadelphia, PA
Travels up to 200 miles
$600.00 and up
Get a Free Quick Quote
Overview
Award Winning Entertainer
Best ELVIS Tribute Artist Award--Harrah's Casino
Headliner as ELVIS-Norwegian Cruise Lines Sea Legs Revue
Portrayed ELVIS - Michener Museum Elvis/Ali Exhibit
Portrayed ELVIS - National Archives Elvis/Nixon Exhibit
Headliner as ELVIS - Tropicana Casino
ELVIS-for Sony billboards across Germany
Philadelphia's Official ROCKY Impersonator
PHLCVB Mascot as ROCKY BALBOA
Best ROCKY Award NYC Rocky Competition
Portrayed SINATRA in Judy Garland "World's Greatest Entertainer" Play
Opening act as SINATRA for Dana Carvey, Mandalay Bay, Las Vegas
Portray SINATRA in "An Evening at the Summit" Rat Pack Tribute
Agent's Best Platinum Award at Sunburst Conv of Celebrity Impersonators
---
---
Booking Info
Price Range: $600.00 and up
Gig Length: 15 - 480 minutes
What to Expect
You can expect top notch quality entertainment whether you are having a small intimate gathering or a full stage production.
We provide Bose state of the art sound equipment, all of our professional entertainers sing live. We will work with you from the conception to performance. Our goal is to satisfy our customers!
We are available for all events: Anniversaries, Bachelor-Bachelorette Parties, Birthdays, Bus Tours, Christenings, Christmas Parties, Church Services, Clubs, Community Events, Conventions, Corporate Functions, Dinner Dances, Dinner Shows, Special Events, Festivals, Fund Raisers, Funerals, Graduations, Grand Openings, Halloween Get togethers, Holiday Parties, Office Functions, Theater, Parades, Picnics, Private Parties, Proms, Restaurants, School Assemblies, Senior Community Programs, Stage Productions, Sweet 16 Parties, Trade Shows, Wedding Ceremonies, Wedding Cocktail Hour, Wedding Receptions
About
Multiple Award Winning Entertainer -The Man of Many Faces. John Monforto. John is one of the busiest, highly polished, multi faceted entertainers in the business.
If you're looking for a baritone vocalist, improvisational actor, celebrity impersonator, tribute artist, original characters, voice over artist, writer, creative, event emcee, national sales meeting host, corporate award show host, corporate comedic host, trade show demonstrator, producer, editor, song parody composer, trade show host, presenter and roast master,
John does it all!. SAG/AFTRA Client List Available.
John's highly trained vocal abilities and strong improvisational talents allow him to enhance any event. In addition to his production values, his endless imagination and creative writing skills provide limitless options for every event. John is one of the top choices for agents, producers, casting directors, meeting planners and production houses for corporate, private and public entertainment at every level.
Some of John's productions include:
Elvis Tribute Show - The Ultimate Tribute to the King of Rock and Roll
VOICES - One Man Show - over a dozen costumed impersonations
Broadway VOICES - One Man Show - over a dozen costumed Broadway pieces
Rat Pack Tribute Show - An Evening at the Summit w/Frank, Dean Sammy
Frank Sinatra Songbook Tribute Show
Tony Bennett Songbook Tribute Show
Dean Martin Songbook Tribute Show
The Blues Brothers Revue and Tribute Band
The Godfather & Friends Interactive Dinner Theater Production
Italian Night
So many more options:
• Red, White & Blue/Country Livin' - USO/USA Stage Show
• The Three Scrooges-Holiday Dinner Show
• A Medieval Knights Dream-Medieval Dinner Show
• Tomby or Not Tomby-Halloween Dinner Show
• Peggy Sue Got Married-Murder Mystery Dinner Show
• Rock Around The Clock-50's Prom Dinner Show
• The Last Tango in Parrish-High School Reunion Show spans 50 years
• Murder Complete-Two Man Murder Mystery
John's years of experience and diversity have made it possible for him to create, produce and provide top notch world class entertainment for major corporations, trade shows, conventions, cruise ships, weddings, theater, fundraisers, city tours, festivals, summer concerts, television, and radio from coast to coast and abroad.
VOICES One Man Show
This production features over a dozen Celebrity Impersonations.
You will enjoy classics from stars such as Tony Orlando, Dean Martin, Neil Diamond, Frankie Laine and Tony Bennett. The journey continues with TV classics and movies like The Twilight Zone, Ed Sullivan Show, Alfred Hitchcock Hour, John Wayne. Culminating in fully costumed impersonations of iconic personalities and superstars such as The Godfather, Johnny Cash, Elvis Presley, Rocky Balboa, Frank Sinatra, George S. Patton. There's no other theater style cabaret like this production! Don't miss it!
Philadelphia's Official Rocky Balboa Impersonator & PVCB Mascot as Rocky for The City of Philadelphia
The No. 1 choice for the Philadelphia Convention and Visitors Bureau, The Greater Philadelphia Tourism and Marketing Commission (GPTMC), Agencies, Meeting Planners, Casting Directors, Tour Groups, Travel Agents and Corporations who visit "The City That Loves You Back" since Rocky 1 hit the Theaters in 1976.
Rocky Balboa-The Italian Stallion performed as Philadelphia's representative at The Fils Center, Lisbon, Portugal for the ASTA World Congress. Army Navy Rocky Relay Patriot Game Host.
Ex Governor Ed Rendell's comment when asked about his Rocky impersonation, "Whenever you visit the City of Philadelphia, it's a must to have a visit from Rocky. In fact, along with our new skyline, he's become one the city's biggest tourist attractions"
FAM tours, city wide promotions, conventions, private events, motivational speaker, stand up comedy, voice over artist, TV and radio advertising, corporate roasts, guest greeter, fundraiser host, stand up, bus tours or a run up the Art Museum steps. Rocky will teach you and your out of town friends how to order a Philly cheese steak and how to tawk philly style so youse guys don't sound stoopit!
"He can run the steps like Rocky; you wouldn't want to go "fist to cuffs" with him and he's even got the voice down. "Adrienne!!!" Lisa Thomas Laury, 6 ABC News
Seen as Rocky on 6abc, 12WHYY, CBS10, 3NBC, Army Navy Games, MD Anderson Cancer Survivor Day, Flag Day Host, The Next Best Thing, Rocky Relays
The Rat Pack Tribute
"An Evening at the Summit w/Frank, Dean Sammy"
The Rat Pack comes to life through the talent and stylings of these three seasoned entertainers. They have performed from coast to coast at hundreds of venues including sold out crowds at the Tropicana Casino Main Ballroom. Their magic on stage cannot be matched. The Rat Pack sings solos, duets and trios while their camaraderie and hysterical comedic antics are dead on impersonations for the 1960's Kings of the Las Vegas Strip.
The Ultimate Tribute to the King of Rock and Roll
National Archives Elvis/Nixon Exhibit as Elvis
Michener Museum Elvis/ALI Exhibit as Elvis
Elvis is alive through the amazing voice and talent of John Monforto. John has thrilled audiences as Elvis with his highly trained baritone voice, flawless impersonation and dazzling 70's jumpsuits for over 30 years. Always leaving the audience wondering "Is he really singing or it is a recording?"
ELVIS-NCL-Sea Legs Revue
Best ELVIS Tribute Artist at Harrah's Casino
Frank Sinatra Songbook Tribute Show - Enjoy this musical journey through the life and times of Frank Sinatra as he sings the unforgettable music of the world's greatest crooner. Once you have heard this stunning tribute to "Ol Blue Eyes, you'll agree he has captured the essence of one of the classiest vocalist of all time. Your guests will be delighted with his highly trained baritone voice, Frank's original arrangements, classic style, attention to details and playful banter with the audience.
Opening Act as Frank Sinatra for Dana Carvey at Mandalay Bay Las Vegas
Blues Brothers Revue & Tribute Band - This high-powered energetic duo and their friends Aretha Franklin and James Brown
have brought the house down at the House of Blues Chicago, New Orleans, San Francisco and thousands of venues from coast to coast since 1999. Your soul men, Jake & Elwood Blues, deliver their one of a kind high energy performance which always includes comedy, fun, dancing, giveaways and audience participation throughout the performance on and off stage.

The Godfather and Friends Revue - An Interactive Dinner Theater Production c.1999
The Godfather is hosting his Annual Gala and everyone is invited. You will enjoy the handpicked entertainment from the Don's superstar friends like Frank Sinatra, Sylvester Stallone & Elvis Presley. Yes, they're all friends of the Don! Try out to be the Godfather's new limousine driver, dance with the Don, rub elbows with "Celebrities" or get to share bottles of the Capo Di Tutti Capo's home grown wine. This interactive dinner theater show is one the best nights of entertainment to hit the stage since Tony & Tina's Wedding. You will enjoy an evening of comedy, dancing, audience participation, singing, and multiple celebrity impersonations. Our highly polished Philadelphia cast will entertain you through an evening of hilarious fun and we will make you an offer you cannot refuse.
Celebrity Sensations in Concert c.1999 - Legends Style Production of Music Past and Present. Singing legends will entertain and amaze you through the talents of these professional celebrity impersonators. Choose superstars such as Neil Diamond, Marilyn Monroe, Elvis Presley, Liza Minelli, Johnny Cash, Dolly Parton, Michael Jackson, Judy Garland, Madonna, Bette Midler, Aretha Franklin, Barbra Streisand, Cher and more. Choose Rock n Roll, Blues, Motown. You name em, we've got em!
"A Bit of Broadway" c.1999 Vignettes from Broadway Classics
You select scenes, characters and songs from your favorite Broadway musical. South Pacific, Oklahoma, Grease, Guys and Dolls, Phantom of the Opera. Our beautiful authentic costumed team of professional singers and dancers will captivate your audience in this choreographed stunning bit of broadway production. Table side or full stage production.
"Dis Graceland' An original Elvis Murder Mystery Dinner Show c.1999
Elvis is making his long-awaited comeback at The Heartbreak Hotel. Everyone is invited.
The King takes the stage. A gunshot is heard. The Kings falls dead! Everyone is a suspect. No one is permitted to leave the building! Who killed the King of Rock 'n' Roll? Audience members are encouraged to play a roll in the production. You will enjoy an evening of comedy, fun, laughter, singing, dancing, clue searching and a performance by the King of rock n' roll. Prizes awarded for guests who solve the mystery.
Team Building Excercises
• Family Feud Game Show
• Lego Build
• The Commercial Shoot
• Scavenger Hunt
• Karaoke Night
Client List: available upon request
Character Voices
Arnold Schwarzenegger, Boris Karloff, British Aristocrat, Bullwinkle J. Moose, Christopher Lloyd, Cockney Accent, Darth Vader, Ed Sullivan, Elvis Presley, George Patton, The Godfather, Jerry Lewis, Humphrey Bogart, Irish Accent, Jerry Lewis, Jimmy Carter, John Wayne, Mickey Mouse, Richard Nixon, Rocky Balboa, Rod Serling, Walter Brennan

Movies
• Eddie and the Cruisers
• Trading Places
• Birdie
• Animal Factory
• Night Hawks
• Hard Hat and Legs
• For Lover's Only and more
Additional Booking Notes
BOSE Sound System
Sound Technician
Spotlight and Operator
Pipe and Drape
available for any event.
Services Offered
Past Booked Events
July 04, 2020

•

5:00pm - 5:30pm
Birthday Party

April 11, 2019

•

2:00pm - 2:30pm
Surprise

October 20, 2018

•

7:30pm - 9:00pm
VOICES One Man Show, Boynton Beach, FL

October 15, 2018

•

12:00pm - 2:00pm
ROCKY BALBOA Appearance, Sugar House Casino, PA

October 13, 2018

•

7:00pm - 9:00pm
SINATRA Tribute Show, Media, PA

October 10, 2018

•

10:00pm - 11:00pm
ROCKY Appearance, Independence Visitor Center, PA

September 30, 2018

•

6:00pm - 7:00pm
ROCKY Appearance, Philadelphia, PA

September 25, 2018

•

1:15pm - 2:15pm
SINATRA/BENNETT-Cardinal Village, Willamstown, NJ

September 15, 2018

•

7:00pm - 8:30pm
ITALIAN NIGHT Coral Springs, FL

September 12, 2018

•

6:00pm - 8:00pm
ROCKY Appearance, Jefferson University, PA

September 08, 2018

•

6:00pm - 7:00pm
ELVIS Tribute Show, Bensalem, PA

September 07, 2018

•

8:00pm - 9:00pm
GODFATHER "Italian Night" - Sussex, NJ7

August 29, 2018–September 02, 2018

•

9:00am - 10:00pm
Sunburst Convention, Orlando, FL

August 14, 2018

•

1:00pm - 3:00pm
SINATRA/BENNETT Tribute, Kings Point, Tamarac, FL

August 11, 2018

•

1:00pm - 4:00pm
Tea with ELVIS - Belle Grove, King George, VA

August 10, 2018

•

7:00pm - 8:00pm
SINATRA Tribute-Robin Hill Farms, Brandywine, PA

August 06, 2018

•

7:00pm - 9:00pm
ELVIS Tribute Show-Toll Man Joe's, Wildwood, NJ

August 04, 2018

•

7:30pm - 8:30pm
ELVIS Tribute Show - Chalfont, PA

July 28, 2018

•

6:30pm - 10:00pm
ELVIS & BLUES BROTHERS TRIBUTE-Lehigh Valley ZOO

July 23, 2018

•

7:00pm - 9:00pm
ELVIS Tribute Show-Toll Man Joe's, Wildwood, NJ

July 20, 2018

•

8:00pm - 9:30pm
ROCKY BALBOA Appearance, Sheraton, Phila., PA

July 09, 2018

•

7:00pm - 9:00pm
ELVIS Tribute Show-Toll Man Joe's, Wildwood, NJ

July 08, 2018

•

3:00pm - 4:00pm
ELVIS Performance - Coatesville, PA

July 07, 2018

•

8:00pm - 9:00pm
ELVIS Performance - Bloomfield NJ

July 04, 2018

•

10:00am - 12:00pm
ELVIS - Woodstown 4th of July Parade

May 18, 2018

•

5:30pm - 6:30pm
ROCKY Balboa Appearance, Valley Forge, PA

May 06, 2018

•

5:00pm - 6:30pm
ELVIS Performance - La Plata, MD

May 03, 2018

•

12:00pm - 3:00pm
ROCKY Balboa Appearance, Cherry Hill, NJ

May 02, 2018

•

12:00pm - 1:00pm
ELVIS Performance - Silver Birches - Hawley, PA

May 01, 2018

•

6:00pm - 7:00pm
ELVIS Tribute Silver Birches, Hawley, PA

April 30, 2018

•

7:00pm - 8:00pm
SINATRA Tribute, Doubletree Hotel, Phila PA

April 28, 2018

•

7:00pm - 8:00pm
ROCKY Appearance, Riverdale Manor, Lancaster, PA

April 27, 2018

•

8:00pm - 10:00pm
ELVIS Performance, Scottish Rite, Collingswood, NJ

April 26, 2018

•

10:00am - 6:00pm
John as Host - BAI, New York, NY

April 25, 2018

•

10:00am - 6:00pm
John as Host, BAI-New York, NY

April 24, 2018

•

10:00am - 3:00pm
ROCKY Balboa, PACC, Philadelphia, PA

April 21, 2018

•

9:00am - 12:00pm
ROCKY Balboa Appearance, SANDY Sprint, Phila, PA

April 11, 2018

•

5:00pm - 6:30pm
SINATRA Performance, Lions Gate, Voorhees, NJ

April 06, 2018

•

7:00pm - 9:00pm
ELVIS Performance, Rosetree Firehouse, Media, PA

April 05, 2018

•

7:00pm - 8:00pm
ROCKY BALBOA, Philadelphia

March 31, 2018

•

3:00pm - 4:00pm
ELVIS Performance, Williamstown, NJ

March 30, 2018

•

7:00pm - 8:00pm
ELVIS Performance, Philadelphia, PA

March 02, 2018

•

2:00pm - 4:00pm
ELVIS Performance - Tampa, FL

February 24, 2018

•

7:30pm - 9:30pm
Voices One Man Show/Camelot Village/Delray Beach,

February 22, 2018

•

7:00pm - 9:00pm
Voices One Man Show/Century Vill/Deerfield Beach

February 15, 2018

•

9:00pm - 9:30pm
Rocky-Patton-Godfather - Masons - Mantua, NJ

February 13, 2018

•

8:30pm - 9:00pm
GENERAL GEORGE PATTON-Masons-Mantua, NJ

February 08, 2018

•

5:30pm - 6:30pm
ELVIS , Hopewell Valley CC, Pennington, NJ

February 01, 2018

•

12:00pm - 2:00pm
ROCKY Appearance-Demseys Bar, NYC< NY

January 30, 2018

•

8:00pm - 9:00pm
Singer-RACKS w/Kenny Jeremiah, Williamstown, NJ

January 29, 2018

•

8:00pm - 9:00pm
Singer/Patti Lattanzi Radio/Filomena's/Berlin, NJ

January 28, 2018

•

8:00pm - 9:00pm
SINATRA Tribute, Aulettos Ballroom, Blackwood, NJ

January 20, 2018

•

7:00pm - 8:00pm
ELVIS Performance, Robin Hill Farms/Brandywine, MD

January 18, 2018

•

2:00pm - 3:00pm
ELVIS Performance, Irene Raeder, Pittston, PA

January 13, 2018

•

12:30pm - 1:30pm
ELVIS Performance, Metro Diner, Brook Lawn, NJ

January 11, 2018

•

2:00pm - 3:00pm
ELVIS Tribute, Protestant Church, Philadelphia, PA

January 09, 2018

•

8:00pm - 9:00pm
Patti Lattanzi Radio Show - Filomena's Berlin, NJ

January 08, 2018

•

1:00pm - 2:00pm
ELVIS Tribute - Masonic Village, Elizabethtown, PA

January 05, 2018

•

1:15pm - 2:15pm
ELVIS Tribute Cardinal Village/Williamstown, NJ

January 03, 2018

•

5:00pm - 6:30pm
ELVIS Performance, LIONS GATE, Voorhees, NJ

December 23, 2017

•

7:00pm - 8:00pm
SINATRA Tribute Show, Auletto's Ballroom

December 16, 2017

•

8:00pm - 10:00pm
Birthday Party

December 02, 2017

•

5:00pm - 9:00pm
DISGRACE LAND ELVIS Murder Mystery, York, PA

November 14, 2017

•

3:00pm - 4:00pm
ELVIS & CHER Tribute, Connecticut

October 24, 2017

•

2:00pm - 4:00pm
ELVIS Tribute Show, Tropicana, Atlantic City

October 22, 2017

•

5:30pm - 7:30pm
ROCKY Appearance, Philadelphia, PA

October 14, 2017

•

7:00pm - 8:00pm
SINATRA Tribute, Baltimore, MD

September 30, 2017

•

8:00pm - 9:00pm
ELVIS Performance, NE Philadelphia, PA

September 27, 2017

•

6:00pm - 7:00pm
ROCKY Appearance, Tony Lukes, Philadelphia

September 26, 2017

•

1:15pm - 2:15pm
John Sings The Oldies at Cardinal Village

September 22, 2017

•

8:00pm - 9:00pm
SINATRA/ELVIS Performance, Woodstown, NJ

September 19, 2017

•

6:00pm - 7:00pm
ELVIS Performance, Philadelphia, PA

September 16, 2017

•

1:30pm - 2:30pm
Reunion

September 15, 2017

•

4:00pm - 5:00pm
ROCKY Appearance, Philadelphia Art Museum

September 09, 2017–September 11, 2017

•

1:00pm - 4:00pm
ELVIS Concert, Belle Grove Plantation, VA

September 08, 2017

•

4:00pm - 5:00pm
ROCKY Appearance, Philadelphia Museum of Art

August 29, 2017–September 03, 2017

•

9:00am - 6:00pm
Sunburst Convention, Orlando, FL

August 23, 2017

•

5:30pm - 6:30pm
ROCKY Appearance, Philadelphia Art Museum

August 22, 2017

•

8:00pm - 9:00pm
ROCKY Appearance, Philadelphia, PA

August 21, 2017

•

12:00pm - 1:00pm
ELVIS Performance, Camp Fun & Sun

August 18, 2017

•

6:00pm - 7:00pm
ROCKY Appearance, Philadelphia Art Museum

August 17, 2017

•

7:00pm - 8:00pm
ELVIS Performance

August 15, 2017

•

7:00pm - 9:00pm
Patti Lattanzi/Billy Carlucci Radio Show

August 14, 2017

•

1:00pm - 2:00pm
ELVIS Performance, Langhorne, PA

August 13, 2017

•

3:00pm - 4:00pm
ELVIS Performance, Blackwood, NJ

August 12, 2017

•

2:00pm - 3:00pm
ELVIS & SINATRA Performance, Essington, PA

August 06, 2017

•

3:00pm - 3:30pm
ELVIS Performance, NJ

August 05, 2017

•

7:00pm - 8:00pm
ELVIS Performance

August 04, 2017

•

3:30pm - 4:30pm
ROCKY Appearance, PHLCVB, Philadelphia, PA

July 29, 2017

•

7:30pm - 8:30pm
V*O*I*C*E*S One Man Show, Port St. Lucie, FL

July 15, 2017

•

7:00pm - 8:00pm
ELVIS Performance, Wayne, PA

July 14, 2017

•

12:00pm - 6:00pm
SINATRA travels from Rouses Point, NY to NJ

July 13, 2017

•

7:00pm - 9:00pm
FRANK SINATRA Concert, Rouses Point, NJ

July 09, 2017

•

4:00pm - 4:45pm
Birthday (Adult)

July 07, 2017

•

12:00pm - 6:00pm
ELVIS travels from Rouses Point, NY to NJ

July 06, 2017

•

7:00pm - 9:00pm
ELVIS Concert, Rouses Point, NY

July 05, 2017

•

8:00am - 2:00pm
ELVIS Travels to Rouses Point

July 04, 2017

•

10:00am - 12:00pm
ELVIS Performance, Woodstown Parade, NJ

July 02, 2017

•

7:30pm - 8:30pm
ELVIS Performance, Medford, NJ

July 01, 2017

•

8:00pm - 9:00pm
ROCKY Appearance, RITZ Carlton, Phila., PA

June 30, 2017

•

9:30pm - 9:45pm
ELVIS Performance, Coveleigh Club, Rye, NY

June 25, 2017

•

4:00pm - 5:00pm
SINATRA Performance, Vineland, NJ

June 24, 2017

•

1:00pm - 2:00pm
ELVIS Performance, Matheny, Peapack, NJ

June 21, 2017

•

7:00pm - 9:00pm
ELVIS Performance-Century Village, FL

June 17, 2017

•

8:00pm - 9:00pm
V*O*I*C*E*S One Man Show, Boynton Beach FL

June 11, 2017–June 12, 2017

•

1:00pm - 3:00pm
Tea with Elvis, Belle Grove Plantation, VA

June 10, 2017

•

8:00pm - 9:00pm
ELVIS Performance, Tricia Meadows, Mt. Laurel, NJ

June 08, 2017

•

8:00pm - 10:00pm
ROCKY Appearance, Art Museum, Philadelphia

June 07, 2017

•

7:00pm - 8:00pm
ROCKY Appearance/Stand Up Philadelphia

June 06, 2017

•

7:00pm - 9:00pm
Patti Lattanzi/Billy Carlucci Show, Berlin, NJ

May 31, 2017

•

7:00pm - 8:30pm
John Sings - Rack's Williamstown

May 30, 2017

•

1:00pm - 2:00pm
ELVIS - Cardinal Village, Williamstown, NJ

May 28, 2017

•

1:00pm - 3:00pm
Anniversary Party

May 26, 2017

•

8:00pm - 8:30pm
Radio Show Interview with Frankie Smiles

May 21, 2017

•

11:00am - 8:00pm
VOG - CAPPIE AWARDS _ Unionville High School

May 15, 2017

•

10:00am - 12:00pm
Recording Session, Cambridge Studios, Philadelphia

May 14, 2017

•

9:00am - 12:00pm
ROCKY Appearance, Breast Cancer, Art Museum

May 10, 2017

•

4:15pm - 5:15pm
ROCKY Appearance, Philadelphia Conv. Cntr, PA

May 08, 2017

•

6:30pm - 9:30pm
ROCKY Appearance, Philadelphia Art Museum

May 04, 2017

•

7:00pm - 9:00pm
ELVIS Appearance, Water Works Rest., Philadelphia

May 03, 2017

•

7:00pm - 10:00pm
ELVIS Performance, Crystal Tea Room, Phila., PA

May 02, 2017

•

6:00pm - 10:00pm
VOICE OVER, BAI Drinks, Fillmore, Phila., PA

May 01, 2017

•

7:00pm - 10:00pm
BAI Drinks Rehearsal, Fillmore, Philadelphia, PA

April 29, 2017

•

7:00pm - 9:00pm
ELVIS Performance, Arthur Murray/Virtua Event

April 27, 2017

•

9:00pm - 10:00pm
ROCKY Appearance, Philadelphia, PA

April 26, 2017

•

9:00pm - 11:00pm
BAI Drinks Rehearsal

April 24, 2017

•

6:00pm - 8:00pm
ROCKY Appearance, Philadelphia Art Museum

April 23, 2017

•

8:00am - 12:00pm
ROCKY Appearance, Sandy Sprint for Cancer

April 22, 2017

•

7:00pm - 11:00pm
GODFATHER & FRIENDS REVUE, Phila., PA

April 21, 2017

•

2:00pm - 8:00pm
BAI Drinks Rehearsal

April 18, 2017

•

7:00pm - 9:00pm
Patti Lattanzi/Billy Carlucci Show, Berlin

April 17, 2017

•

1:00pm - 3:00pm
Recording Session, Cambridge Studios, Philadelphia

April 13, 2017

•

9:00pm - 10:00pm
V*O*I*C*E*S One Man Show, PGA Hotel, Palm Beach

March 28, 2017–March 30, 2017

•

12:00pm - 1:00pm
ELVIS Performance, Silver Birches, Hawley, PA

March 27, 2017

•

6:00pm - 9:00pm
ELVIS Performance, Exton Square Mall, PA

March 24, 2017–March 26, 2017

•

12:00pm - 5:00pm
Corporate HOST, USS Midway, San Diego, CA

March 22, 2017

•

9:00am - 10:00pm
Voice Over, Barrack Show, Kimmel Center, PA

March 21, 2017

•

6:00pm - 7:30pm
ROCKY Stand Up, Hard Rock, New York City

March 20, 2017

•

6:00pm - 7:00pm
ROCKY Appearance, Philadelphia Art Museum

March 19, 2017

•

2:00pm - 8:00pm
Rehearsal, Kimmel Center, Philadelphia, PA

March 11, 2017

•

4:00pm - 5:00pm
Birthday (Adult)

March 10, 2017

•

1:30pm - 3:30pm
ELVIS Performance, Matheny, Peapack, NJ

March 05, 2017

•

6:00pm - 9:00pm
Rehearsal, Kimmel Center, Philadelphia, PA

March 04, 2017

•

8:00pm - 9:00pm
ROCKY Appearance, Loew's Hotel, Philadelphia, PA

February 28, 2017

•

7:00pm - 9:00pm
Patti Lattanzi Billy Carlucci Show, Berlin, NJ

February 24, 2017

•

5:00pm - 9:00pm
Voice Over Artist Rehearsal, Philadelphia, PA

February 21, 2017

•

5:00pm - 7:00pm
The Godfather Stand Up Comedy

February 13, 2017

•

7:00pm - 8:00pm
ELVIS Performance, Philadelphia, PA

February 06, 2017

•

2:00pm - 4:00pm
V*O*I*C*E*S One Man Show, Boynton Beach, FL

January 19, 2017

•

7:00pm - 9:00pm
BLUES BROTHERS Tribute, New York, NY

January 15, 2017

•

7:00pm - 9:00pm
V*O*I*C*E*S One Man Show, Margate, FL

January 12, 2017

•

7:00pm - 9:00pm
V*O*I*C*E*S One Man Show, Margate, NJ

January 06, 2017

•

1:00pm - 2:00pm
ELVIS, Cardinal Village, Washington Twp., NJ

December 31, 2016–January 01, 2017

•

9:00pm - 1:00am
ROCKY, SINATRA, ELVIS Meadows Racetrack & Casino

December 23, 2016

•

8:00pm - 10:00pm
ELVIS, ROCKY, GODFATHER Trenton Country Club, NJ

December 16, 2016

•

7:30pm - 8:30pm
ELVIS Performance, Tricia Meadows, Mt. Laurel, NJ

December 15, 2016

•

8:00pm - 9:00pm
BLUES BROTHERS Tribute, Chelsea Pier, NY

December 10, 2016

•

7:00pm - 8:00pm
ELVIS Performance, Nassau Inn, NJ

December 09, 2016

•

7:30pm - 8:30pm
ELVIS Tribute Show, St David's Club

December 08, 2016

•

7:00pm - 9:00pm
ELVIS & ROCKY Appearance, Philadelphia, PA

December 07, 2016

•

12:00pm - 3:00pm
Multiple Characters, SCROOGE, Spring Lake, NJ

December 03, 2016

•

7:00pm - 8:00pm
ROCKY Appearance, Tomatoes Restaurant, Margate, NJ

December 02, 2016

•

7:00pm - 10:00pm
SINATRA Tribute Show, Philadelphia, PA

December 01, 2016

•

5:00pm - 7:00pm
ELVIS Performance, Williamsport Sun Gazette

November 26, 2016

•

8:00pm - 10:00pm
ELVIS & BLUES BROTHERS Tribute, Southampton, NJ

November 25, 2016

•

7:30pm - 9:00pm
Philadelphia JOEY, Sheraton, Mahwah, NJ

November 23, 2016

•

7:00pm - 9:00pm
Blues Brothers Tribute Show Rehearsal

November 22, 2016

•

1:00pm - 2:00pm
ELVIS Performance, Washington Twp., NJ

November 12, 2016

•

6:00pm - 7:00pm
SINATRA Tribute Show, Iselin, NY

November 05, 2016

•

12:30pm - 1:30pm
ROCKY Appearance, Philadelphia Armory, Phila., PA

November 04, 2016

•

11:00am - 12:00pm
ELVIS Performance, Crystal Tea Room, Phila., PA

October 29, 2016

•

8:00pm - 9:00pm
Fundraiser

October 29, 2016

•

8:00pm - 9:00pm
ELVIS Performance,

October 26, 2016

•

12:00pm - 2:00pm
ROCKY Appearance, Convention Center, Phila., PA

October 25, 2016

•

12:00pm - 2:00pm
ROCKY Appearance, Convention Center, Phila., PA

October 24, 2016

•

1:00pm - 3:00pm
ROCKY BALBOA Appearance, PACC, Philadelphia, PA

October 23, 2016

•

5:30pm - 6:30pm
ELVIS Performance, Pitman, NJ

October 16, 2016

•

2:00pm - 3:00pm
ELVIS Performance, Kennett Square, PA

October 15, 2016

•

6:00pm - 7:00pm
Birthday (Adult)

October 14, 2016

•

12:00pm - 2:00pm
ROCKY Appearance, Philadelphia Museum of Art

October 09, 2016

•

4:00pm - 5:00pm
ELVIS Performance, Belair, Maryland

September 29, 2016

•

9:00pm - 11:00pm
Sinatra Tribute Show, Ft. Lauderdale, FL

September 24, 2016

•

7:00pm - 8:00pm
Elvis Concert, Montreal, Canada

September 23, 2016

•

10:00am - 3:00pm
Elvis Concert Travel, Montreal, Canada

September 21, 2016–September 22, 2016

•

1:00pm - 3:00pm
ELVIS Concert, Portland, CT

September 19, 2016

•

6:00pm - 7:00pm
ROCKY Appearance, Philadelphia, PA

September 18, 2016

•

5:00pm - 9:00pm
Wedding Singer, Ocean City, NJ

September 18, 2016

•

9:00am - 10:00am
ROCKY Appearance, Philadelphia, PA

September 17, 2016

•

10:00pm - 11:00pm
RAT PACK, College of Physician, Phila.,PA

September 17, 2016

•

6:00pm - 7:00pm
GODFATHER Appearance, Philadelphia, PA

September 17, 2016

•

9:00am - 11:00am
ROCKY Appearance, Philadelphia, PA

September 10, 2016

•

8:00pm - 9:00pm
ELVIS private event, NE Philadelphia, PA

August 29, 2016–September 09, 2016

•

10:00am - 8:00pm
ELVIS/SINATRA/ROCKY, Orlando, FL

August 28, 2016

•

7:00pm - 10:00pm
RAT PACK Tribute, Portsmouth, NH

August 23, 2016

•

6:30pm - 7:30pm
ROCKY Appearance, Hilton, Philadelphia, PA

August 19, 2016

•

1:30pm - 2:30pm
ELVIS Performance, Dublin, PA

August 13, 2016

•

10:30am - 12:00pm
ROCKY Appearance, Philadelphia Art Museum

August 06, 2016

•

10:00am - 6:00pm
ELVIS Video Shoot, Philadelphia, PA

July 31, 2016

•

2:00pm - 3:30pm
SINATRA Tribute and ELVIS Tribute, Winslow, NJ

July 30, 2016

•

9:00am - 6:00pm
ELVIS Video Shoot for WoodFilms
Set List
In order to customize our performance to suit your event, we create a customized set list for each performance.
Many more songs to list......
Cryin in the Chapel - Elvis
She's Not You - Elvis
Marie's the Name - Elvis
Always on my Mind - Elvis
All of Me - Sinatra
All or Nothing at All - Sinatra
All the Way - Sinatra
Almost Like Being in Love - Sinatra
Angel Eyes - Sinatra
As Time Goes By - Sinatra
Ave Maria - Sinatra
Best is Yet to Come - Sinatra
Bewitched, Bothered and Bewildered - Sinatra
Blue Moon - Sinatra
Body and Soul - Sinatra
Come Dance with Me - Sinatra
Come Fly with Me - Sinatra
The Days of Wine and Roses - Sinatra
Ebb Tide - Sinatra
Everybody Loves Somebody - Dean Martin
Fly Me to the Moon - Sinatra
A Foggy Day - Sinatra
For Once in My Life - Sinatra
Get Me to the Church on Time - Sinatra
Guys and Dolls - Sinatra
I Get a Kick Out of You - Sinatra
My Way - Sinatra
One Voice - Barry Manilow
Heartbreak Hotel - Elvis
Don't Be Cruel - Elvis
Teddy Bear - Elvis J
ailhouse Rock - Elvis
It's Now or Never - Elvis
Stuck on You - Elvis
Viva Las Vegas - Elvis
Little Less Conversation - Elvis
That's All Right - Elvis
American Trilogy - Elvis
All Shook Up - Elvis
Amazing Grace - Elvis
The Wonder of You - Elvis
Burnin Love - Elvis
If I can Dream - Elvis
Devil in Disguise - Elvis
Hawaiian Wedding Song - Elvis
Blue Suede Shoes - Elvis
Wear My Ring - Elvis
Don't - Elvis
Hard Headed Woman - Elvis
Rubberneckin' - Elvis
Love Me Tender - Elvis
My Way - Elvis
My Way - Frank Sinatra
Hound Dog - Elvis
Bridge Over Troubled Water - Elvis
Can't Help Fallin in Love - Elvis
Suspicious Minds - Elvis
In the Ghetto - Elvis
Are You Lonesome Tonight - Elvis