Your list is empty.
Save musicians, entertainers, speakers, and services, and they'll appear here.
Free Quick Quote
This vendor provides virtual services
Back to Fire Performers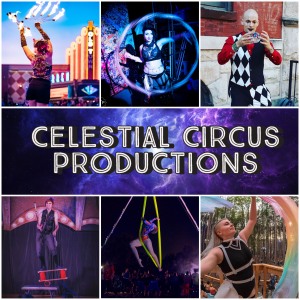 Eilysha Sklar
4.71
(33 reviews)
Dayton, OH
Travels nationwide
$350 and up
Get a Free Quick Quote
Overview
We offer a variety of different shows and entertainment for your event. We specialize in Fire Performance, LED Shows, and Circus Acts – but that's not all! Services offered range from Children's Party Entertainment, Face Painting, and Costumed Characters to Roaming Acts, Variety Shows, Corporate Entertainment, and more!
The sky is the limit…unless you are looking for Aerial entertainment or Stilt Walkers! We also teach classes and workshops so that everyone can get involved with the fun!
Our multi-skilled entertainers have various abilities and talents to fully tailor to create fantastic and mesmerizing shows perfect for your event.
---
---
Booking Info
Gig Length: 10 - 600 minutes
Insurance: $2,000,000 - Commercial General Liability with additional insured endorsement, Waiver of Subrogation, Primary Non-Contributory Endorsement – coverage that protects the insured against liability claims for bodily injury and property damage arising out of their operations. Legal Liability to Audience Participants – coverage that offers protection against bodily injury liability claims brought by persons participating in covered activities. Medical Payment for Audience Participants – coverage that pays the medical and dental expenses incurred by a participant when an accidental injury occurs while participating in your covered activities.
What to Expect
No event is too big or too small. Entertainment for your event can come in many shapes and sizes! Our unique entertainment to all types of events from backyard family parties to professional sporting events, concerts, weddings, corporate functions, and everything in between. Let us transform your event into a memorable experience by bringing your ideas to life through performance, art, and entertainment.
Captivating and enthralling at a broad range of events, we will tailor our shows and services to suit your event perfectly. Quality entertainment is of utmost importance, and this includes state-of-the-art safety practices, dedication to a professional attitude, and flexibility in whatever circumstances your event requires. Celestial Circus Productions adheres to the highest level of professionalism, emphasizing strong client and performer relationships, personalized services, and strict attention to detail.
You can count on us to deliver beautiful, fun, and elegant events with ease and confidence.
Let us take the stress out of entertaining.
We offer personalized consultation to help you choose the perfect performers, artists, and acts for your event and customize any performance aspect to match your unique theme, color, and style. In addition, we provide continued support throughout the entire planning and visioning of each event to ensure that client expectations are met--on time, every time.
We will create whatever theme you desire for your event. Your guests will love your celebration and will remember your event for years to come. We have planned, designed, and executed events from simple to elaborate, from traditional to extravagant.
Learn with us!
We offer a wide variety of private or group classes and workshops for all age groups.
We can provide workshops for training days, conferences, and most other corporate events. Our workshops can be run as informal open have-a-go sessions, more structured team building sessions, or split up into individual skills and set as team challenges. Workshops are a perfect way to boost morale, re-engage with your staff, and get your team to set new goals; our exciting and inspiring circus-themed corporate workshops have been designed to introduce your team to an incredible range of new skills and equipment.
Circus is a unique and inspiring way to teach children and to promote community involvement at your school or organization. We are passionate about sharing the benefits of circus and performance arts! We provide various options for schools, preschools, daycare centers, places of worship, summer/day camps, and more! This is a fantastic way to complement the great work already being done by teachers and community leaders!
About
Eilysha Sklar is not alone in her quest to bring top-tier entertainment to your event. She is the owner of Celestial Circus Production, a multi-platform entertainment company founded in Minneapolis, Minnesota. In addition, she has a nationwide network of multi-talented performers.
Celestial Circus strives to deliver and offer a wide variety of unique and elegant acts for any setting. We work with each client to create a unique event experience specially tailored for your event. Our multi-skilled entertainers have various abilities and talents that we can fully tailor to create fantastic and mesmerizing shows perfect for your event.
Eilysha Sklar is originally from Grand Rapids, Michigan. She has thirteen years of classical dance training in pointe, ballet, contemporary, and modern dance. She has trained with Michigan Ballet Academy, Rising Starz gymnastics, Grand Rapids Ballet, Blue Lakes Fine Arts Camp, Michigan Academy of Gymnastics, etc. She has taught dance choreography over the course of 7 years and has helped choreographed 5 theatre productions. She has instructed at various festivals and events around the United States, ranging from coast to coast.
She has performed at numerous events for audiences ranging from 10 to 250,000 people. She has been seen on stage at Devos Performance Hall, Civic Theatre, DET Music Theatre, Royal Oak, Saint Andrew Hall, Majestic Theatre, The Strutt, The Intersection, and more! In addition, Eilysha has performed for various events, including street festivals and various music festivals, including Carnival of Chaos, Warped Tour, Bonnaroo, Voodoo, Rothbury, Tree Fort, City Lights, Festival of the Arts, and many more!
Additional Booking Notes
FIRE PERFORMANCE REQUIREMENTS:
Our Fire Shows require three essential and distinct areas: (1) Performance Area, (2) Fuel Station, and (3) Spin-off Zone.
There must be an unimpeded passage from the Fuel Station and Spin-off Zone to the stage.
The Fuel Station and Spin-off Zone must be at least 10-15 feet from the stage/performance area. The Fuel Station and Spin-off Zone must be free of traffic. While the fuel station is "hot" (fuel is in place), these areas must only be restricted to our fire performers and safety team members. Our fire team may erect temporary physical barriers to more clearly demarcate these areas.
The Fuel Station and Spin-off Zone will be clearly marked with NO SMOKING signs (which our team will provide). Our fire performers will light and dance with their fire tools within the performance area (or stage).
All fuel containers will be located in the fuel station. Performers will return to this area frequently to dip their tools. Performers will "spin-off" all excess fuel from their wicks in the Spin-off Zone.
Our fire team will arrange fire tools and organize and contain fuels with metal dip cans, drip pans, and other fueling equipment at the fuel station. Also located in the Fuel Station will be any or all of the following: NO SMOKING signs, orange construction cones, caution tape, fire extinguishers, duvetyne (flame retardant fabric), and other safety equipment.
Safety Protocol:
Our performers only wear fire-safe clothing materials. All costume materials are flame tested and shown to be safe. Onstage, fire performers and the safety teams never wear fur, fake fur, feathers, polyester, lace, or any other materials proven unsafe in fire performance.
At least one trained Fire Safety will be present for each active fire performer at every show. There is at minimum one safety either on or beside the stage for each simultaneous fire performer on stage. Additionally, one fire safety is typically posted by the fuel station and spin-out zone.
Fire Safety Equipment includes duvetyne cloth and chemical extinguishers. Fire extinguishers are inspected frequently and must have current tags (we have never used one). Every fire safety team member carries a duvetyne, which is used to extinguish fire tools at the end of a performance or if there is a malfunction or safety concern during the show.
The fire safety team member stationed at the fuel station and spin-out zone has a fire extinguisher on hand at all times. This safety person helps the performers dip their fire tools, keeps the fuel station organized, and prevents unauthorized persons from entering the fuel station or spin-out zones or smoking in the vicinity.
Fire performers and fire safety team members have been trained in fire extinguisher usage, identifying types of fires and the proper extinguisher to utilize to each kind, primary burn first aid including identification and first response burn care, and at least one person is trained in CPR.
Fuels:
The fuel used for most fire performances is Coleman Camping Fuel (also known as "white gas"). Fire breathers use 99% pure Lamp Oil (liquid paraffin).
On-site, all white gas is stored in secure containers. When preparing a tool for performance, a minimal amount of white gas is poured into empty one-gallon paint cans, into which performers dip their wicks. The dip can is placed inside a 5-gallon drip pan to ensure further no fuel is spilled.
Tools:
Our performers will use a variety of different fire props. These tools are constructed with materials that far exceed the stresses of performance. Most wicks are made of Kevlar. All instruments are inspected before every show. Any visible signs of wick decomposition, loose fasteners, or frayed grips disqualify the use of that tool for that performance.
Past Booked Events
October 30, 2022

•

4:00pm - 5:00pm
Cocktail Party

October 29, 2022

•

10:00pm - 10:30pm
House Party

October 29, 2022

•

7:00pm - 8:00pm
House Party

October 28, 2022

•

6:00pm - 7:30pm
Fair

October 15, 2022

•

9:30pm - 10:30pm
Corporate Event

September 17, 2022

•

10:00pm - 10:30pm
Wedding Reception

September 17, 2022

•

6:30pm - 6:45pm
Children's Birthday Party

September 10, 2022

•

8:00pm - 10:00pm
Restaurant/Bar Event

September 05, 2022

•

All-day event
Corporate Party

August 27, 2022

•

8:30pm - 9:30pm
Nonprofit Event

August 13, 2022

•

7:30pm - 10:00pm
Teen Birthday Party

August 13, 2022

•

6:30pm - 8:30pm
Fire Performance at Bay Point Marina

August 11, 2022

•

6:30pm - 7:00pm
Children's Birthday Party

August 11, 2022

•

6:30pm - 8:30pm
Dinner Party

August 06, 2022

•

7:00pm - 7:45pm
Camp Event

July 28, 2022–July 31, 2022

•

All-day event
Great Lakes Flow Retret

July 24, 2022

•

8:00pm - 9:30pm
Stilts in Cincinatti

July 09, 2022

•

7:00pm - 8:00pm
Dinner Party

June 18, 2022

•

2:00pm - 4:30pm
Nonprofit Event

June 18, 2022

•

12:00pm - 3:00pm
Festival

June 11, 2022

•

7:30pm - 8:30pm
Corporate Event

May 21, 2022

•

8:30pm - 9:00pm
House Party

May 21, 2022

•

1:00pm - 2:00pm
Festival

May 07, 2022

•

5:30pm - 7:00pm
Children's Birthday Party

March 03, 2022

•

6:00pm - 6:45pm
Festival

January 22, 2022

•

6:00pm - 10:00pm
Birthday Party

October 31, 2021

•

11:30am - 1:30pm
Nonprofit Event

October 30, 2021

•

8:00pm - 11:00pm
Halloween Party

August 28, 2021

•

8:30pm - 9:00pm
Festival

August 18, 2021

•

1:00pm - 2:00pm
Personal Occasion

July 23, 2021

•

8:30pm - 9:15pm
Birthday Party

July 17, 2021

•

1:00pm - 1:45pm
Corporate Event

June 26, 2021

•

7:00pm - 9:30pm
Birthday Party

June 12, 2021

•

6:30pm - 7:30pm
Children's Birthday Party

May 26, 2021

•

5:00pm - 6:30pm
Nonprofit Event

April 30, 2021

•

6:00pm - 9:00pm
Nonprofit Event

October 17, 2020

•

2:30pm - 4:00pm
Nonprofit Event

September 12, 2020

•

8:30pm - 9:00pm
House Party

March 15, 2020

•

12:30pm - 2:00pm
Fundraiser

January 24, 2020

•

6:30pm - 9:00pm
Cocktail Party

December 07, 2019

•

9:00am - 12:00pm
Nonprofit Event

October 31, 2019

•

12:00pm - 1:00pm
Variety Performers - Event at Matthews Park & Rec

October 12, 2019

•

8:15pm - 10:00pm
Fire Show - Charity Event

September 21, 2019

•

8:00pm - 8:30pm
House Party

September 21, 2019

•

12:00pm - 4:15pm
Roaming Entertainment: King's Fair - Matthews Park

September 01, 2019

•

5:00pm - 8:00pm
Birthday Party

August 23, 2019

•

9:00pm - 11:45pm
Fire Performance - Duluth Tribute Festival

July 25, 2019–July 28, 2019

•

12:00pm - 12:00pm
CampFire Retreat - Hosting Fire & Flow Festival

July 21, 2019

•

7:00pm - 8:30pm
Children's Entertainment & Face Painters - Ice Cream Social & Movie in The Park

July 04, 2019

•

9:00pm - 9:15pm
Wedding Reception

July 04, 2019

•

5:30pm - 7:30pm
Festival

June 16, 2019

•

9:00pm - 9:30pm
Wedding Reception

June 15, 2019

•

12:00pm - 5:00pm
Shakespeare Festival

June 06, 2019–June 08, 2019

•

12:00pm - 12:00pm
Fire Show at Music Festival

May 31, 2019–June 03, 2019

•

12:00pm - 12:00pm
Omaha Potter Faire

May 30, 2019–June 02, 2019

•

12:00pm - 12:00pm
Workshops - FireDrums - CA

May 26, 2019

•

10:00am - 11:00am
Circus Beyond Cosplay

May 25, 2019

•

7:00pm - 8:20pm
Cosplay Circus Variety Show

May 25, 2019

•

7:00pm - 8:00pm
Camp Event

May 24, 2019

•

8:00pm - 9:00pm
Audition Panel - AniMinneapolis

May 24, 2019–May 26, 2019

•

4:00pm - 4:00pm
AniMinneapolis - Convention

May 24, 2019

•

12:00am - 1:00am
Shibari Workshop

May 19, 2019

•

2:00pm - 3:00pm
Children's Birthday Party

April 26, 2019–April 28, 2019

•

12:00pm - 1:00am
Jack Daniels Promotional Event in CA

March 14, 2019

•

5:00pm - 11:00pm
St. Patricks Day Event

March 06, 2019

•

6:15pm - 9:00pm
Corporate Event

March 04, 2019

•

6:00pm - 7:45pm
Anniversary Party

March 03, 2019

•

12:00pm - 1:00pm
Children's Party Entertainment

March 02, 2019

•

12:00pm - 6:30pm
Stilt Walking - Fair

February 27, 2019

•

5:00pm - 6:00pm
Circus Show

February 24, 2019

•

5:00pm - 6:00pm
LED Show - Corporate Event

February 20, 2019

•

1:00pm - 2:30pm
School Assembly

February 15, 2019

•

8:00pm - 10:00pm
Surprise Party

February 14, 2019

•

6:00pm - 7:00pm
Fire Show - Event

February 08, 2019

•

4:00pm - 7:30pm
Fundraiser

February 03, 2019

•

7:00pm - 8:00pm
Wedding Reception

February 02, 2019

•

7:00pm - 11:55pm
Fire Show - Luminary Loppet

February 02, 2019

•

11:45am - 1:45pm
Fire Show: Rock the Slopes (89.3 The Current)

January 27, 2019

•

12:00pm - 1:00pm
Children's Party Entertainment

January 24, 2019

•

7:00pm - 9:00pm
Awards Ceremony

January 15, 2019

•

6:00pm - 8:00pm
Corporate Event

January 12, 2019

•

2:00pm - 3:00pm
Children's Party Entertainment

January 01, 2019

•

10:00pm - 11:30pm
Night Club

December 30, 2018

•

8:00pm - 10:30pm
LED Show - NYE Party

December 23, 2018

•

3:30pm - 5:00pm
Corporate Event

December 22, 2018

•

12:00pm - 3:00pm
Holiday Party

December 18, 2018

•

5:00pm - 7:30pm
Children's Party Entertainment

December 15, 2018

•

8:30pm - 9:30pm
Corporate Event

December 09, 2018

•

2:15pm - 4:00pm
Corporate Event

December 02, 2018

•

1:00pm - 2:30pm
Children's Birthday Party

November 30, 2018

•

7:00pm - 7:15pm
Nonprofit Event

November 24, 2018

•

4:30pm - 5:00pm
Children's Birthday Party

November 14, 2018

•

12:00pm - 7:00pm
Stilt Walking - Convention

November 11, 2018

•

5:30pm - 6:00pm
Children's Birthday Party

November 11, 2018

•

3:30pm - 4:30pm
Children's Birthday Party

November 08, 2018

•

2:00pm - 5:00pm
Corporate Event

November 01, 2018

•

1:00pm - 2:30pm
School Event

October 31, 2018

•

6:00pm - 9:00pm
Halloween Party

October 27, 2018

•

8:00pm - 11:00pm
Halloween Party

October 21, 2018

•

4:00pm - 6:00pm
Wedding Reception

October 19, 2018

•

6:00pm - 10:45pm
Music Event

October 14, 2018

•

2:00pm - 3:00pm
Children's Birthday Party

October 13, 2018

•

4:00pm - 7:00pm
Zombie Pub Crawl

October 13, 2018

•

4:00pm - 6:00pm
Nonprofit Event

October 08, 2018

•

10:00am - 2:00pm
Convention

September 30, 2018

•

12:00pm - 3:00pm
Children's Party Entertainment

September 25, 2018

•

10:00am - 4:00pm
Convention/Trade Show

September 15, 2018

•

6:00pm - 7:00pm
Superhero Party

September 15, 2018

•

2:00pm - 2:30pm
Children's Birthday Party

September 08, 2018

•

5:00pm - 9:00pm
Benefit Event - Wounded Warriors

August 31, 2018–September 02, 2018

•

12:00am - 12:00pm
MetaCon

August 24, 2018

•

8:30pm - 9:15pm
Personal Occasion

August 19, 2018

•

1:00pm - 3:00pm
Corporate Event

August 18, 2018

•

3:00pm - 7:00pm
Festival

August 08, 2018–August 12, 2018

•

12:00am - 12:00pm
New England Flow Festival

August 04, 2018

•

1:00pm - 2:00pm
Children's Party Entertainment

July 31, 2018

•

12:00pm - 2:00pm
Circus Workshop - Corporate Event

July 26, 2018–July 29, 2018

•

12:00am - 12:00pm
CampFire Retreat

July 21, 2018

•

2:00pm - 5:00pm
Music Festival

July 18, 2018

•

7:00pm - 8:00pm
Birthday - Private Party

July 12, 2018

•

5:00pm - 7:00pm
Dance Class

July 08, 2018

•

1:00pm - 2:00pm
Children's Party Entertainment

July 07, 2018

•

11:00am - 4:00pm
cOMmon Grounds Yoga Festival

July 04, 2018

•

11:30am - 10:00pm
Festival - Fire Show

July 03, 2018

•

5:15pm - 7:00pm
LED Show - Corporate Event

July 01, 2018

•

6:00pm - 6:30pm
Flash Mob

June 22, 2018

•

7:00pm - 8:00pm
Sports Event

June 17, 2018

•

2:00pm - 3:00pm
Private Party

June 13, 2018

•

6:00pm - 7:15pm
Dance Instruction

June 07, 2018–June 09, 2018

•

6:00pm - 12:00pm
Music Festival - Fire Show

June 03, 2018

•

4:00pm - 7:00pm
Wedding Reception

June 02, 2018

•

4:00pm - 5:00pm
Circus Workshop

May 27, 2018

•

1:00pm - 2:30pm
Circus Variety Show

May 25, 2018

•

9:00pm - 10:00pm
Caberet Show: AniMinneapolis - Convention

May 19, 2018

•

2:00pm - 2:15pm
Children's Birthday Party

May 13, 2018

•

1:00pm - 2:30pm
Children's Party Entertainment

May 11, 2018

•

4:00pm - 6:45pm
Fair - Stilt Walking

May 06, 2018

•

10:00pm - 11:00pm
Burlesque Show

May 05, 2018

•

9:30pm - 11:00pm
Birthday Party

May 05, 2018

•

5:00pm - 10:15pm
Festival - Fire Show

April 28, 2018

•

4:00pm - 6:00pm
Bar Mitzvah

April 22, 2018

•

1:00pm - 7:00pm
Music Video Filming

April 21, 2018

•

6:00pm - 7:00pm
Circus Show - Kid's Event

April 15, 2018

•

1:00pm - 2:15pm
Princess Party

April 13, 2018

•

6:00pm - 8:00pm
Bachelor Party

April 07, 2018

•

3:00pm - 5:00pm
Photo Shoot

April 07, 2018

•

12:00pm - 1:00pm
Children's Birthday Party

March 11, 2018

•

2:00pm - 5:00pm
Bar Mitzvah

March 10, 2018

•

2:00pm - 3:00pm
Children's Birthday Party

March 03, 2018–March 04, 2018

•

6:00pm - 6:00pm
Cruise - LED Shows

February 17, 2018

•

2:00pm - 4:00pm
Sporting Event

February 14, 2018

•

5:00pm - 6:00pm
Surprise Party

February 04, 2018–February 07, 2018

•

2:00pm - 3:00pm
Roaming Entertainment - Israel

January 26, 2018

•

6:15pm - 8:00pm
Children's Party Entertainment

January 20, 2018

•

12:00pm - 2:00pm
Children's Party Entertainment

January 15, 2018

•

12:00pm - 4:00pm
Event - Stilt Walking

January 13, 2018

•

4:25pm - 6:15pm
Corporate Event

January 07, 2018

•

9:00pm - 10:00pm
Burlesque Show

January 01, 2018

•

10:00pm - 11:55pm
New Years Event

December 31, 2017

•

9:15pm - 11:55pm
NYE Party

October 17, 2017

•

4:00pm - 6:00pm
Nonprofit Event
Team
| | |
| --- | --- |
| Eilysha Sklar | Owner of Celestial Circus Productions |
| April Jenn Choi | World Record Holder, Whip Artist, Circus/Fire Performer, Aerialist, Magician, Model, & Dancer |
| Danielle Doncaster [MN] | Lead Performer |
| Leroy [MN] | Lead Performer |
| Cloud [OH] | Fire/LED/Circus Performer, Dancer, & Artist |
| Tiana [MO] | Fire/LED/Circus Performer & Children's Party Entertainer |
| Nezzie [MN] | Fire/LED/Circus Performer |
| Kimberly Bucki [IL] | Fire/LED/Circus Performer, Aerialist, Stilt Walker, Artist |
| Jared the Juggler [IL] | Fire/LED/Circus Performer, Stunt Performer, Stilt Walker |
| Moose [MO] | Fire/LED/Circus Performer, Fire Breather |
| Skye Wolf [OH] | Fire/LED/Circus Performer, Dancer |
| Cat [MN] | Fire/LED/Circus Performer, Dancer |
| Matt Morrison [MN] | Character Actor, Children's Party Entertainer, Online Personality |
| Chloe Bosak [MN] | Fire/LED/Circus Performer |
| Sam [MN] | Fire/LED/Circus Performer |
| Raija [MN] | Fire/LED/Circus Performer, Burlesque Entertainer |
| Aaron Hurley [MN] | Fire/LED/Circus Performer, Fire Breather, Comedian |
| Radiance [MN] | Fire/LED/Circus Performer, Fire Breather |
| Colton Goepfert [MN] | Fire/LED/Circus Performer, Juggler |
| Erin Burmester [MN] | Fire/LED/Circus Performer, Juggler |
| Leah Burmester [MN] | Fire/LED/Circus Performer, Juggler |
| Henry Koski [MN] | Fire/LED/Circus Performer, Aerialist, Juggler |
| Jazzy [MN] | Fire/LED/Circus Performer |
| Dustin Wayne [MN] | Make-Up Artist, Fire Safety Tech |
| Kat [MN] | Fire/LED/Circus Performer |
| Matia [MN] | Fire/LED/Circus Performer, Dancer |
| Lily [MN] | Fire/LED/Circus Performer, Juggler |
| Becky [MN] | Fire/LED/Circus Performer, Fire Eater |
| KG Berg [IA] | Fire/LED/Circus Performer, Fire Breather, Stunt Juggler, Stilt Walker |
| Jessica Mardini [IN] | Fire/LED/Circus Performer |
| Kaleigh [IN] | Fire/Circus Performer, Children's Party Entertainer, Costumed Character |
| Admiral [MO] | Fire/Circus Performer, Sound Tech |
| Joe Thanel [NE] | Fire/Circus Performer, Stilt Walker |
| Mike Guymon [KY] | Fire/LED/Circus Performer |
| Lee Mai [KY] | Fire/LED/Circus Performer, Juggler |
| Jelly Bean [West MI] | Fire/LED/Circus, Burlesque |
| Alexa Rae [MI] | Detroit Lead, DJ |
| Dragoonis Flame | Fire/LED/Circus Performer, Fire Breather, Pyrotechnician |
| JuJu [NOLA] | Fire/LED/Circus Performer, Fire Eater, Side Show |
| Juliette Antony [OH] | Circus/Fire/LED Specialty Acts, Burlesque, Aerialist, Published Alt Model, Stilt Walker |
| Dylan R [OH] | Circus/Fire/LED Performer |
| Skye Wolf [OH] | Circus/Fire/LED Performer, Dancer |
| Katie [OH] | Circus/Fire/LED Performer, Martial Artist |
| Logan Black [OH] | Circus/Fire/LED Performer, Aerialist, Musician, Acro Yoga, Instructor |
| Sylvia Sprague [OH] | Circus/Fire/LED Performer |
| Mike McAllise [OH] | Circus/Fire/LED Performer, Costumed Character |
| Kali the Courageous [OH] | Circus/Fire/LED Performer, Visual Artist |