Your list is empty.
Save musicians, entertainers, speakers, and services, and they'll appear here.
Free Quick Quote
This vendor provides virtual services
Back to Psychic Entertainment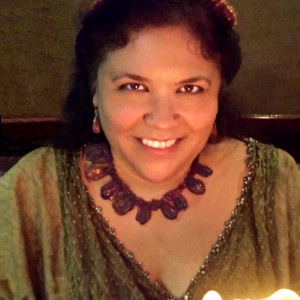 Divinata
4.91
(21 reviews)
New York City, NY
Travels up to 200 miles
$2+ hr: ~$125-150/hr.; $100-250/hr. dep. on length
Get a Free Quick Quote
Overview
- Long-term "#1 Psychic in New York, NY", here and elsewhere!
- Reader for over 20 years, sharing insights & wicked sense of humor at hundreds of corporate events, private parties, fundraisers & more
- Tarot cards, palm readings & handwriting analysis, also numerology, tea leaves & more, with a goal of providing useful insight, not just fluff
- Always mobbed - people you'd never expect to be interested practically come out of the woodwork!

- Comfortable reading for all ages: adults & professionals (swam in corporate waters for 15 years) with hectic lives; young people (mixing in good life advice - hope it sticks!) & children (with a sense of wonder!)
Choose The Best For Your Event!
---
---
Booking Info
Price Range: $2+ hr: ~$125-150/hr.; $100-250/hr. dep. on length
Gig Length: 60 - 540 minutes
Languages: English, French, Russian, Serbian
Insurance: $2,000,000 - Available upon request. Commercial General Liability - Occur
What to Expect
A reader/advisor at hundreds of corporate events, private parties, fundraisers, and more, Vera has been the long-term top-rated "Psychic" in "New York, NY" here and elsewhere. with consistent five-star ratings.
Striking, articulate, and compassionate, she brings every bit of her life experience, in addition to the cues from her tools of divination, to helping the person for whom she is reading. Her demeanor, professional background, and familiarity with diverse cultures make her well-suited for black-tie events, and her social conscience particularly effective at fundraisers.
She generally offers guests the choice between tarot and palm readings - the difference being that tarot is ideal for focusing on an area or question that a person may have and seeing what's going on, while with a palm reading she gives a general overview of a person's life and characteristics, over its whole course (i.e., "Test the Psychic" time!). Her goal always is to provide insight that's useful, not just fluff - with a healthy dose of New York "street smarts"!
A long-time student and advocate of graphology, Vera has been offering handwriting analysis for over 15 years. Rooted in psychology, handwriting directly reflects the person holding the pen – personality, emotions, strengths, interests, health, past, present, and future. Whether a person has developed an artistic style or just races to get their thoughts down on paper, they are conveying a lot more than the words on the page. In these "readings", Vera takes guests on a fun and surprising journey of self-exploration - even inspiring them to start picking up for themselves the "hidden messages" people give in daily life!
Vera is comfortable reading for all ages - for adults and professionals (she swam in corporate waters for over fifteen years), her readings tend to focus on issues that come with a hectic life: balance in life, new endeavors, personal fulfillment, and family questions, among others. For younger children, she infuses the (quick!) reading with a sense of wonder, never anything scary.
Young people usually end up choosing a palm reading because they're eager to learn about themselves, and it's something that's physically imprinted on them. Vera is very careful to give good life advice as part of a reading (e.g., always challenge yourself, choose a career that you love or believe in strongly, be in LIKE before you're in love with a partner, etc.) - hopefully it'll stick!
Most often, once word spreads that she's at the party, Vera ends up mobbed - people that you'd never expect to be interested in a reading practically come out of the woodwork! Her usual speed is about 8 readings per hour (7-8 minutes per reading), a fast but reasonably satisfying pace - though the luxury of a longer reading makes it that much richer (and provides the chance to give guests a taste of both tarot and palm, her favorite offering). For busy events, she can go into "flash reading mode" (up to 12 readings per hour), basically giving a positive / negative indication in a tarot reading along with a prominent theme, or the two or three most salient characteristics in a person's palm. It's absolutely fine if a client wishes to have a private, semi-private (it helps to have someone else there to dissect the reading later on!), or totally out-in-the-open reading.
To help create the feeling of a "special moment", she usually comes garbed with an exotic flair - including mystical, gypsy, Renaissance, and something akin to - colorfully, creatively - corporate. She always brings an array of atmospheric tools and decorations for the table, and is keenly aware of making a complete and memorable impression on the guests.
For a large event, Vera can pull in other readers (friends as well as excellent, experienced professionals) to be able to give more guests the opportunity to have readings, or the luxury of somewhat longer readings. Similarly, they offer diverse specializations in addition to palm and tarot readings.
In tune with her artistic interests, Vera is happy to offer mehndi (henna designs) in addition to psychic readings - they actually go together beautifully, creating a special, nurturing evening that's very suitable for celebrating a life event, with the mehndi design a memento of the experience. She has done many Middle Eastern - and Arabian Nights - themed parties (lots of fun!), and has particularly enjoyed offering this combination at smaller gatherings among close friends and those for young people such as Sweet Sixteens.
Vera has a wonderful sheet of designs, from traditional Arabic / Indian, contemporary symbols (astrological, Chinese characters, etc.), Celtic designs, and fun stuff (stylized animals, flowers, etc.) - even tribal and sports designs so there's something for everyone! She makes her own henna mixture using all-natural ingredients, so is sure of exactly what's in it (not necessarily so easy if an artist uses a pre-made commercial mixture). She is happy to also offer the designs in glitter (GORGEOUS!), for those who don't want to commit to the 7-10 period that traditional henna entails.
Let Vera take you and your guests on a fascinating journey at your next event!
CLIENTS & EVENTS
New York Renaissance Faire*
Medieval Festival at Ft. Tryon Park*
Facebook
Pepsico*
AT&T
Macy's*
Central Park Conservancy*
Environmental Defense Fund
Friends of Valley Forge
FDNY Widows & Orphans Fund*
American Cancer Society
Old Salem Farm*
Tamarack Preserve
Hamilton Farm Golf Club
Black Oak Golf Club*
Princeton University*
John Jay College of Criminal Justice
Fordham University
Rutgers University*
Seton Hall Law School*
Montclair State University*
Project Safe Graduations & Proms/Post-Proms (35+)
VA Hospital - Northport, NY*
NYU Langone Orthopedic Hospital*
Hebrew Home for the Aged*
VENUES
Plaza Hotel
The Carlyle Hotel
Peninsula Hotel
Café Boulud*
Hard Rock Café – Times Square
Central Park Boathouse
Pier Sixty at Chelsea Piers
Tropicana Casino
St. Moritz Hotel
The Castle (Tarrytown, NY)*
NJ PAC
Newark Symphony Hall*
P. C. Knox Estate, Valley Forge
Central Park*
Liberty State Park*
Forest Lodge*
* REPEAT APPEARANCES
REVIEWS
Lovely, lovely... would have her back in an instant! Thank you! (Hallowe'en party, 10/27/2018)
Vera was such a joy to work with & helped make my party extra special. Warm, friendly, insightful, & professional. My guests loved their readings & had a fabulous time. (Adult birthday party, 9/18/2018)
Divinata was great! The guests at my event loved her. She was the perfect addition. I highly suggest booking her…. (Corporate function, 2/21/2018)
Highly recommend... she was tremendous, the members loved her! We are already talking about her next engagement… look forward to welcoming her back! (Club event, 12/16/2017)
…a great experience for myself & all our guests…. very informative & a great presence for the occasion. I would highly recommend her!!! (Baby shower, 10/22/2017)
Very professional, arrived early, had a great set up. Guests loved her & there was a line the whole time! Gives special individualized attention to each reading & doesn't make you feel rushed while still getting to a lot of people. Would highly recommend! :) (Private party, 10/13/2017)
We had a wonderful night! Divinata was so warm & friendly… made us all feel very comfortable & relaxed. She provided the exact quality & ambiance that I hoped for. (Bachelorette party, 6/24/2017)
Vera was such a joy to work with! We were looking for something unique… she was the perfect addition. She is so courteous & it was so nice to feel her excitement about our event. We highly recommend her…. (Wedding, 5/28/2017)
…a pleasure to work with… prompt, professional & went above & beyond for my guests. I have already recommended her... & will continue to do so!! (Bridal shower, 4/9/2017)
…a consummate professional …very pleasant & positive. …amazed at her accuracy. …highly recommend Divinata. (Bar Mitzvah, 10/15/2016)
…the highlight of the party! Everyone LOVED her! I only regret that I didn't get to sit with her myself as I kept hearing how great she was…. I hope to book her again this year... to rectify that!! (Wedding reception, 10/31/2014, written 9/2016)
She was really great, very sweet person & did a great job at the party, everyone loved it (Adult birthday party, 6/11/2016)
...great with the kids. ...very professional & accommodating to whatever you need. Her henna tattoo skills are super & the work on the girls was great. Her readings were very accurate & the girls were very interested in hearing what she had to say …very talented …a great addition to any party or event. (Children's birthday party, 4/23/2016)
BEST PARTY EVER! is what we heard… took a genuine interest in the kids & gave them great individualized attention & positive advice for their futures. …recommend her wholeheartedly! (Children's birthday party, 11/13/2015)
A TOP-TIER TALENT: Warm, professional & SPOT ON…. made all of the guests feel comfortable & keep[s] going until everyone is satisfied. (Hallowe'en party, 10/30/2015)
…a wonderful experience the performer was very professional, friendly, punctual. She made a very special mark on my event. (Bridal shower, 4/23/2016)
…hired for an office holiday party & was very accommodating, professional & talented! would definitely use again! (Corporate party, 12/18/2015)
Once again, you along with your crew were a hit! Thanks for helping make our night a success. (Annual Hallowe'en school event, 2015)
…a huge hit at my daughter's Sweet 16 party! She was very professional & spent a lot of time with the guests- & everybody loved it! I would highly recommend her to anyone looking for that extra wow factor to make their party special! …extremely satisfied with the entire experience…. (Sweet Sixteen party, 4/25/2015)
My guests could not stop talking about how much they liked her. The face painting was fantastic. The readings were a hit. Divinata handled every request with ease. The experience really made the party a success. (Adult birthday party, 11/8/2014)
…wonderful! We had quite a variety of people at our event & everyone who went to her for a reading left satisfied. Her low-key approach made people feel comfortable. She was just what we needed! (Fundraiser, 10/18/2014)
…professional, fun, & simply a pleasure to have at my daughters birthday party. We would definitely book her again! (Adult birthday party, 6/14/2014)
She tailored the images she painted to suit the theme of our event & I have overwhelmingly positive comments from kids & parents. Divinata is the best. (Celebration, 6/29/2013)
"Thank you Vera! You were the hit of the party. Will pass your name on to one & all." (Adult birthday party, 2012)
"You're the hit of the evening. Everyone wants to come see you!" (Fundraiser, 2011)
"I spoke with several other readers, but you were the only one that I felt I could TALK to. You're not a flake!" (Corporate event, 2009)
About
The 3 Lives of Divinata
Vera was born into a world of Slavic culture & love of learning, the daughter of post-War emigrés who went on to become professors in the best European intellectual tradition. Languages, music, culture, & academic achievement were the tapestry of her life - as were stories of strange events in her parents' journey & more-than-coincidental experiences in her own life.
She went on to an Ivy-League level education and, armed with an MBA, a Wall Street career in public finance, including municipalities, non-profits, and - best of all - cultural institutions. But her love of the arts, including music - as necessary as breathing - never left her, and balancing the two sides of her life became a growing dilemma. That, of course, only led to more strange experiences, both confirming - and terrifying.
In the wake of 9/11, Vera chucked it all & threw herself into her creative interests, following the trail of bread-crumbs that led her to becoming a psychic advisor. This incarnation has proved "just right", allowing her to use & share her intuitive gifts & life experience to help her clients sort through life, with startling, unconventional, & ultimately affirming insights.
Additional Booking Notes
COVID POLICY
There's an observation that 2020 (well, 2021, too, and 2022's still a question mark) was what you get when you mix your tarot cards with "Cards Against Humanity". Thankfully, we seem to be past the worst of it & we can look to better times - but we still have to take care. Divinata has been fully vaccinated, boostered, and follows all CDC and state guidelines and recommendations at events, and expects that attendees will also do so.
Light and Background Music / Sound
Parties are a blast! So is being a reader, most of the time…. Please try to be gentle with your humble psychic in choosing where she will be setting up – lighting and the level of sound DO matter when a reader and guest are trying to speak to each other. Low-level, atmospheric light is great when tarot readings are the order of the night, but at least a small area of good light is necessary for palm readings and henna. Vera is happy to bring a small, high-intensity lamp, if requested and with access to electricity, or a small flashlight for palm readings. Music and background conversation are wonderful... in moderation.
Services Offered
Setup Requirements
A table and a couple of chairs in a conducive spot (and adequate shelter!), but can bring her own upon request (plus anything else up to a lovely outdoor booth-type set-up!)