Your list is empty.
Save musicians, entertainers, speakers, and services, and they'll appear here.
Free Quick Quote
This vendor provides virtual services
Back to String Quartets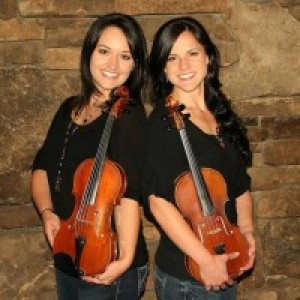 Deans' Duets
5.0
(13 reviews)
Hickory, NC
Travels up to 200 miles
$200 and up
Get a Free Quick Quote
Overview
April and Megan Dean have played the violin since the age of three. They provide music for weddings, special events, holiday parties, anniversaries, and receptions throughout NC and SC. Their experience playing as a duo makes them uniquely capable to plan your ceremony according to your personal taste and style.
April and Megan have both been members of the Western Piedmont Symphony as well as the Salisbury Symphony Orchestra. Both teach violin as well.
Contact us by email or phone or visit our website to request a free brochure or more information.
---
---
Booking Info
Gig Length: 15 - 400 minutes
Languages: English, Spanish
Services Offered
Past Booked Events
September 17, 2021

•

11:00am - 12:00pm
Funeral/Memorial Service

October 19, 2019

•

2:00pm - 3:30pm
Wedding Ceremony

February 22, 2018

•

5:30pm - 9:00pm
Fundraiser

September 30, 2017

•

3:00pm - 5:00pm
Wedding Ceremony

September 02, 2017

•

3:30pm - 5:30pm
Wedding Ceremony

June 17, 2017

•

4:00pm - 6:00pm
Wedding Ceremony

June 04, 2016

Wedding Ceremony
Set List
COMPLETE SONG LIST
​
7 Years
​
All For Love (The Three Musketeers)
All I Ask of You (Phantom of the Opera)
All My Life (Boys II Men)
All My Loving (The Beatles)
All of Me (John Legend)
All You Need is Love (The Beatles)
Angel Eyes (Jim Brickman)
Annie's Song (John Denver)
At Last (Etta James)
Baby, Now That I Found You (Alison Krauss & Union Station)
Beautiful Day (U2)
Beauty and the Beast
Bella Notte (This is the Night - Lady & the Tramp)
Bella's Lullaby (Twilight)
The Best Thing (Relient K)
Beth Rest (Bon Iver)
Bittersweet Symphony (The Verve)
Bless the Broken Road (Rascal Flatts)
Borders (Jim Brickman)
Boulevard of Broken Dreams (Green Day)
Breathe (Faith Hill)
Bubbly (Colbie Caillat)
Butterfly Kisses
Can You Feel the Love Tonight
Candle in the Wind (Elton John)
Can't Help Falling in Love With You (Elvis)
Carolina in my Mind (James Taylor)
Chim Chim Cher-ee (Mary Poppins)
Circle of Life (The Lion King)
Clocks (Coldplay)
Colors of the Wind (Pocahontas)
Come Away with Me (Norah Jones)
Come Fly with Me (Frank Sinatra)
Concerning Hobbits (Lord of the Rings)
Cowboy Take Me Away (Dixie Chicks)
Crazy (Patsy Cline)
Destiny (Jim Brickman)
Don't Stop Believin' (Journey)
Dream (Priscilla Ahn)
Dream a Little Dream of Me (Michael Buble)
Dreams Come True (Jim Brickman)
A Dream is a Wish (Cinderella)
Dust in the Wind (Kansas)
Eidelweiss (Sound of Music)
Eight Days a Week (The Beatles)
Endless Love (Lionel Ritchie)
Every Breath You Take (Sting)
Everything (Michael Buble)
Everything I Do I Do If For You (Robin Hood)
Faithfully (Journey)
Feed the Birds (Mary Poppins)
Firework (Katy Perry)
Fireworks (Harry Potter)
Flightless Bird (American Mouth)
Fly Me to the Moon (Frank Sinatra)
For Emma (Bon Iver)
For Once in My Life (Stevie Wonder)
For the Love of a Princess (Braveheart)
For You I Will
Forever in Love (Kenny G)
From This Moment On (Shania Twain)
The Gift (Jim Brickman)
God Gave Me You (Blake Shelton)
God of Wonders
God Only Knows (Beach Boys)
Grace Like Rain
Grow Old with Me
Hallelujah
Halo (Beyonce)
Happy Everafter in Your Eyes (Ben Harper)
He's a Pirate (Pirates of the Caribbean)
Heartland (Jim Brickman)
Hedwig's Theme
Helplessly, Hopelessly
Here Comes the Sun (The Beatles)
Here There and Everywhere (The Beatles)
Hero's Dream (Jim Brickman)
Hey Jude (The Beatles)
Hey, Soul Sister (Train)
Ho Hey (The Lumineers)
Home (Michael Buble)
I Believe I Can Fly
I Believe in You and Me (The Preacher's Wife)
I Cross My Heart (George Strait)
I Dreamed a Dream (Les Miserables)
I Finally Found Someone
I Will Be Here (Steven Curtis Chapman)
I Swear
If I Never Know You (Pocahontas)
If We Hold On Together (Land Before Time)
If You Believe (Jim Brickman)
In My Life (Beatles)
Indescribable
Into the Mystic (Van Morrison)
It's a Small World after All
It's Your Love (Tim McGraw / Faith Hill)
Just the Way You Are (Bruno Mars)
Kiss the Girl (The Little Mermaid)
Kissing You (Romeo + Juliet)
Let it Be (The Beatles)
Let's Stay Together (Al Green)
Liz on Top of the World (Pride & Prejudice)
Lonestar (Norah Jones)
Lost Boy (Ruth B)
Love is Here to Stay (Gershwin)
Love Theme from St. Elmo's Fire
A Love Until the End of Time
Love of My Life
Marry Me (Jason Derulo)
Marry You (Bruno Mars)
Marry You (Train)
Maybe I'm Amazed (Paul McCartney)
Me and You (Kenny Chesney)
Mirrors (Justin Timberlake)
Moon River
The Music of the Night (Phantom of the Opera)
My Best Friend (Tim McGraw)
My Girl
My Heart Will Go On (Titanic)
My Love (Eclipse - Twilight Saga)
New York, New York (Frank Sinatra)
North and South Theme Song
Once Upon a Dream (Sleeping Beauty)
Once Upon a Time...Storybook Love
Only Time (Enya)
Open Arms (Journey)
Ordinary Day (Vanessa Carlton)
Over the Rainbow
Paradise (Coldplay)
Part of Your World (The Little Mermaid)
Payphone (Maroon 5)
The Prayer (Andrea Bocelli / Josh Grobin / Celine Dion)
Reflection (Mulan)
River Flows in You (Yiruma)
Rocket to the Moon (Jim Brickman)
'S Wonderful (Gershwin)
Save the Last Dance for Me
The Scarlet Tide (Cold Mountain)
The Scientist (Coldplay)
Secret Garden (Bruce Springsteen)
Shall We Dance (Gershwin)
Skinny Love (Birdy)
Slow Hand (Conway Twitty)
So This is Love (Cinderella)
Some Day My Prince Will Come (Snow White)
Someone Like You (Adele)
Someone to Watch Over Me (Gershwin)
Something About the Way You Look Tonight
Somewhere, My Love (Doctor Zhivago)
Somewhere Out There (An American Tail)
The Sound of Music
Stairway to Heaven (Led Zeppelin)
Stand By Me
Stay (Rihanna)
Stay with Me (Sam Smith)
Summertime (Porgy and Bess)
Take My Breath Away
That's Amore
Theme from Jurassic Park
Theme from Ice Castles (Through the Eyes of Love)
There You'll Be (Pearl Harbor)
They Can't Take That Away from Me (Gershwin)
Think of Me (Phantom of the Opera)
This is It (Michael Jackson)
This Will Be An Everlasting Love (Natalie Cole)
A Thousand Years (Christina Perri)
Three Times a Lady (Lionel Ritchie)
A Time For Us (Romeo & Juliet)
Time to Say Goodbye (Andrea Bocelli)
Titanium
To Make You Feel My Love
Unchained Melody
Under the Sea (The Little Mermaid)
Unforgettable (Nat King Cole)
Valentine (Jim Brickman)
Viva La Vida (Coldplay)
The Way You Look Tonight
Wedding Song (There is Love)
What a Wonderful World
When I Fall in Love
When I Say I Do (Matthew West)
When You Say Nothing At All (Alison Krauss)
When You Wish Upon a Star (Pinocchio)
Who is She (Cinderella)
A Whole New World (Aladdin)
Wonderful Tonight (Eric Clapton)
Yellow (Coldplay)
Yesterday (Beatles)
You and Me (Lifehouse)
You Are So Beautiful
You Light Up My Life
You Raise Me Up (Josh Grobin)
You Will Be My Ain' True Love (Cold Mountain)
You'll Be in My Heart (Tarzan)
You're My Best Friend (Queen)
You've Got a Friend in Me (Toy Story)
Classical & Sacred Song List
A Courtly Dance
Air on the G String
Amazing Grace
An Episode
Arioso (J.S. Bach)
Arrival of the Queen of Sheba
Ashokan Farewell
Ave Maria
The Bridal March
Canon in D
Come Thou Fount
Entrance of the Queen of Sheba
Haste to the Wedding
He Leadeth Me
Hornpipe
Jesu, Joy of Man's Desiring
King's March
La Rejouissance
Lover's Waltz
Meditation (J.S. Bach)
Meditation from Thais
Morning Has Broken
O Mio Babbino Caro
O Sole Mio
Ode to Joy
Panis Angelicus
The Prayer
Romanza (Mozart)
Rondeau (Mouret)
Rose by the Door
Savior, Like a Shepherd
Sheep May Safely Graze
Simple Gifts
Song Without Words
Songs My Mother Taught Me
Spring Dance
Spring from The Four Seasons
Take My Life and Let it Be
The Lord's Prayer
Theme from Ice Castles
Tobin's Jig
Traumerei
Trumpet Tune
Trumpet Voluntary
Waltz (Brahms)
​The Wedding Song
The Wedding March from a Midsummer Night's Dream (Mendelssohn)
Influences & Inspiration
Our favorite artists' covers to perform are:
The Beatles
Bruno Mars
Coldplay
Frank Sinatra
Michael Buble
We also enjoy playing sacred music/hymns, as well as Broadway tunes and classical music.