Your list is empty.
Save musicians, entertainers, speakers, and services, and they'll appear here.
Free Quick Quote
This vendor provides virtual services
Back to Singing Telegrams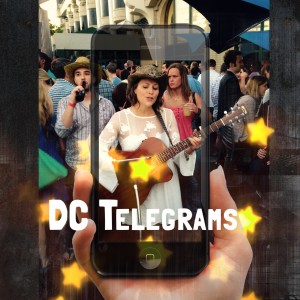 DC Telegrams
4.99
(67 reviews)
Washington, DC
Travels up to 60 miles
Contact for rates
Get a Free Quick Quote
Overview
DC Telegrams is back after a hiatus to focus on performing! Professional singers and guitarists in the DC area will learn any song you want and serenade your special person. We are professional musicians and we are ready to work with you to give someone a day he/she will always remember. This is perfect for birthdays, anniversaries, proposals, Valentine's Day, or just any day you want to make someone smile. Our packages often include small surprises for the recipient, such as birthday hats, balloons, or flowers.
**One very popular service we offer is rewriting and personalizing a song for your special person. You help us choose the song, and then we work with you to make it perfect!*
---
---
Booking Info
Price Range: Contact for rates
Past Booked Events
July 23, 2021

•

10:00am - 10:15am
Birthday Party

July 06, 2021

•

10:00am - 10:15am
Personal Occasion

June 29, 2021

•

7:00pm - 7:15pm
Personal Occasion

June 25, 2021

•

7:00pm - 7:15pm
Birthday Party

June 25, 2021

•

12:00pm - 12:15pm
Anniversary Party

June 13, 2021

•

10:30am - 10:45am
Birthday Party

June 06, 2021

•

5:30pm - 5:45pm
Birthday Party

June 01, 2021

•

12:30pm - 1:00pm
Birthday Party

May 23, 2021

•

5:00pm - 5:15pm
Surprise

May 21, 2021

•

10:00am - 10:15am
Birthday Party

May 12, 2021

•

6:00pm - 6:15pm
Birthday Party

May 10, 2021

•

6:00pm - 6:15pm
Birthday Party

May 05, 2021

•

5:00pm - 5:15pm
Birthday Party

May 04, 2021

•

2:00pm - 2:15pm
Surprise

May 03, 2021

•

12:00pm - 12:15pm
Birthday Party

May 01, 2021

•

2:00pm - 2:15pm
Bachelor Party

April 24, 2021

•

2:00pm - 2:30pm
Birthday Party

April 24, 2021

•

12:00pm - 12:15pm
Anniversary Party

April 21, 2021

•

2:30pm - 2:45pm
Birthday Party

April 18, 2021

•

8:00pm - 8:15pm
Birthday Party

April 12, 2021

•

5:00pm - 5:15pm
Anniversary Party

April 08, 2021

•

3:30pm - 3:45pm
Personal Occasion

March 24, 2021

•

8:30am - 8:45am
Surprise

March 12, 2021

•

10:00am - 10:30am
Surprise

March 09, 2021

•

4:00pm - 4:15pm
Birthday Party

February 26, 2021

•

6:00pm - 6:15pm
Birthday Party

February 20, 2021

•

7:00pm - 7:15pm
Birthday Party

February 14, 2021

•

2:00pm - 3:00pm
Personal Occasion

February 14, 2021

•

12:00pm - 12:15pm
Surprise

February 05, 2021

•

6:00pm - 6:15pm
Personal Occasion

January 24, 2021

•

12:00pm - 12:15pm
Birthday Party

January 14, 2021

•

6:30pm - 6:45pm
Birthday Party

January 05, 2021

•

6:00pm - 6:15pm
Birthday Party

December 24, 2020

•

7:00pm - 7:15pm
Christmas Party

December 17, 2020

•

2:00pm - 2:15pm
Anniversary Party

December 06, 2020

•

2:00pm - 2:15pm
Birthday Party

December 02, 2020

•

3:00pm - 3:15pm
Birthday Party

October 28, 2020

•

1:30pm - 1:45pm
Birthday Party

October 20, 2020

•

12:00pm - 12:15pm
Birthday Party

October 19, 2020

•

9:00pm - 9:15pm
Birthday Party

October 15, 2020

•

10:00am - 10:15am
Corporate Event

October 07, 2020

•

10:00am - 10:30am
Birthday Party

October 06, 2020

•

12:30pm - 12:45pm
Birthday Party

October 03, 2020

•

12:00pm - 12:15pm
Birthday Party

October 03, 2020

•

9:00am - 9:15am
Birthday Party

October 01, 2020

•

5:00pm - 5:15pm
Birthday Party

September 17, 2020

•

6:00pm - 6:15pm
Birthday Party

September 17, 2020

•

5:00pm - 5:15pm
Birthday Party

September 13, 2020

•

9:00am - 9:15am
Birthday Party

September 10, 2020

•

5:00pm - 5:15pm
Anniversary Party

July 24, 2020

•

11:00am - 11:15am
Birthday Party

July 13, 2020

•

6:00pm - 6:15pm
Birthday Party

July 13, 2020

•

3:00pm - 3:15pm
Birthday Party

July 12, 2020

•

5:00pm - 5:15pm
Birthday Party

July 11, 2020

•

6:30pm - 6:45pm
Birthday Party

June 30, 2020

•

6:30pm - 6:45pm
Anniversary Party

June 24, 2020

•

4:00pm - 4:30pm
Surprise

June 07, 2020

•

6:00pm - 6:15pm
Birthday Party

June 05, 2020

•

4:00pm - 4:15pm
Birthday Party

June 04, 2020

•

10:00am - 10:15am
Children's Birthday Party

June 03, 2020

•

12:00pm - 12:15pm
Birthday Party

May 30, 2020

•

4:00pm - 4:15pm
Personal Occasion

May 28, 2020

•

5:00pm - 5:15pm
Children's Birthday Party

May 24, 2020

•

6:00pm - 6:15pm
Birthday Party

May 23, 2020

•

6:00pm - 6:30pm
Surprise

May 17, 2020

•

2:00pm - 2:15pm
Birthday Party

May 10, 2020

•

6:00pm - 6:15pm
Birthday Party

May 10, 2020

•

12:00pm - 12:15pm
Birthday Party

May 10, 2020

•

10:30am - 10:45am
Personal Occasion

April 27, 2020

•

4:30pm - 4:45pm
Birthday Party

April 16, 2020

•

10:00am - 10:15am
Birthday Party

March 23, 2020

•

3:00pm - 3:15pm
Surprise

March 11, 2020

•

7:00pm - 7:15pm
Birthday Party

March 03, 2020

•

3:00pm - 3:15pm
Birthday Party

February 27, 2020

•

2:30pm - 2:45pm
Birthday Party

February 14, 2020

•

2:00pm - 2:15pm
Surprise

August 26, 2016

•

7:00pm - 7:15pm
Birthday (Adult)

July 12, 2016

•

8:30pm - 8:45pm
Birthday (Adult)

May 14, 2016

•

5:00pm - 5:15pm
Birthday (Adult)

April 23, 2016

•

9:30pm - 9:45pm
Birthday (Adult)

April 20, 2016

•

7:00pm - 7:15pm
Surprise

April 19, 2016

•

2:00pm - 2:15pm
Birthday (Adult)

February 12, 2016

Holiday Party (Other)

February 04, 2016

Birthday (Adult)

January 16, 2016

Birthday (Adult)

January 15, 2016

Birthday (Adult)

January 14, 2016

Prank/Surprise

November 25, 2015

Prank/Surprise

October 22, 2015

Birthday (Adult)

October 16, 2015

Birthday (Adult)

October 13, 2015

Prank/Surprise

April 23, 2015

Bachelorette Party

April 23, 2015

Prank/Surprise

April 02, 2015

Other

January 31, 2015

Birthday Party

October 10, 2014

Birthday Party