Your list is empty.
Save musicians, entertainers, speakers, and services, and they'll appear here.
Free Quick Quote
This vendor provides virtual services
Back to Latin Bands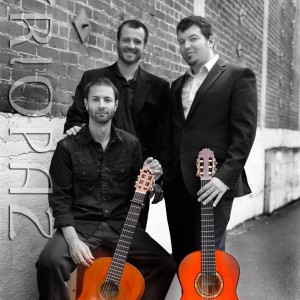 Daniel Fríes and Trio Paz
5.0
(6 reviews)
Berkeley, CA
Travels up to 500 miles
$400-$6000
Get a Free Quick Quote
Overview
Solo or Duo Guitar, Instrumental Trio, Flamenco Dance Group
"Trio Paz embodies the essence of what is great about live music"
Trio Paz is an infectious musical mix of Flamenco Rumba, Latin, and Brazilian, intricately and virtuosically crafted into the perfect blend of delicious moods for your event. Whether you're planning the perfect romantic moment, a joyous festival celebration, or a sumptuous feast, Trio Paz adds an unparalleled latin flair. Trio Paz's experience, depth, professionalism, and sheer love for music translate into an unforgettably enjoyable experience for everyone.
Options: Solo Guitar; Guitar Duo; Trio (with drums); Flamenco Dance Show; Alta Cali Latin Band; Custom Band
---
---
Booking Info
Gig Length: 30 - 180 minutes
Languages: English, Italian, Spanish
Insurance: $2,000,000 - I carry an umbrella liability policy. I can purchase an additional "day-of" event insurance policy with your name on the certificate on request, for $150 extra
What to Expect
We are punctual, clean, well-dressed, respectful, volume-conscious, deferential, aware professionals who pride ourselves on customer service first and foremost.
Musically, we offer these options:
1. Solo Spanish Guitar - flamenco and some classical as well. Perfect for wedding ceremonies, intimate parties, and parties on a budget.
2. Spanish Guitar Duo - more upbeat, with a mixture of Flamenco Rumba and Latin Ryhthms and songs - great for small cocktail parties!
3. Trio Paz - 2 Spanish guitars plus specialty percussion for more rhythm and excitement - an excellent choice for parties and weddings!
4. Flamenco dance show - typically with guitar, vocals, and 2 dancers, performed in 15-30 minute sets. Exciting choice to make an impression at a party, but not for weddings, as it will overshadow the wedding couple.
5. Build a bigger band - we can add bass, more percussion, vocals, sax/flute, violin to get the sound and vibe you're looking for.
6. Alta California - a unique Bay Area latin band/dance experience - see http://altacali.net for more info.
What we do at a party: (from an email to a soon-to-be-satisfied client)
We have had many years of experience playing for everything from cocktails to dinners to after dinner and ceremonies. Every moment in the evening has its particular feeling and set of constraints presented to us as musical mood-setters. For instance, during dinner we never want to get in the way of a diner's experience of the food or quieter conversation, so we play slower, quieter music which can sit in the background and enhance the experience of eating, rather than overwhelm the diner's sensory experience. Bossa Nova and Latin Jazz tend to be what we favor during this time, and we choose each song from our repertoire as we go, tailoring each choice to that particular moment of the evening. The main course, for instance, requires that we are even more toned-down in what we play than does the salad.
We also pay very careful attention to the facial expressions of your guests, constantly monitoring for signs of either appreciation for the music, or of annoyance, and we adjust what we do accordingly. I should mention here that if you have any guests with hearing aids, you will want to seat them as far from the music as possible, as it will be difficult for them to enjoy themselves, or to participate in conversation with even a low volume of background music or noise.
After dinner we watch the crowd and wait for a certain level of digestion to have been achieved, and for the energy of your guests' bodies to move away from their bellies. We then know that it is time for us to begin playing our more uptempo numbers, especially flamenco rumbas, setting a mood of easy confidence, and we enjoy watching as guests begin speaking more animatedly, and body language changes to excitement as conversation flows more and more easily. We keep a keen eye on movements which indicate to us that a guests or group of guests may be ready to dance, and if a little musical encouragement is needed, we make sure that we provide that extra energy to make it happen. If guests do indeed choose to dance, we shift gears to enhance the experience of the dancers as much as possible. The tempo of our musical selection becomes critical, and will fall between 125 and 140 beats per minute. We know exactly which songs in our repertoire fall into this category, and have been saving them for this moment. We now think the way a good DJ would think, choosing each song to flow seamlessly into the last and the next, but varying the style and key just enough to keep things interesting, and keep people moving. We will even move directly from the end of one song into the next without stopping the beat, so that the dancers' experience does not diminish even for a second.
When the dancers' energy begins to fade, we will play a slow dance to let them recover their energy or appreciate a romantic moment with a loved one, and then, if the mood is right, we will pick the music up again.
Of course, if ever a musical selection isn't quite right for a party, the host/ess need only make eye contact and let us know with a brief hand or facial gesture how to adjust what we're doing. We will always defer to the tastes of our client, and your satisfaction is our top priority, so we make it quick, easy, and hassle-free for you to change the mood if one of our musical selections doesn't resonate with your vision for the moment.
Regarding cocktails, you mention you'd like more ambient/jazzy music. We are happy to accommodate this. Cocktails are a time for old friends to greet and get reacquainted, and for new relationships to be forged, so supporting the flow of conversation and creating a feeling of confidence and connection are what we prioritize with our musical selections. Changing the feeling of our music by juxtaposing diverse genres and tempos can enhance conversation by keeping it moving. A surprising new musical genre in the background triggers a new thought or memory in a guests' mind, and the conversation gains a new topic, becoming more interesting, and holding together where otherwise it would drift for lack of subject matter. A shift up to double-time has not only this same effect, but gives a feeling that the conversation has become more interesting and exciting - while on the other hand, moving the music out of double time back to a relaxed feel gives conversationalists the feeling of having been on a journey together which has just come to a relaxed and comfortable resting place. For this reason, we like to keep the music varied during cocktails, and of course we would employ jazzy and ambient feels, but with your permission, we will also mix in more uptempo and diverse music.
I know this is a mouthful but I hope it has given you an insight into the real details of our work, and why our years of experience will make a difference to your party's success.
About
"Trio Paz embodies the essence of what is great about live music"
Trio Paz is an infectious musical mix of Flamenco Rumba, Latin, and Brazilian, intricately and virtuosically crafted into the perfect blend of delicious moods for your event. Whether you're planning the perfect romantic moment, a joyous festival celebration, or a sumptuous feast, Trio Paz adds an unparalleled latin flair. Trio Paz's experience, depth, professionalism, and sheer love for music translate into an unforgettably enjoyable experience for everyone.
"Guitarist Daniel Fríes provides the bands flawless rhythm, setting up fellow guitarist JP Boungiorno's impressive leads and sweet mellodies. All to the while, percussionist Surya Patri lays down masterful beats with a playful tempo that gets your feet moving and won't let them stop. Whether your dancing or watching, Trio Paz keeps it exciting and fun (If you're watching then I would like to see a note from your doctor). They have an engaging and lighthearted stage presence that embodies the essence of what is great about live music." -Chad Markell, a satisfied Groom.
Let Trio Paz help make your event a success!
Daniel Fríes
Daniel Fríes is one of the premier flamenco guitarists in California, both as an accompanist for flamenco song and dance, and as a soloist. He has performed with many world class and local flamenco artists as La Tania, Andrés Marín, Cristo Cortés, and Manuel Gutierrez, Caminos Flamencos, Carola Zertuche, Arte y Compás, and Carolina Lugo's Brisas de España, for which he has been musical director. While in Italy, he performed with two of the country's top dancers, Juana Cala, and Maria Jose Soto Leon in venues from Venice to Milan to Sicily. While his playing style remains grounded in the roots of the traditional Spanish flamenco, he also explores new directions in musical composition as well as blending of elements from the various musical traditions around which he grew up in San Francisco; Indian, Middle Eastern, Latin American, and African. He has performed in venues ranging from San Francisco's Palace of Fine Arts and Yerba Buena Center for the Arts, to venues in China and in India. He also directed the music for "Zambra Bailar," a company mixing flamenco with Middle Eastern music and belly dance. In 2002, he composed and directed the music for La Tania's ongoing project, "The Passage of The Muse." In 2003, Mr. Fríes took his band Funkiri to Sevilla, Spain. More recently, he has pursued collaborations with a wider range of musicians, including the outstanding persian singer Hamed Nikpay, with whom he produced Mr. Nikpay's 2008 release and subsequent tour "All is Calm." Mr. Fríes has studied in Spain with several flamenco guitar masters, including Manolo Sanlucar, Paco Peña, and Jose Luis Rodriguez. He has also studied Indian Classical music under Ustad Ali Akbar Khan, and Ghanain drumming with C.K. Ladezkpo, and has B.A. in Music from U.C. Berkeley.
Jean-Paul Buongiorno
Jean-Paul Buongiorno was born on September 25th, 1975 into an Italian-French family. His musical training began with classical piano at an early age. He later taught himself electric guitar in high school by listening to the blues guitar playing of B.B King, Muddy Waters, Stevie Ray Vaughn, Jimi Hendrix and many others. Later, while attending Art School at the University of Wisconsin-Madison, he became influenced by Jazz, Brazilian, and world musicians such as Django Reinhardt, Wes Montgomery, Paco de Lucia,Tom Jobim, Baden Powell, Joao Gilberto, Gilberto Gil, Caetano Veloso, Bob Marley, and many more.
Jean-Paul's passion for music has led him through many genres including; blues, funk, reggae, Cuban, Brazilian, and flamenco all of which are reflected in his unique personal style of playing as well as in his compositions. He has lived and performed in Brazil, Spain and the U.S absorbing the music of each country. Jean-paul has studied with jazz guitarist Mimi fox, flamenco guitarists Daniel Fries and Juan del Gastor, Brazilian guitarist Paolo Bellinati, and many others.
Jean-paul currently lives in Berkeley California where he continues to perform, compose and teach.
Surya Prakasha
Surya Prakasha is noted for his steady time and feel, clear phrasing and taste, sensitive touch and dynamics, flexibility and supporting ability, intensity and emotional fire. A versatile drummer, Surya has experience playing a diverse range of music styles.
Surya graduated with a Bachelor of Music from the Oberlin Conservatory(link) in 1999, where he apprenticed with jazz drummers Greg Bandy, Michael Carvin, Joe Morello, and Dennis Mackrel. He studied intensive music theory, history, performance, composition and arranging with composer and educator Dr. Wendell Logan.
Surya studied African diaspora drumming with percussionist Adetobi Greg Jackson and dancer Adenike Miriam Sharpley from 1994-1999 and performed with both. He studied classical snare drum withMichael Rosen and performed with the award-winning Oberlin Jazz Septet and Ensemble.
Surya has performed with musicians of note such as:
Trumpeters Clark Terry, Mike Mossman, Marcus Belgrave, Matt Schulman, and Greg Glassman; Bassists Jamil Nasser, Lamar Gaines, and John Evans; Pianists Harold Mabern, Muhal Richard Abrams, Neal Creque, and Dave Matthews; Saxophonists James Moody and Donald Walden; Flautist James Newton; Guitarists Bobby Ferrazza, John Schott, and Shelley Doty; and Vocalists Jane Monheit, Vanessa Rubin, Jacqui Naylor, Spencer Day and Pyeng Threadgill.
Additional Booking Notes
We will require one normal-size armless chair per guitarist, with protection from the elements (shade umbrellas or heat lamps when appropriate)
Ideally you should provide AC power to our location for our PA system, but we can also bring battery-powered amplifiers on request.
We prefer to be fed if the event is to take place during a meal, but don't require this. In any case we'd like to know in advance. Like any service people, we perform best when we are provided with an appropriate level of hospitality.
Past Booked Events
April 14, 2022

•

12:00pm - 1:00pm
Nonprofit Event

July 25, 2021

•

11:00am - 2:00pm
Corporate Event

December 07, 2019

•

7:00pm - 9:00pm
Nonprofit Event

August 01, 2019

•

3:00pm - 5:30pm
Corporate Event

September 22, 2018

•

8:00pm - 8:45pm
Wedding Reception

September 22, 2018

•

5:00pm - 8:00pm
Birthday Party

July 12, 2018

•

5:30pm - 9:30pm
Corporate Event

June 13, 2018

•

2:00pm - 3:00pm
Nonprofit Event

May 18, 2018

•

7:30pm - 7:45pm
Corporate Event

March 09, 2018

•

8:00pm - 9:00pm
Birthday Party
Set List
Aqua de Bebe - Astrud Gilberto
Anabella - Trio Paz
Besame Mucho - Emilio Tuero
Berimbau - Astrud Gilberto
Black Orpheus - Luiz Bonfá, Tom Jobim
Bruca Manigua - Ibrahim Ferrer
Camino Primavera - Daniel Fríes
Caravan - Duke Ellington
Choro Pro Morro - Trio Paz
Corcovado - Stan Getz, Astrud Gilberto
Due Face - JP Boungiorno
Esa Cosa - Trio Paz
Eu Sei Que Vou Te Amar - Joâo Gilberto
Favela - Antônio Carlos Jobim
Fim do Verao - Trio Paz
Garota de Ipanema - Antônio Carlos Jobim
Insensatez - Antônio Carlos Jobim
Livre Esprito - Trio Paz
Morea - Gypsy Kings
! Ng'ombe Dume - Trio Paz
O Morro Nao Tem Vez - Antônio Carlos Jobim
Partida Rumba - Trio Paz
Passeggiata - Trio Paz
Recuerdos De La Alhambra - Andres Segovia
Red Rumba - Daniel Fríes
Round Midnight - Thelonious Monk
Rosita - Trio Paz
Samba Triste - Baden Powell
Samba de Orpheo - Luiz Bonfá
Sevilla Sunset - Daniel Fríes
So Danco Samba - Tom Jobim
Tangos Por Claudia - JP Buongiorno
A Felicidade - Tom Jobim
Vivo Sonhando - Antônio Carlos Jobim
Solea - Traditional Flamenco
Alegrías - Traditional Flamenco
Bulerías - Traditional Flamenco
Tarantas - Traditional Flamenco
Summertime - George Gershwin
Wave - Jobim
Camino De La Luna - Daniel Fries
Influences & Inspiration
Gypsy Kings
Rodrigo y Gabriela
Paco Pena
Paco de Lucia
Vicente Amigo
Tom Jobim
Stan Getz
Los Van Van
Ottmar Leibert
etc
Setup Requirements
Depending on your choice of musicians, this will vary. Please inquire once we are booked.