Your list is empty.
Save musicians, entertainers, speakers, and services, and they'll appear here.
Free Quick Quote
This vendor provides virtual services
Back to Singing Guitarists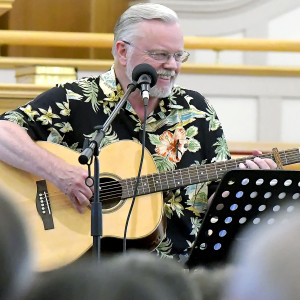 Craig Mecham
5.0
(4 reviews)
Logan, UT
Travels nationwide
Fees vary depending on venue and time on stage.
Get a Free Quick Quote
Overview
Craig is a singer-songwriter and story-teller with songs for audiences and occasions from humorous to serious and thought-provoking. If given time and background, he can even write a special song for your event--if you have a sense of humor! His originals come with stories of growing up years and feature tales of hating broccoli, being attacked by mosquitoes, being awkward around girls and wishing he was a cowboy.
He has played stages from London, England to Washington State and points in between. He has performed for British royalty, Mayor of London, a variety of elected officials, religious leaders and numerous 4th graders.
Craig also offers virtual concerts using the latest technology.
---
---
Booking Info
Price Range: Fees vary depending on venue and time on stage.
Gig Length: 30 - 180 minutes
What to Expect
Audiences of all ages can expect to laugh a lot and maybe cry a little as Craig goes through his repertoire of originals songs taken directly from life's experiences with which we can all identify. From first love to last breath and everything in between, Craig will have you roaring with laughter one minute and quietly dabbing your eyes the next. He has even frequently written songs for specific audiences--for weddings, motivational presentations, grade school students, church groups and more. A consummate entertainer and story-teller, Craig will have your audience completely captivated for the entire evening.
About
Craig Mecham has spent more than five decades playing and performing on a variety of keyboard and stringed instruments. Over the years he has played and sang on stages in England, Utah, Idaho, California, Arizona, Missouri and Washington State. Early in his musical career, his band "The Family Album" did an extended tour of England doing 350 shows in 13 months. He has performed for British Royalty, the Mayor of London, various elected officials, religious leaders and countless 4th graders.
Craig has written well over fifty songs and recently took 2nd place at the annual KSM Songwriter's Contest. He was also a finalist at the prestigious Red Lodge Songwriter's Festival. His songwriting features solo acoustic guitar instrumentals as well as lighthearted and humorous tales of growing up along with serious slice-of-life ballads.
As an accomplished storyteller and humorist, Craig's performances are liberally sprinkled with stories that accompany his songs, including hating broccoli as a child, being attacked by mosquitoes at scout camp, finding true love and saying goodbye as his mother languished in a care center. His ability to weave music and lyrics into a very personal experience keeps audiences of all ages on the edge of their seats.
He and his wife Tamara have six amazing children and 18 completely angelic grandchildren.
Additional Booking Notes
Craig arrives at a venue fully prepared with his own sound equipment, microphones, instruments and etc. If your venue is large and equipped with a quality sound system, he will likely use your system. In that case, you should have a mixer with 1/4-inch inputs for three guitars and an XLR input for a vocal mic. Quality monitors should also be available.
Upcoming Booked Events
September 25, 2021

•

1:00pm - 8:00pm
Rib Fest

October 01, 2021

•

1:00pm - 4:00pm
PVL Concert

November 05, 2021

•

1:00pm - 4:00pm
PVL Concert

December 03, 2021

•

1:00pm - 4:00pm
PVL Concert

January 07, 2022

•

1:00pm - 4:00pm
PVL Concert

February 04, 2022

•

1:00pm - 4:00pm
PVL Concert

March 04, 2022

•

1:00pm - 4:00pm
PVL Concert

April 01, 2022

•

1:00pm - 4:00pm
PVL Concert

May 06, 2022

•

1:00pm - 4:00pm
PVL Concert

June 03, 2022

•

1:00pm - 4:00pm
PVL Concert

July 01, 2022

•

1:00pm - 4:00pm
PVL Concert

August 05, 2022

•

1:00pm - 4:00pm
PVL Concert

September 02, 2022

•

1:00pm - 4:00pm
PVL Concert

October 07, 2022

•

1:00pm - 4:00pm
PVL Concert

November 04, 2022

•

1:00pm - 4:00pm
PVL Concert

December 02, 2022

•

1:00pm - 4:00pm
PVL Concert
Past Booked Events
September 21, 2021–September 22, 2021

•

All-day event
Corporate Event

September 17, 2021–September 18, 2021

•

All-day event
HUGS Festival

September 10, 2021–September 11, 2021

•

All-day event
Old Capitol Arts Festival

September 09, 2021

•

4:00pm - 6:00pm
Weber Remember 9/11

September 03, 2021

•

1:00pm - 4:00pm
PVL Concert

September 28, 2020

•

10:00am - 12:00pm
Legacy House Concert

August 20, 2020

•

5:00pm - 8:00pm
Hyrum Concert

August 14, 2020

•

All-day event
Paradise Concert

August 12, 2020

•

11:30am - 3:00pm
Hyrum Concert

August 10, 2020

•

6:00pm - 7:00pm
Anniversary Party

August 06, 2020

•

10:00am - 11:00am
Legacy House

August 03, 2020

•

5:00pm - 6:30pm
North Ogden Barker Park

July 31, 2020

•

All-day event
Eccles Theatre Concert

July 30, 2020

•

All-day event
Mariposa Festival

July 23, 2020

•

All-day event
Cul-de-sac Concert

July 03, 2020

•

All-day event
Crepes and Coffee

June 22, 2020

•

1:30pm - 3:30pm
Legacy House Concert

June 17, 2020

•

12:00pm - 3:00pm
Hyrum Concert

June 01, 2020–June 07, 2020

•

All-day event
Nashville

May 15, 2020

•

3:30pm - 5:30pm
PVL Concert

May 14, 2020

•

6:30pm - 8:30pm
Festival--North Ogden

May 07, 2020

•

5:00pm - 8:00pm
Festival

May 02, 2020

•

6:30pm - 11:00pm
Elite Hall Concert

April 25, 2020

•

6:30pm - 11:00pm
Elite Hall Concert

April 20, 2020

•

1:30pm - 4:00pm
Legacy House Concert

April 17, 2020

•

3:30pm - 5:30pm
PVL Concert

April 15, 2020

•

12:00pm - 3:00pm
Hyrum Concert

March 21, 2020

•

6:30pm - 10:30pm
Elite Hall Concert

March 20, 2020

•

3:00pm - 5:30pm
PVL Concert

March 16, 2020

•

1:00pm - 4:00pm
Legacy House Concert

March 06, 2020–March 08, 2020

•

All-day event
Cowboy Rendezvous

March 02, 2020

•

1:00pm - 3:00pm
Utah Retired School Teachers

February 22, 2020

•

2:00pm - 4:00pm
Songwriter's Circle

February 15, 2020

•

5:00pm - 11:00pm
Montpelier Idaho

February 12, 2020

•

12:00pm - 3:00pm
Hyrum Concert

February 08, 2020

•

1:00pm - 3:30pm
Legacy House Concert

January 23, 2020–January 28, 2020

•

All-day event
Oregon Coast Tour

January 22, 2020

•

12:00pm - 2:30pm
Hyrum Concert
Set List
In a typical one-hour concert Craig will play about 16-17 numbers--including stories. Much of the setlist consists of original songs. Concert setlists are of course different than bar or restaurant or coffee shop setlists where Craig is providing background music. A concert setlist would go roughly as follows:
Baritone Guitar solo
Houston Through the Window
The Water is Wide
Killer Broccoli
Mosquito Dance
Right Field
The Greatest
You Stomped Upon My Heart
Dear Vickie
Bye Bye Love
Ponies
Tumbling Tumbleweeds
Home on the Range
Driving Through Montana
Green Jello Blues
Boy Under the Glass
How Can It Be?
I Still Buy You Flowers
Influences & Inspiration
James Taylor
Jackson Browne
Jamey Johnson
Crosby Stills & Nash
Tim Hawkins
Tommy Emmanuel
Setup Requirements
For larger venues: Sound system with 3 1-4 inputs and 1 XLR input
Bar Stool
Mic stand with boom attachment
For larger venues: Sound system with three 1/4 inch inputs and 1 XLR input Bar Stool Mic stand with boom attachment