Your list is empty.
Save musicians, entertainers, speakers, and services, and they'll appear here.
Free Quick Quote
This vendor provides virtual services
Back to Singing Guitarists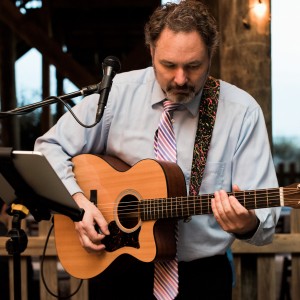 Chuck DiZ
4.94
(28 reviews)
Columbia, SC
Travels nationwide
$150 and up
Get a Free Quick Quote
Overview
Please check out my other "5-star" reviews at my Florida GigSalad Account
https://www.gigsalad.com/promokit/reviews
Chuck is a guitarist/singer & instrumental violinist performing as a solo artist and in several ensembles including gospel artist Rich Parr & Soul Saver Band, the duo Chuck & Brad, and trio rock band IncrediBlues. He has been performing professionally for over 3 decades from New England to Florida. His experience includes hundreds of weddings ceremonies, cocktail hours and receptions, along with corporate events, private parties & festivals. IncrediBlues is a 3 pc band that features songs from the 50's through today. Chuck and Brad features fiddle in country and DMB classics.
---
---
Booking Info
Gig Length: 60 - 600 minutes
What to Expect
Chuck provides classy and tasteful music for almost any occasion.
As a guitarist/vocalist, Chuck plays acoustic versions of hits from the past century! Pop/Rock, Country, Modern Rock, Southern Rock, Motown and Big Band/Jazz standards encompass his vast repertoire of contemporary music. If you cannot find a song or artist on his list of almost 300, he will learn any songs of your choice within his capabilities too. Just ask!
If you require solo violin, Chuck can provide classical or contemporary hits and will learn anything you require too.
All quotes include the natural amplification of music through one of his THREE high quality Bose systems that can be dialed into whatever volume the client requires. His equipment includes the highest quality instruments, effects, and one or more of his three Bose sound system designed to handle up to 100 people or over 300 people. Wireless microphones can be provided for the clients use if requested.
In order to get the correct mix of sound and provide a top-notched performance, Chuck typically arrives at least one hour prior to the start time for set up. When booking, please advise if this is a problem or issue.
About
Please also check out my other "5-star" reviews at my Florida GigSalad Account
https://www.gigsalad.com/promokit/reviews
Classically trained on the violin from the age of eight, Chuck played in various orchestras and community groups for several years.
He toured England and Scotland with the Central Connecticut State University Orchestra in 1989. Then guitar and keys became his
instruments of choice for a decade or so. Performing professionally in wedding bands, rock, funk and original groups, Chuck
continued to gain experience throughout the New England area. In Desperado, the Authentic Eagles Tribute Band, he managed,
booked, and performed continuously for 2 years. As a sought after rhythm and lead player, he cut an album with Mr. OCD in 1998
before relocating to the Carolinas in 2000.
After playing lead guitar in a couple of local Charlotte rock and funk bands, he began to enjoy the roots of his musical development,
by playing fiddle full-time. Chuck joined Two Step, a Dave Matthews Tribute Band, touring throughout the Southeast from 2003 to
2005. He expanded his classical roots into the jazz and fiddle styles that have become a distinct sound that folks enjoy today.
Currently, Chuck is a full-time high school math teacher by day, private instructor in the afternoons and solo "adult contemporary" hit juke box in the evenings. Please contact Chuck for booking information and more details on how he can provide all of your musical entertainment needs from beginning to end. Acoustic solo, duo or trio instrumentation. Full wedding band capabilities with DJ style music of your choice during breaks. Solo classical or contemporary violin for tasteful ceremony music too!
Additional Booking Notes
In order to get the correct mix of sound and provide a top-notched performance, I typically arrives at least one hour prior to the start time for set up. When booking, please advise if this is a problem or issue.
For solo or duo acoustic bookings, a single power source should be available within a reasonable distance from the stage area. Ten feet is optimal, however, extension cords will work and the distance should be discussed beforehand so that I am prepared to reach the power source.
Approximate Space requirements
SOLO - 5' x 7' area
Duo - 10' x 15'
FULL Band trio - 20' x 20'
Past Booked Events
July 30, 2021

•

7:00pm - 11:00pm
Reunion

June 26, 2021

•

2:00pm - 4:30pm
Personal Occasion

June 21, 2021

•

11:30am - 12:15pm
Funeral/Memorial Service

June 12, 2021

•

7:30pm - 9:30pm
Birthday Party

June 11, 2021

•

6:00pm - 9:00pm
Wedding Cocktail Hour

June 03, 2021

•

5:00pm - 7:00pm
Cocktail Party

May 28, 2021

•

7:30pm - 10:30pm
House Party

May 01, 2021

•

6:00pm - 10:00pm
Restaurant/Bar Event

April 24, 2021

•

6:00pm - 7:00pm
Wedding Ceremony

April 04, 2021

•

8:00am - 11:00am
Worship Service

March 27, 2021

•

5:30pm - 6:30pm
Wedding Ceremony

January 23, 2021

•

6:45pm - 8:45pm
3rd Anniversary

November 14, 2020

•

6:00pm - 10:00pm
House Party

October 15, 2020

•

6:00pm - 7:00pm
Festival

August 21, 2020

•

5:30pm - 6:00pm
House Party

May 07, 2020

•

8:30pm - 9:15pm
Surprise

March 08, 2020

•

3:00pm - 5:00pm
Anniversary Party

December 21, 2019

•

4:30pm - 5:00pm
Personal Occasion

November 23, 2019

•

6:00pm - 8:00pm
Birthday Party

November 01, 2019

•

6:00pm - 7:00pm
Nonprofit Event

October 26, 2019

•

4:00pm - 5:30pm
Children's Birthday Party

October 12, 2019

•

7:30pm - 9:00pm
Birthday Party

August 10, 2019

•

1:00pm - 6:00pm
House Party

July 27, 2019

•

3:30pm - 7:30pm
Reunion

June 21, 2019

•

6:00pm - 8:00pm
Dinner Party

June 09, 2019

•

3:00pm - 5:00pm
Birthday Party

May 31, 2019

•

6:30pm - 7:15pm
House Party

February 14, 2019

•

2:00pm - 2:30pm
Product Promotion

August 06, 2016

•

5:30pm - 9:30pm
Anniversary Party
Set List
For a complete spread sheet of songs listed by YEAR, ARTIST, SONG TITLE or GENRE, please contact me. Here are some of my favorites...
Ain't No Sunshine Withers, Bill
American Girl Petty, Tom
Bad Moon Rising CCR
Bad, Bad Leroy Brown Croce, Jim
Barely Breathing Sheik, Duncan
Beyond the Sea Darin, Bobby
Big Green Tractor Aldean, Jason
Blue Christmas Elvis Pressley
Blue Suede Shoes Perkins, Carl / Presley, Elvis
Breakfast at Tiffany's Deep Blue Something
Brown Eyed Girl Van Morison
Budapest Ezra, George
Can't Help Falling in Love Presley, Elvis
Can't You See Marshall Tucker
Carefree Highway Lightfoot, Gordon
Carolina in My Mind Taylor, James
Cat's in the Cradle Chapin, Harry
Champagne Supernova Oasis
Come Monday Buffet, Jimmy
Comfortably Numb Pink Floyd
Crocodile Rock John, Elton
Cruise Florida-Georgia Line
Dancing in the Moonlight King Harvest
Daniel John, Elton
Danny's Song Loggins, Kenny
Devil Went Down to Georgia Charlie Daniel's Band
Did It for the Girl Bates, Greg
Don't Pull Your Love Out on Me Baby Hamilton, Joe Frank & Reynolds
Drift Away Gray, Dobie
Drink in My Hand Church, Eric
Drive Cars, The
Drunk on You Bryan, Luke
Dust on the Bottle Murphy, David Lee
Evil Ways Santana
Feel Like Making Love Bad Company
Fields of Gold Sting
Fire and Rain Taylor, James
Fly Me to the Moon Sinatra, Frank
Folsom Prison Blues Cash, Johnny
Forever and Ever, Amen Tritt, Travis
Free Fallin' Petty, Tom
Friday I'm in Love Cure, The
Friend of the Devil Grateful Dead
Gambler, The Rogers, Kenny
Georgia on My Mind Charles, Ray
Go Your Own Way Fleetwood Mac
Good Ridance (Time of Your Life) Green Day
Heaven Adams, Bryan / Boyce Avenue
Ho Hey Lumineers, The
How Sweet It Is (to be Loved by You) Taylor, James
Hungry Heart Springsteen, Bruce
I Can See Clearly Now Nash, Johnny
I Got a Name Croce, Jim
I Shot the Sheriff Clapton, Eric
If You're Going Through Hell Atkins, Rodney
I'm Gonna Be (500 Miles) Proclaimers, The
I'm Yours Mraz, Jason
Imagine Lennon, John
In the Summertime Mungo Jerry
Interstate Love Song Stone Temple Pilots
Is She Really Going Out with Him Jackson, Joe
Isn't She Lovely Wonder, Stevie
Just the Way You Are Joel, Billy
Kiss Tomorrow Goodbye Bryan, Luke
Knee Deep Buffet, Jimmy
Knee Deep Zac Brown Band
Knockin on Heaven's Door Dylan, Bob/Marley/G&R
KodaChrome Simon, Paul
Last Dance with Mary Jane Petty, Tom
Leader of the Band Fogelberg, Dan
Like a Rolling Stone Dylan, Bob
Little Pink Houses Cougar Mellencamp, John
Little Red Corvette Prince
Little Sister Elvis Presley
Long Haired Country Boy Charlie Daniel's Band
Love Her Madly Doors, The
Love the One Your With Crosby, Stills & Nash
Loves Me Like a Rock Simon, Paul
Loving You Is Fun Corbin, Eastin
Maggie May Stewart, Rod
Mama Tried Haggard, Merle
Mamas Don't Let Your Babies Grow Up to be Cowboys Jennings, Waylon
Mamas Don't Let Your Babies Grow Up to be Cowboys Nelson, Willie
Margaritaville Buffet, Jimmy
Me and Julio Down by the Schoolyard Simon, Paul
Meet Virginia Train
Moon River Williams, Andy/Jerry Butler
Mr. Bojangles Nitty Gritty Dirt Band
Mustang Sally Pickett, Wilson
No One is to Blame Jones, Howard
Ob-La-Di, Ob-La-Da Beatles, The
Old Time Rock and Roll Seger, Bob
On the Road Again Nelson, Willie
Only the Good Die Youg Joel, Billy
Only Way I Know, The Church, Eric
Only Way I Know, The Jason Aldean
Only Way I Know, The Luke Bryan
Our House Crosby, Stills & Nash
People Are Crazy Currington, Billy
Photograph Ringo Starr&George Harrison
Pink Houses Cougar Mellencamp, John
Please Come Home for Christmas Eagles, The
Rhinestone Cowboy Campbell, Glen
Ring of Fire Cash, Johnny
Save Tonight Eagle Eye Cherry
She Talks to Angels Black Crowes
She's a Lady Jones, Tom
Simple Man Lynyrd Skynyrd
Sister Golden Hair Surprise America
Sitting on the Dock of the Bay Redding, Otis
Slide Goo Goo Dolls
Some Beach Shelton, Blake
Something Beatles, The
Something Harrison, George
Something That We Do Black, Clint
Somewhere Over the Rainbow Israel "Iz" Kamakawiwo 'Ole
South's Gonna Do It Again Charlie Daniel's Band
Springsteen Church, Eric
Streets of Laredo various-Marty Robbins, Cash
Stuck on You Richie, Lionel
Sweet Home Alabama Lynyrd Skynyrd
Swept Away Avett Brothers
Take It Easy Eagles, The
Take Me Home Country Roads Denver, John
Take the Money and Run Steve Miller Band
Tears in Heaven Clapton, Eric
Tiny Dancer John, Elton
Top of the World Carpenters, The
Tracks of My Tears Robinson, Smokey
Truckin' Grateful Dead
Turn the Page Seger, Bob
Uncle John's Band Grateful Dead
Upside Down Johnson, Jack
Viva La Vida Coldplay
Wagon Wheel Rucker, Darius
Waiting on a Friend Rolling Stones
Wanna Be with You Hootie and the Blowfish
Wave on Wave Green, Pat
What a Wonderful World Armstrong, Louis
What's Going On Gaye, Marvin
Wonderful Tonight Clapton, Eric
Wonderful World Cooke, Sam
Wonderwall Oasis
You and Me Lifehouse
You Are the Sunshine of My Life Wonder, Stevie
You Can't Always Get What You Want Rolling Stones
Your Song John, Elton
You're My Best Friend (VIOLIN ONLY) Queen
Influences & Inspiration
I enjoy all styles of music, therefore my influences are wide and varied. In my younger year, guitarists who guided my interests were; Neal Schon(Journey), Eddie Van Halen, Prince, Steve Lukather(Toto) and Darryl Stuermer(Phil Collins/Genesis). More recently, I have been influenced by many Country and folk artists to enhance my acoustic guitar skills.
On violin, my favorite composers were Mozart and Vivaldi. More recently, I have admired Jimmy DeMartini(Zac Brown Band) for his flawless precision and tonal accuracy in all genres of fiddle/jazz violin styles. Of course, Charlie Daniels and many classic country violinist have helped me learn the style of fiddle playing too.
Setup Requirements
A single power outlet
Approximate Space requirements SOLO - 5' x 7' area Duo - 10' x 15' FULL Band trio - 20' x 20'