Your list is empty.
Save musicians, entertainers, speakers, and services, and they'll appear here.
Free Quick Quote
This vendor provides virtual services
Back to Singing Guitarists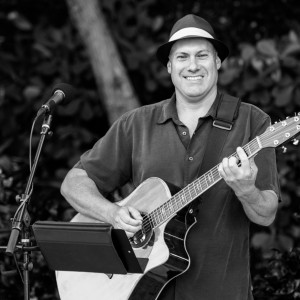 Chris Thomas
4.98
(20 reviews)
Key West, FL
Travels up to 200 miles
$200-$7000
Get a Free Quick Quote
Overview
Chris Thomas Music offers top-notch live musical entertainment for weddings, corporate events and private parties in Key West and The Florida Keys. Solo musicians, duos, or a full band are available for ceremonies, cocktail hours , receptions & rehearsal dinners. Chris also now offers a live music and DJ combo for weddings and events.
---
---
Booking Info
Gig Length: 30 - 400 minutes
Insurance: $1,000,000 - Liability
What to Expect
With a song list so extensive, you will hear everything you want to hear.
About
Chris Thomas has been performing all over the eastern seaboard for over 20 years with bands like The Gary US Bonds Band, DogVoices, Eleven Eleven, Bums in the Park, New Power Soul, and the Swingin' Johnsons .Repertoire includes over 700 songs, from classic artists like The Beatles, The Grateful Dead, Jimmy Buffett, and The Eagles to modern-day favorites like Dave Matthews, Pearl Jam, and Jack Johnson. Clients can help create a custom-made song list to be played at your function. Chris performs an average of 300 shows per year in the Florida Keys and the Northeast.
Services Offered
Past Booked Events
May 20, 2017

•

6:30pm - 8:30pm
Corporate Event

December 31, 2015

Holiday Party (New Year)
Set List
Cuts Like a Knife, Bryan Adams
Summer of 69,Bryan Adams
Straight from the Heart, Bryan Adams
New York, Ryan Adams
Two, Ryan Admas
When The Stars Go Blue, Ryan Adams
Nutshell, Alice in Chains
Melissa, Allman Brothers
Soulshine, Allman Brothers
Ramblin' Man, Allman Brothers
Blue Sky, Allman Brothers
Horse with No Name, America
Ventura Highway, America
Sister Golden Hair, America
I Am The Highway, Audioslave
Feel Like Making Love, Bad Company
The Weight, The Band
The Old Apartment, Barenaked Ladies
I Feel Fine, Beatles
Hide Your Love Away, Beatles
Something, Beatles
I've Just Seen A Face, Beatles
Long & Winding Road, Beatles
She's A Woman, Beatles
Desperately Wanting, Better Than Ezra
She Talks to Angels, Black Crowes
I Fought the Law, Bobby Fuller 4
Living on a Prayer, Bon Jovi
Wanted Dead or Alive, Bon Jovi
Space Oddity, David Bowie
Friends in Low Places, Garth Brooks
Doctor My Eyes, Jackson Browne
Home, Michael Buble
For What Its Worth, Buffalo Springfield
Margaritaville, Jimmy Buffett
Son of a Son of a Sailor, Jimmy Buffett
Changes in Latitudes, Jimmy Buffett
Let's Get Drunk & Screw, Jimmy Buffett
Last Mango in Paris, Jimmy Buffett
Glycerine, Bush
Feel A Whole Lot Better, Byrds
I Will Survive, Cake
Folsom Prison, Johnny Cash
Cocaine Blues, Johnny Cash
Cats in the Cradle, Harry Chapin
Color My World, Chicago
Layla, Eric Clapton
Let It Rain, Eric Clapton
Wonderful Tonight, Eric Clapton
Running on Faith, Eric Clapton
Feeling Alright, Joe Cocker
Clocks, Coldplay
Lost, Coldplay
Viva La Vida, Coldplay
Trouble, Coldplay
The World I Know, Collective Soul
In the Air Tonite, Phil Collins
Easy, Commodore
Peace Love & Understanding, Elvis Costello
Mr. Jones, Counting Crows
Long December, Counting Crows
Sullivan Street, Counting Crows
Low, Cracker
Badge, Cream
Arms Wide Open, Creed
Bad Moon Rising, CCR
Who'll Stop The Rain, CCR
Proud Mary, CCR
Lodi, CCR
Operator, Jim Croce
Don't Dream Its Over, Crowded House
First Cut is the Deepest, Sheryl Crow
Helpless, Crosby Still Nash & Young
Southern Cross, Crosby Still Nash & Young
Teach Your Children, Crosby Still Nash & Young
Crash into Me, Dave Matthews
Crush, Dave Matthews
Collide, Howie Day
Follow You in the Dark, Death Cab for Cutie
Breakfast at Tiffanys, Deep Blue Something
Leaving on a Jet Plane, John Denver
Take Me Home Country Roads, John Denver
Sweet Caroline, Neil Diamond
Runaround Sue, Dion
Walk of Life, Dire Straits
Black Water, Doobies
Light My Fire, Doors
People Are Strange, Doors
On Broadway, Drifters
Save the Last Dance for Me, Drifters
Ordinary World, Duran Duran
All Along the Watchtower, Bob Dylan
Knocking on Heaven's Door, Bob Dylan
Positively 4th Street, Bob Dylan
You Ain't Going Nowhere, Bob Dylan
Quinn the Eskimo, Bob Dylan
Hotel California, Eagles
Peaceful Easy Feeling, Eagles
Take It Easy, Eagles
Desperado, Eagles
Tequila Sunrise, Eagles
Lucky Man, ELP
Santa Monica, Everclear
Easy, Faith No More
The Way, Fastball
Landslide, Fleetwood Mac
Big Me, Foo Fighters
Everlong, Foo Fighters
Learn To Fly, Foo Fighters
Shimmer, Fuel
In Your Eyes, Peter Gabriel
Sexual Healing, Marvin Gaye
Whats Going On, Marvin Gaye
Hey Jealousy, Gin Blossoms
Crazy, Gnarls Barkley
Slide, Goo Goo Dolls
I'm Your Captain, Grand Funk
Bertha, Grateful Dead
Black Muddy River, Grateful Dead
Fire on Mountain, Grateful Dead
Franklins Tower, Grateful Dead
Friend of the Devil, Grateful Dead
Scarlet Begonias, Grateful Dead
Drift Away, Dobie Gray
Time of Your Life, Green Day
Boulevard of Broken Dreams, Green Day
Waiting, Green Day
When I Come Around, Green Day
Used to Love Her, Guns N Roses
Patience, Guns N Roses
November Rain, Guns N Roses
All Along the Watchtower, Jimi Hendrix
Hey Joe, Jimi Hendrix
Little Wing, Jimi Hendrix
Heart of the Matter, Don Henley
Sea of Love, Honeydrippers
Let Her Cry, Hootie & The Blowfish
Drive, Incubus
Love Hurts, Incubus
Never Tear Us Apart, Inxs
Laid, James
Look What You've Done, Jet
Captain Jack, Billy Joel
Piano Man, Billy Joel
She's Got A Way, Billy Joel
Candle in the Wind, Elton John
Spanish Harlem, Elton John
Border Song, Elton John
Flake, Jack Johnson
Better Together, Jack Johnson
Upside Down, Jack Johnson
Sitting Waiting Wishing, Jack Johnson
Bad Reputation, Freedy Johnston
Me & Bobby McGee, Janis Joplin
Don't Stop Believin', Journey
Lovin' Touchin' Squeezin', Journey
Dust in the Wind, Kansas
All Summer Long, Kid Rock
Only God Knows Why, Kid Rock
Use Somebody, Kings of Leon
Sex on Fire, Kings of Leon
Breakup Song, Greg Kihn
Lola, Kinks
Well Respected Man, Kinks
Hey Hey What Can I Do, Led Zeppelin
Tangerine, Led Zeppelin
Imagine, John Lennon
I Alone, Live
Danny's Song, Loggins & Messina
Sweet Home Alabama, Lynyrd Skynyrd
Simple Man, Lynyrd Skynyrd
Tuesdays Gone, Lynyrd Skynyrd
That Smell, Lynyrd Skynyrd
No Woman No Cry, Bob Marley
Time Will Tell, Bob Marley
Redemption Song, Bob Marley
Won't Go Home Without You, Maroon 5
Can't You See, Marshall Tucker
Waiting for the World to Change, John Mayer
3 A.M., Matchbox 20
American Pie, Don McLean
Cherry Bomb, John Mellencamp
Pink Houses, John Mellencamp
Jack & Diane, John Mellencamp
Small Town, John Mellencamp
Kids, Mgmt
Nothing Else Matters, Metallica
Turn The Page, Metallica
I'm a Believer, Monkees
Nights in White Satin, Moody Blues
Tuesday Afternoon, Moody Blues
Brown Eyed Girl, Van Morrison
And It Stoned Me, Van Morrison
Wild Night, Van Morrison
Into the Mystic, Van Morrison
Domino, Van Morrison
Have I Told You Lately, Van Morrison
Tupelo Honey, Van Morrison
Everyday is Like Sunday, Morrisey
I'm Yours, Jason Mraz
Hopefully, My Morning Jacket
I Can See Clearly Now, Johnny Nash
On the Road Again, Willie Nelson
Come As You Are, Nirvana
Polly, Nirvana
Rape Me, Nirvana
Hey Girl, OAR
Wonderwall, Oasis
Betterman, Pearl Jam
Black, Pearl Jam
Daughter, Pearl Jam
Last Kiss, Pearl Jam
Immportality, Pearl Jam
Yellow Ledbetter, Pearl Jam
American Girl, Tom Petty
Freefallin', Tom Petty
Learning to Fly, Tom Petty
Yer So Bad, Tom Petty
Mary Jane's Last Dance, Tom Petty
Fluffhead, Phish
Contact, Phish
Fee, Phish
Wish You Were Here, Pink Floyd
Breathe, Pink Floyd
Here Comes Your Man, Pixies
Hey There Delilah, Plain White Ts
Every Rose Has Its Thorn, Poison
Message in A Bottle, Police
Suspicious Minds, Elvis Presley
Purple Rain, Prince
Angel from Montgomery, John Prine
Amy, Pure Prairie League
Creep, Radiohead
Fake Plastic Trees, Radiohead
Karma Police, Radiohead
Come and Get Your Love, Redbone
Dock of the Bay, Ottis Redding
Dani California, Red Hot Chili Peppers
Other Side, Red Hot Chili Peppers
Snow, Red Hot Chili Peppers
Under The Bridge, Red Hot Chili Peppers
Losing My Religion, REM
Man On the Moon, REM
Don't Go Back To Rockville, REM
Driver 8, REM
Angie, Rolling Stones
Wild Horses, Rolling Stones
You Can't Always Get What You Want, Rolling Stones
Sympathy for the Devil, Rolling Stones
Evil Ways, Santana
Maria Maria, Santana
Against the Wind, Bob Seger
Night Moves, Bob Seger
Turn the Page, Bob Seger
Cumbersome, Seven Mary Three
The Boxer, Simon & Garfunkel
Me&Julio Down By The Schoolyard, Paul Simon
Holding Back The Years, Simply Red
Summer Wind, Frank Sinatra
All For You, Sister Hazel
Disarm, Smashing PUmpkins
Today, Smashing PUmpkins
Chasing Cars, Snow Patrol
Runaway Train, Soul Asylum
Jessie's Girl, Rick Springfield
Atlantic City, Bruce Springsteen
My Hometown, Bruce Springsteen
Jersey Girl, Bruce Springsteen
I'm Going Down, Bruce Springsteen
Radio Nowhere, Bruce Springsteen
The River, Bruce Springsteen
Sandy, Bruce Springsteen
Fire, Bruce Springsteen
It's Been Awhile, Staind
Outside, Staind
Stuck in the Middle With You, Stealers Wheel
My Old School, Steely Dan
The Joker, Steve Miller
Take the Money and Run, Steve Miller
Wild World, Cat Stevens
Another Saturday Night, Cat Stevens
First Cut is the Deepest, Cat Stevens
Interstate Love Song, Stone Temple Pilots
Plush, Stone Temple Pilots
Big Empty, Stone Temple Pilots
Santeria, Sublime
What I Got, Sublime
Badfish, Sublime
Fly, Sugar Ray
Give A Little Bit, Supertramp
Sick of Myself, Matthew Sweet
Fire and Rain, James Taylor
Sweet Baby James, James Taylor
Country Road, James Taylor
Hunger Strike, Temple of the Dog
Love Song, The Cure
Jumper, Third Eye Blind
If You Could Only See, Tonic
Pressure Drop, Toots & The Maytals
Sing, Travis
(phone number hidden) Jenny, Tommy Tutone
Still Havent Found What Im Looking For, U2
All I Want Is You, U2
Staring at the Sun, U2
One, U2
With or Without You, U2
Fall To Pieces, Velvet Revolver
Lucky Man, The Verve
The Freshman, Verve Pipe
Ol' 55, Tom Waits
6th Avenue Heartache, The Wallflowers
Three Marlenas, The Wallflowers
Fisherman Blues, Waterboys
Say It Ain't So, Weezer
Island In The Sun, Weezer
Were Going to Be Friends, White Stripes
Behind Blue Eyes, The Who
Won't Get Fooled Again, The Who
The Kids Are Alright, The Who
Squeeze Box, The Who
Impossible Germany, Wilco
What Light, Wilco
Ain't No Sunshine, Bill Withers
Streets of Bakersfield, Dwight Yoakam
The Needle & The Damage Done, Neil Young
Comes A Time, Neil Young
Heart of Gold, Neil Young
Hey Hey My My, Neil Young
Rocking' in the Free World, Neil YOung
Sugar Mountain, Neil YOung
Lawyers Guns and Money, Warren Zevon
# MANY MORE SONGS!!!
Team
| | |
| --- | --- |
| Chris Thomas | Solo performer |
Setup Requirements
Usually electricity, however I have a battery powered speaker for beach locations and places that do not have power.