Your list is empty.
Save musicians, entertainers, speakers, and services, and they'll appear here.
Free Quick Quote
This vendor provides virtual services
Back to Magicians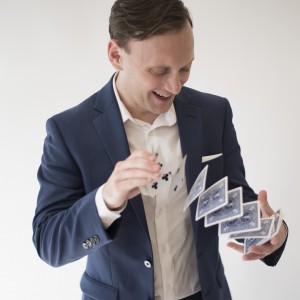 Chris Herrick Magic
4.97
(115 reviews)
Boston, MA
Travels nationwide
$250 and up
Get a Free Quick Quote
Overview
Now offering Virtual Shows! Chris fills his virtual shows with interactive magic and lots of audience participation! He performs 130+ shows a year, and you can see him perform live at the Lowell Spinners, at his weekly shows at Huttopia Campgrounds (New Hampshire), or at one of his many other public performances. Public show dates are listed on his Facebook page.
He amazes crowds by making signed, borrowed dollar bills disappear and reappear inside of lemons as well as making tables float in midair! For children, he uses family friendly props and clean comedy to give all the guests (including the adults!) a great experience. For birthday parties, the birthday child is always the star!
---
---
Booking Info
Gig Length: 45 - 60 minutes
Insurance: $1,000,000 - General Liability
What to Expect
For children's parties, you can expect your birthday child to be the star of Chris' magic show. Unlike other magic shows, the birthday child will help Chris with a magic trick to start the show and will end the show using an 8 foot magic wand to do something truly magical! Chris also gives the birthday child several items used during the show to keep as a souvenir!
Chris will arrive 30-45 minutes early to all of his shows to set up. You won't have to supply Chris with any tables or props, as he will bring two of his own. During Chris' show, you can expect lots of laughter, smiles, and audience interaction.
About
Chris Herrick is on his path to crafting his own unique brand of magic. His style is one of a kind, and his magic is far from classical. Chris performs what seem to be miracles with everyday objects and his simple yet unique magic has taken him from being a local performer in his hometown of Billerica, Massachusetts in 2015 to becoming one of Boston's most sought-after magicians.
What sets Chris Herrick apart from most other magicians is the simplicity of his magic and the fact that he cracked the code on doing close-up magic on big stages. With the use of cameras he is able to perform magic with items such as Coca-Cola bottles, Orbit gum, and Tic-Tacs to large crowds. His simple, yet distinct style has helped push his magic to another level and helps him stand out from the crowd.
His social media presence has made him the talk of his hometown. In 2016 Chris began making interactive videos of his magic. He would do illusions such as making empty Coca-Cola cans magically refill themselves and making all the sticks of gum in a pack of gum disappear in a second without using camera tricks, and people online loved it. With his videos gaining tens of thousands of views on Facebook, his magic is becoming one of the most talked about topics by people in his hometown and in Boston.
"I like to keep my magic simple," says Chris. "That means my magic uses ordinary objects. You're not going to see lots of big magic boxes that can only be built in Las Vegas. You're going to see cans of Coca-Cola, gum, candy canes, Snickers, lemons, and playing cards at my shows… I also love to incorporate music into my magic."
The desire to perform was engrained in him at an early age, around 8th grade. "I was extremely shy growing up, and magic helped me break out of my shell. I saw David Blaine performing on TV one day, and was like 'That looks cool, I want to do that.' So I did! Magic has helped me open up to others, and I like to incorporate a little bit of my own personal story into my shows."
Today Chris travels around New England performing shows for private events as well as hosting his own personal magic show – "Chris Herrick's Night of Magic". His show has been a huge success – he recently hosted the first "Night of Magic" of 2017 on January 28th and performed for a sold out crowd at the Fusion Theater in Lowell, Massachusetts.
For a kid from Billerica, Chris Herrick continues to captivate both online and in person, and the number of people he is reaching with his magic is exponentially increasing every month. He is thankful daily for a family who has encouraged him on this journey and is excited to continue to make people laugh, smile and sometimes gasp, and he looks forward to gathering in a new generation of magic lovers.
Additional Booking Notes
Chris can perform his children's magic show in any environment. Whether it be in a small family playroom or on a theater stage, his magic will be able to be seen and enjoyed by everyone in attendance!
Past Booked Events
May 01, 2021

•

3:00pm - 5:00pm
Birthday Party

October 10, 2020

•

4:00pm - 4:45pm
Children's Birthday Party

August 31, 2020

•

6:00pm - 8:00pm
Virtual Event

October 25, 2019

•

10:00am - 10:00pm
Wedding

October 12, 2019

•

10:00am - 10:00pm
Wedding

September 21, 2019

•

11:00am - 8:00pm
Wedding

July 24, 2019

•

1:00pm - 4:00pm
Summer Camp Event

July 11, 2019

•

6:00pm - 10:00pm
Corporate Event

July 04, 2019

•

7:00pm - 8:00pm
July 4th - Private Camping Resort Show

March 09, 2019

•

8:00pm - 10:00pm
Birthday Party

December 31, 2018

•

4:00pm - 7:00pm
First Night Sandwich

December 16, 2018

•

1:00pm - 1:30pm
Corporate Family Holiday Event

December 15, 2018

•

6:00pm - 10:00pm
Corporate Event

December 14, 2018

•

6:00pm - 10:00pm
Corporate Event

December 13, 2018

•

3:30pm - 4:30pm
Fundraiser

December 11, 2018

•

3:00pm - 5:00pm
Corporate Event

December 07, 2018

•

3:00pm - 5:00pm
Corporate Family Holiday Event

December 05, 2018

•

1:30pm - 2:20pm
After School Program

December 03, 2018

•

11:00am - 12:00pm
Private Event / Private Show

December 02, 2018

•

1:00pm - 2:00pm
Birthday Party (Child)

December 01, 2018

•

2:00pm - 4:00pm
Holiday Party - Strolling Magic

November 28, 2018

•

2:00pm - 4:45pm
After School Program - 2 Shows

November 21, 2018

•

8:15am - 9:30pm
High School Thanksgiving Event

November 10, 2018

•

10:00am - 10:00pm
Wedding

November 04, 2018

•

2:45pm - 4:30pm
Birthday Party (Child)

October 29, 2018

•

10:30am - 11:30am
Elderly Housing - Halloween Show

October 28, 2018

•

3:30pm - 4:30pm
Birthday Party (Child)

October 28, 2018

•

12:30pm - 1:20pm
Birthday Party (Child)

October 27, 2018

•

7:00pm - 8:00pm
Halloween Party - RI

October 27, 2018

•

3:00pm - 3:45pm
Halloween Party

October 26, 2018

•

5:30pm - 6:30pm
Merrimack, NH - Town Halloween Event

October 24, 2018

•

2:00pm - 3:00pm
After School Program

October 20, 2018

•

1:30pm - 4:00pm
Birthday Party (Child)

October 19, 2018

•

7:00pm - 8:00pm
Strolling Magic - Halloween Corporate Event

October 13, 2018

•

2:00pm - 3:45pm
Strolling Magic (Halloween Party)

October 12, 2018

•

7:00pm - 8:00pm
Strolling Magic - Teen Halloween Party

October 07, 2018

•

3:00pm - 4:00pm
Hopkinton Center for the Arts

October 05, 2018

•

6:30pm - 7:05pm
Birthday (Child)

September 30, 2018

•

12:00pm - 5:00pm
Tewksbury Town Event

September 22, 2018

•

10:00am - 8:00pm
Wedding Event

September 19, 2018

•

4:00pm - 5:00pm
Birthday Party (Child)

September 16, 2018

•

1:30pm - 2:30pm
Birthday Party (Child)

September 15, 2018

•

5:00pm - 7:00pm
Wedding Event

September 08, 2018

•

3:00pm - 4:00pm
Birthday Party (Child)

September 05, 2018–September 06, 2018

•

5:00pm - 5:45pm
Corporate Event

September 03, 2018

•

12:30pm - 3:30pm
Magic for the Lowell Spinners

September 01, 2018

•

5:30pm - 6:30pm
Magic for the Lowell Spinners

August 27, 2018

•

3:00pm - 3:30pm
Birthday (Child)

August 25, 2018

•

10:00am - 10:00pm
Wedding

August 24, 2018

•

7:00pm - 8:00pm
Campground Event

August 22, 2018

•

11:00am - 12:00pm
Private Club Event

August 19, 2018

•

5:30pm - 8:30pm
Magic for the Lowell Spinners

August 19, 2018

•

3:30pm - 4:30pm
Birthday (Child)

August 17, 2018

•

7:00pm - 8:00pm
Campground Event

August 17, 2018

•

9:00am - 11:30am
Corporate Event

August 13, 2018

•

10:00am - 11:00am
Foxborough Public Show

August 12, 2018

•

5:30pm - 6:30pm
Magic for the Lowell Spinners

August 11, 2018

•

5:30pm - 8:30pm
Magic for the Lowell Spinners

August 10, 2018

•

7:00pm - 8:00pm
Campground Event

August 05, 2018

•

5:30pm - 8:30pm
Magic for the Lowell Spinners

August 04, 2018

•

3:00pm - 4:30pm
Graduation Party

August 03, 2018

•

7:00pm - 8:00pm
Campground Event

August 02, 2018

•

2:00pm - 3:00pm
Private Summer Camp

July 31, 2018

•

2:00pm - 3:00pm
Camp Event

July 29, 2018

•

5:30pm - 8:30pm
Magic for the Lowell Spinners

July 28, 2018

•

1:30pm - 2:30pm
Birthday Party (Child)

July 27, 2018

•

7:00pm - 8:00pm
Campground Event

July 25, 2018

•

6:30pm - 9:00pm
Magic for the Lowell Spinners

July 25, 2018

•

10:00am - 12:00pm
Summer Camp Event

July 24, 2018

•

1:00pm - 2:00pm
Private Summer Camp Event

July 20, 2018

•

7:00pm - 8:00pm
Campground Event

July 19, 2018

•

10:30am - 11:30am
Private Summer Event

July 18, 2018

•

11:00am - 2:00pm
Magic for the Lowell Spinners

July 17, 2018

•

10:00am - 1:00pm
Private Kids' Camp Events

July 14, 2018

•

11:30am - 12:05pm
Birthday Party (Child)

July 13, 2018

•

7:00pm - 8:00pm
Campground Event

July 13, 2018

•

11:00am - 12:00pm
Boys and Girls Club Event

July 12, 2018

•

8:00pm - 9:00pm
Private Club Event

July 12, 2018

•

10:00am - 11:00am
Summer Camp Event

July 11, 2018

•

10:00am - 11:00am
Private Summer Camp Event

July 10, 2018

•

2:00pm - 3:00pm
Summer Camp Event

July 09, 2018

•

6:30pm - 9:00pm
Magic for the Lowell Spinners

July 08, 2018

•

5:30pm - 8:30pm
Magic for the Lowell Spinners

July 07, 2018

•

3:00pm - 4:00pm
Birthday Party (Child)

July 06, 2018

•

7:00pm - 8:00pm
Campground Event

July 04, 2018

•

6:00pm - 8:00pm
City of Lowell's 4th of July Celebration

July 04, 2018

•

1:00pm - 2:00pm
4th of July Town Event

July 01, 2018

•

5:30pm - 8:30pm
Magic for the Lowell Spinners

June 30, 2018

•

5:30pm - 9:00pm
Magic for the Lowell Spinners

June 29, 2018

•

5:30pm - 8:30pm
Magic for the Lowell Spinners

June 27, 2018

•

4:00pm - 6:00pm
Walk Around Magic (Corporate Event)

June 26, 2018

•

10:00am - 11:00am
Summer Kids Camp Show

June 20, 2018

•

5:30pm - 8:30pm
Magic for the Lowell Spinners

June 20, 2018

•

1:30pm - 2:30pm
Elementary School Graduation Party

June 19, 2018

•

6:30pm - 9:00pm
Magic for the Lowell Spinners

June 18, 2018

•

6:30pm - 9:00pm
Magic for the Lowell Spinners

June 16, 2018

•

1:00pm - 2:00pm
Family Party (Child)

June 15, 2018

•

7:30pm - 8:30pm
Cub Scout Blue & Gold Event

June 14, 2018

•

1:00pm - 1:40pm
School Event

June 09, 2018

•

3:00pm - 4:30pm
Bar Mitzvah Event

June 09, 2018

•

2:00pm - 3:30pm
Bar/Bat Mitzvah Party

June 08, 2018

•

6:00pm - 8:00pm
Private Event

June 03, 2018

•

10:30am - 11:30am
Birthday Party (Child)

June 02, 2018

•

5:00pm - 6:00pm
Blue and Gold Event

May 21, 2018

•

6:30pm - 9:30pm
Corporate Event

May 20, 2018

•

3:30pm - 4:20pm
Birthday (Child)

May 20, 2018

•

8:00am - 12:00pm
Graduation Event

May 20, 2018

•

1:00am - 2:00am
Post Prom Event

May 16, 2018

•

6:30pm - 7:30pm
Cub Scout Event

May 06, 2018

•

1:00pm - 2:00pm
Birthday Party (Child)

April 27, 2018–April 28, 2018

•

10:00am - 9:00pm
Wedding Event

April 23, 2018

•

12:30pm - 1:45pm
Corporate Event

April 18, 2018

•

1:30pm - 2:30pm
Private Event

April 13, 2018

•

9:00pm - 11:00pm
Walk Around Magic (Private College Event)

April 08, 2018

•

1:00pm - 1:45pm
Children's Birthday Party

April 06, 2018

•

6:30pm - 8:15pm
Strolling Magic (Gala Event)

April 05, 2018

•

11:00am - 12:00pm
Walk Around Magic (Corporate Event)

March 31, 2018

•

11:30am - 12:30pm
Birthday Party (Child)

March 29, 2018

•

3:00pm - 4:00pm
Birthday Party (Teen)

March 25, 2018

•

1:30pm - 2:30pm
Birthday Party (Child)

March 24, 2018

•

3:00pm - 4:30pm
Private Magic Show

March 21, 2018

•

1:30pm - 2:15pm
Private School Event

March 17, 2018

•

3:15pm - 4:15pm
Birthday Party (Child)

March 11, 2018

•

6:00pm - 7:00pm
Cub Scout Event

March 10, 2018

•

7:00pm - 8:00pm
Birthday Party (Child)

March 02, 2018

•

5:45pm - 6:45pm
Private Magic Show

March 02, 2018

•

10:00am - 11:00pm
School Vacation - Magic Show

February 27, 2018

•

10:30am - 11:00am
Private School Event

February 24, 2018

•

1:00pm - 2:00pm
Blue and Gold Event

February 23, 2018

•

1:00pm - 2:00pm
Private Event / Private Show

February 20, 2018

•

1:00pm - 2:00pm
February Vacation School Event

February 11, 2018

•

2:20pm - 3:30pm
Blue and Gold Event

February 10, 2018

•

4:00pm - 5:00pm
Private Party

February 08, 2018

•

8:00pm - 9:00pm
Dinner Party

February 03, 2018

•

6:30pm - 7:30pm
Private Magic Show

February 02, 2018

•

7:00pm - 8:00pm
Private Magic Show

January 30, 2018

•

12:00pm - 1:00pm
School Program

January 28, 2018

•

3:00pm - 4:30pm
Birthday Party (Child)

January 27, 2018

•

5:00pm - 6:00pm
Private Event

January 09, 2018–January 22, 2018

•

8:00am - 9:00am
Out of the Country & Unavailable Until January 22

January 02, 2018

•

2:30pm - 3:30pm
School Event

December 31, 2017

•

4:00pm - 6:00pm
First Night Event

December 28, 2017

•

3:00pm - 4:00pm
Library Event

December 21, 2017

•

6:00pm - 10:00pm
Corporate Event

December 19, 2017

•

6:00pm - 7:00pm
Corporate Event

December 17, 2017

•

12:30pm - 1:30pm
Holiday Party (Christmas)

December 16, 2017

•

7:00pm - 9:00pm
Corporate Event

December 16, 2017

•

1:30pm - 2:30pm
Corporate Family Event

December 15, 2017

•

5:00am - 7:00am
Holiday Party (Christmas)

December 10, 2017

•

5:00pm - 10:00pm
Corporate Event

December 10, 2017

•

11:00am - 1:00pm
Christmas Party

December 09, 2017

•

7:30pm - 9:30pm
Corporate Event

December 07, 2017

•

1:00pm - 2:00pm
School Event

December 02, 2017

•

10:30am - 11:30am
Private Club Event

November 29, 2017

•

6:45pm - 7:15pm
School Event

November 18, 2017

•

2:30pm - 3:30pm
Birthday (Child)

November 12, 2017

•

2:00pm - 3:00pm
Family Event

November 07, 2017

•

12:30pm - 2:30pm
Private School Event

November 05, 2017

•

3:00pm - 4:00pm
Birthday Party (Child)

November 03, 2017

•

4:50pm - 5:30pm
Halloween Event

November 03, 2017

•

9:30am - 10:30am
School Halloween Show

October 29, 2017

•

4:00pm - 5:00pm
Private Party

October 29, 2017

•

1:00pm - 2:00pm
Birthday (Family)

October 28, 2017

•

6:00pm - 7:00pm
Birthday (Child)

October 28, 2017

•

2:00pm - 3:00pm
Holiday Party (Halloween)

October 28, 2017

•

10:30am - 11:30am
Birthday (Child)

October 27, 2017

•

5:30pm - 6:30pm
Private Club Event

October 23, 2017

•

12:00am - 12:00pm
Destination Wedding

October 22, 2017

•

12:00am - 12:00pm
Destination Wedding

October 21, 2017

•

12:00am - 12:00pm
Destination Wedding

October 20, 2017

•

12:00am - 12:00pm
Destination Wedding

October 19, 2017

•

9:00am - 12:00pm
Destination Wedding

October 15, 2017

•

12:00pm - 5:00pm
Private Event

October 14, 2017

•

9:00pm - 11:00pm
Corporate Event

October 14, 2017

•

4:30pm - 5:30pm
Birthday (Child)

October 14, 2017

•

10:00am - 1:00pm
Private Club Show

October 07, 2017

•

8:00pm - 9:00pm
Campground Event

October 07, 2017

•

2:00pm - 3:00pm
Birthday (Child)

October 01, 2017

•

7:00pm - 8:00pm
Nightclub Show

October 01, 2017

•

8:30am - 12:00pm
Nonprofit Event

September 30, 2017

•

10:30am - 11:30am
Birthday (Child)

September 29, 2017

•

6:00pm - 7:00pm
Birthday (Child)

September 28, 2017

•

6:30pm - 7:30pm
Family Show

September 27, 2017

•

1:30pm - 2:30pm
School Assembly

September 23, 2017

•

4:45pm - 5:45pm
Birthday (Adult)

September 16, 2017

•

10:00am - 9:00pm
Wedding Event

September 10, 2017

•

4:10pm - 5:00pm
Birthday (Child)

September 10, 2017

•

12:00pm - 1:00pm
Birthday (Child)

September 09, 2017

•

5:00pm - 6:00pm
Birthday (Child)

September 02, 2017

•

10:00am - 7:00pm
Wedding / Wedding Reception

September 01, 2017

•

8:00pm - 9:00pm
Private Event (NH)

August 31, 2017

•

3:30pm - 4:20pm
Birthday (Child)

August 30, 2017

•

5:30pm - 8:30pm
Magic for the Lowell Spinners

August 28, 2017

•

5:30pm - 8:30pm
Magic for the Lowell Spinners

August 26, 2017

•

9:30pm - 10:30pm
Private Event

August 25, 2017

•

8:00pm - 9:00pm
Private Event (NH)

August 24, 2017

•

5:00pm - 8:00pm
Magic for the Lowell Spinners

August 24, 2017

•

10:00am - 12:00pm
Camp Event

August 22, 2017

•

5:30pm - 8:30pm
Magic for the Lowell Spinners

August 19, 2017

•

12:30pm - 1:30pm
Birthday (Child)