Your list is empty.
Save musicians, entertainers, speakers, and services, and they'll appear here.
Free Quick Quote
This vendor provides virtual services
Back to Motivational Speakers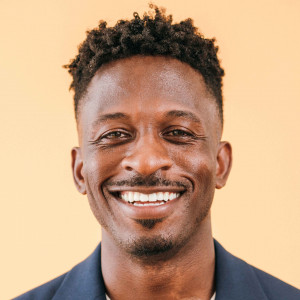 Charles Clark, A World Class Athlete
4.97
(368 reviews)
Philadelphia, PA
Travels nationwide
Available upon request
Get a Free Quick Quote
Overview
Hi, I'm Charles. The #1 Booked Motivational Speaker on GigSalad with over 350+ real five star reviews. I am a Mental Health Speaker with topics that uplift, empower, and challenge your attendees to be their best selves.
I have eleven years of experience with conferences, companies, and school events. Every time I get on stage, I customize a message that is perfect for my client's theme. Some of my clients include Amazon, Nike, Nielsen, iHeart Radio, NFL, MLB, NCAA, Frontier Communications, Walmart, Keller Williams, and tons more.
If you are looking to hire a speaker that stands out, don't stress out. Take a look at my website, or get a FREE quick quote now before your date is gone!
---
---
Booking Info
Price Range: Available upon request
Gig Length: 15 - 180 minutes
What to Expect
He has the ability to inspire, rejuvenate ambition and present teams with actionable steps that they can apply immediately to their career goals. His delivery is a powerful multisensory experience, passionate, humorous, and defies the common teachings of life. Charles Clark teaches that things happen and may not go as planned, but if you choose to positively respond to the action, you can still get the result you've been dreaming of.
About
"Charles Clark lit a fire deep down in my soul. It was like he was speaking directly to me and addressing all my doubts and concerns."
With clients like Amazon, Nike, Nielsen, NFL, MLB, NCAA, Frontier Communications, Raymond James, Keller Williams, iHeart Radio, and many more, Charles Clark understands the power of providing not only motivation but also practical lessons that inspire real transformation.
If you are tired of surface-level motivation that merely excites but encourages little change, then Charles' vulnerable presentations that directly connect to the audience while also giving specific action steps are exactly what you need.
This unique approach is creating unbelievable change to individuals and corporations all over the world that have attended one of Charles' presentations.
Charles Clark is an international dynamic speaker with an unforgettable message of resilience despite adversity.
His empowering and motivating sessions are customized to the client's needs.
Some of his most interactive, engaging, and action-packed sessions include:
Adversity Makes You Stronger
How To Become Relentless
Ready, Set, Go (Becoming Bold and Embracing Fear)
Excellence over Mediocrity
Building Skyscraper Relationships
Charles Clark's presentations focus on changing your perspective through improved mindset and mental wellness, which are relevant topics for organizations experiencing difficult times or desiring to rise to the next level. With his authenticity, energetic delivery, and his experience as the 6th fastest man in the world, Charles will teach you how to overcome fear, unlearn bad habits, and become a self-made goal achiever.
Charles understands that people are going through change more than they are reaching success, so the real connection with his audience occurs when he shares his life altering experiences to help others bounce back and thrive despite adversity. More importantly, Charles focuses on science backed strategies that have been proven to create lasting change.
By the age of 22, Charles was a 3 time National Champion, 10 time All American, and placed as the 6th fastest man in the world at IAAF World Championships in Berlin, Germany. He was living his dream and one year away from inking his first shoe deal as a track and field superstar.
It took a 99% tear in his right quad muscle, a debilitating injury for a world-class sprinter, to uncover the depth of who he was. For so long, his life was one-dimensional— practice, training, rehab, stretching, race, win, get better, get faster. The injury left his confidence bankrupt and emotions starving. This was the start of building a sustainable foundation of the man he is now.
He moved into a season of speaking voluntarily at local schools, giving them a watered-down version of his life with surface level motivation, never touching on his pain for fear of judgment. He believed no one would want to hear him speak, if they knew his truth. His mom was supporting her grown son. He was borrowing her car, while he was trying to rise back to fame. He felt like a failure, but still, he spoke.
Instead of just talking about success, he began talking about the pain we mask and understanding that it all had a purpose. People needed to hear his entire journey. The highs and the lows. He started putting on Thrive Events and traveling around the world impacting tens of thousands of lives each year. He became an expert in mindset and mental wellness.
This is where he truly learned that thriving is more than just a gold medal. It is impact. It is life transformation. It is excellence. It is integrity. It is intentional living. Thriving is all the things most people forget when they are determined to achieve a great goal.
"Surviving should not be your choice when thriving is in your DNA."
Thriving is something he is seeking in every area of his life, not just from the stage or during one of his podcast episodes— it is all-encompassing. Between his health, community outreach, and close relationships, thrive is not just something that looks good on paper, it is something he lives by.
If you are looking for a motivational speaker for your upcoming kick-off event, conference, corporate meeting, or school assembly, then connect with Charles' team to get more details.
Additional Booking Notes
Postponement or Cancellation
Once a presentation date is established, CONTRACTOR expends time and resources on CLIENT's behalf. As a result, CONTRACTOR charges a cancellation fee to recover upfront expenditures and/or losses that may occur by not scheduling other business on CLIENT's event date.
Should the presentation be postponed or canceled for any reason, the following fee schedule shall apply:
Less than 30 days before event: 100% fee will be charged
Between 30 – 60 days before event: 50% fee will be charged
More than 60 days before event: no fee charged
Audio & Video Recording
CLIENT may record all or part of CONTRACTOR's presentation. Should CLIENT record the presentation, CONTRACTOR requires delivery of a master copy of the recording within 30 days after event close. CLIENT may distribute copies of our presentation to internal staff, but may not sell copies. Should CLIENT wish to make other recording or distribution arrangements, a separate agreement will be required.
Services Offered
Upcoming Booked Events
November 30, 2022

•

9:00am - 11:00am
Campus Event

December 02, 2022

•

1:30pm - 2:00pm
Nonprofit Event
Past Booked Events
November 09, 2022

•

10:00am - 11:00am
Corporate Event

October 20, 2022

•

3:00pm - 3:45pm
Corporate Event

October 18, 2022

•

12:00pm - 1:00pm
Corporate Event

October 10, 2022

•

11:00am - 12:00pm
Corporate Event

September 23, 2022

•

11:00am - 12:00pm
Nonprofit Event

September 15, 2022

•

9:00am - 10:00am
Nonprofit Event

September 09, 2022

•

12:30pm - 1:30pm
Corporate Event

August 06, 2022

•

7:00pm - 7:30pm
Nonprofit Event

July 27, 2022

•

9:00am - 9:45am
Corporate Event

June 25, 2022

•

10:30am - 11:30am
Virtual Event

June 24, 2022

•

10:30am - 11:00am
Graduation

June 17, 2022

•

10:00am - 12:00pm
Convention/Trade Show

June 14, 2022

•

10:00am - 11:00am
Corporate Event

April 26, 2022

•

11:30am - 12:15pm
Convention/Trade Show

April 25, 2022

•

11:00am - 12:00pm
Corporate Event

April 02, 2022

•

12:00pm - 12:45pm
School Assembly

March 18, 2022

•

1:00pm - 2:00pm
Corporate Event

March 07, 2022

•

1:00pm - 2:00pm
Corporate Event

February 23, 2022

•

3:00pm - 6:00pm
Campus Event

February 18, 2022

•

2:00pm - 3:00pm
School Assembly

February 16, 2022

•

2:00pm - 2:45pm
Virtual Event

February 11, 2022

•

11:30am - 12:00pm
Virtual Event

February 08, 2022

•

2:00pm - 3:00pm
Corporate Event

January 31, 2022

•

1:00pm - 1:45pm
Corporate Event

January 28, 2022

•

10:00am - 11:00am
School Assembly

January 22, 2022

•

8:00pm - 8:30pm
Corporate Event

January 05, 2022

•

2:00pm - 3:00pm
Corporate Event

January 04, 2022

•

8:30am - 9:30am
Campus Event

October 26, 2021

•

9:00am - 9:45am
Corporate Event

October 14, 2021

•

7:00pm - 7:30pm
Nonprofit Event

October 05, 2021

•

12:30pm - 1:30pm
Corporate Event

September 27, 2021

•

3:00pm - 4:00pm
Corporate Event

September 17, 2021

•

1:00pm - 2:30pm
Nonprofit Event

September 14, 2021

•

6:00pm - 7:00pm
Virtual Event

September 13, 2021

•

9:30am - 11:00am
Virtual Event

August 31, 2021

•

2:00pm - 3:00pm
Corporate Event

August 25, 2021

•

12:00pm - 1:00pm
Campus Event

August 17, 2021

•

11:30am - 12:30pm
Corporate Event

August 06, 2021

•

8:30am - 9:00am
Corporate Event

July 16, 2021

•

6:00pm - 6:30pm
Dinner Party

July 16, 2021

•

12:00pm - 12:45pm
Corporate Event

July 08, 2021

•

6:00pm - 6:45pm
Sporting Event

June 24, 2021

•

9:00am - 10:30am
Corporate Event

May 19, 2021

•

9:00am - 10:00am
Nonprofit Event

May 07, 2021

•

10:00am - 10:45am
Virtual Event

April 30, 2021

•

11:30am - 11:45am
Virtual Event

April 08, 2021

•

10:00am - 10:45am
School Assembly

March 28, 2021

•

4:00pm - 4:45pm
Virtual Event

February 25, 2021

•

1:30pm - 2:30pm
School Assembly

January 29, 2021

•

9:00am - 10:00am
School Assembly

January 06, 2021

•

11:00am - 11:30am
Corporate Event

November 12, 2020

•

10:30pm - 11:15pm
Virtual Event

October 14, 2020

•

2:00pm - 3:00pm
Corporate Event

September 09, 2020

•

12:00pm - 12:45pm
Nonprofit Event

August 13, 2020

•

2:00pm - 2:30pm
Virtual Event

July 29, 2020

•

3:00pm - 4:00pm
Virtual Event
Set List
Event Key Messages: Having the room set up and equipment readily available is key to delivering a quality presentation for your audience. We recommend you use one of the following room set-ups:
Equipment and Room Set Up Preferences
Classroom style
Modified classroom style (preferred)
Open "U" Style
Round tables
We require that the client provide the following items for our speaker's presentation:
Lectern
Projector (LCD, overhead, etc)
Laptop
High-speed Internet access
Screen (freestanding or fixed)
Microphone (lavaliere or traditional)
Raised platform
Display table for materials
Others (TBD)