Your list is empty.
Save musicians, entertainers, speakers, and services, and they'll appear here.
Free Quick Quote
This vendor provides virtual services
Back to One Man Bands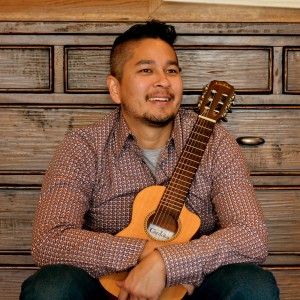 Cary Kanno Acoustic Guitarist/ Singer
5.0
(10 reviews)
Chicago, IL
Travels nationwide
$200 and up
Get a Free Quick Quote
Overview
Cary Kanno is an acoustic guitarist & singer based out of Chicago, IL. He has been playing professional gigs for the past 13 years. Highlights: singing the national anthem at Wrigley Field, and playing 4 gigs at the United Center before the Paul Simon, Phil Collins and Smashing Pumpkins.

- Entertaining: has a library of over 700 cover songs. He's good at identifying with a crowd and playing what they want to hear.
- Highly portable: brings all his own equipment
- Versatile: He can play background music or crank it up and be the main event
- Plays guitar, ukulele, mandolin, harmonica, kick drum. Uses loop sampler & vocal harmonizer
- Check out dozens of client reviews on his website.
---
---
Booking Info
Gig Length: 5 - 240 minutes
What to Expect
Based on the event, Cary can tailor his sound. From sweet & romantic wedding ceremonies to energetic dance parties, Cary can do it all.
Check out dozens of client reviews on his website.
About
Cary plays over 150 acoustic shows every year. Venues range from private parties, bar gigs, clubs, corporate events, colleges, weddings, and more. His library of over 500 cover songs run the gamut from rock to funk to folk, to pop. He is a very strong guitar player, using a loop sampler to lay down multiple guitar in a live setting. Utilizing a vocal harmonizer pedal he can also lay down vocal harmonies on the spot. He also plays Ukulele, Harmonica, and kick drum. The effect is a very full sound, a more interesting performance, and the aural illusion that there is more then one musician playing the songs. Whether playing at a wedding, a party, or a bar he is always good at reading his audience and plays songs that appeal to crowds.
He is an established musician, his original songs have over 500,000 plays on Pandora, over 1 million plays in in-store radio in Europe. His songs have been used for hundreds of TV commercials, TV shows, films, blog videos, corporate videos, and other internet videos.
Additional Booking Notes
All Cary needs is 1 power outlet and a chair without armrests (optional)
Past Booked Events
June 04, 2022

•

6:30pm - 10:30pm
House Party

April 05, 2022

•

5:00pm - 7:00pm
Corporate Event

September 11, 2021

•

2:00pm - 5:00pm
Birthday Party

June 27, 2020

•

8:00pm - 9:30pm
House Party

September 04, 2019

•

1:30pm - 4:30pm
Nonprofit Event

July 27, 2019

•

6:30pm - 9:00pm
Graduation

June 22, 2019

•

6:30pm - 10:30pm
Birthday Party

June 01, 2019

•

7:30pm - 9:30pm
Dinner Party

January 12, 2019

•

7:30pm - 10:30pm
Birthday Party

October 13, 2018

•

6:00pm - 8:00pm
Dinner Party

July 14, 2017

•

6:30pm - 10:00pm
Cruise Ship Event

March 21, 2017

•

12:00pm - 7:00pm
Corporate Event

September 24, 2016

•

5:30pm - 7:00pm
Wedding Ceremony

June 06, 2015

Graduation
Set List
Please check out my website for a cover song list:
Aimee Mann, Save Me
Al Green, Here I Am
Al Green, Take me to the River
Al Green, Tired of Being Alone
Alisone Krauss, When you Say Nothing At All
Allman Brothers, Little Martha
Allman Brothers, Melissa
Allman Brothers, Ramblin' Man
Allman Brothers, Whipping Post
America, Horse With No Name
Animals (the), House of the Rising Sun
Annie Lennox - Why
Alphaville, Forever Young
Aqualung, Brighter Than Sunshine
Archies (The), Sugar Sugar
Arlo Guthrie, Coming Into LA
Bad Company, I Feel Like Making Love
The Band (The), The Night they drove old Dixie down
The Band (The), The Weight
Band Of Horses, No Ones Gonna Love You
The Birds (The), Wasn't Born to Follow
Barenaked Ladies, Brian Wilson
Barenaked Ladies, If I Had A Million Dollers
Barenaked Ladies, When I Fall
Beatles, Across the Universe
Beatles, All you Need is Love
Beatles, Back in The USSR
Beatles, Come Together
Beatles, Dear Prudence
Beatles, Eleanor Rigby
Beatles, For No One
Beatles, Happiness is a Warm Gun
Beatles, Here Comes the Sun *played on Uke
Beatles, Here there and everywhere
Beatles, Hey Jude
Beatles, I am the Walrus
Beatles, In My Life
Beatles, I will
Beatles, I've Just Seen a Face
Beatles, I'm only sleeping
Beatles, I should have known Better
Beatles, Its only love
Beatles, I've got a feeling
Beatles, Long Long Long
Beatles, Mother Natures Son
Beatles, Norwegian Wood
Beatles, Nowhere man
Beatles, Octapuss Garden
Beatles, Revolution
Beatles, Revolution
Beatles, Rocky Raccoon
Beatles, Sexy Sadie
Beatles, Strawberry Fields Forever
Beatles, The Continuing Story of Bungalow Bill
Beatles, Ticket to Ride
Beatles, Two of Us
Beatles, When I'm 64
Beatles, While My Guitar Gently weeps
Beatles, With a Little Help From My Friends
Beatles, Yellow Submarine
Beatles, You've Got to Hide Your Love Away
Beck, Lost Cause
Bee Gees, Stayin Alive
Bangles, Walk Like an Egyptian
Ben E King, Stand By Me
Ben Harper, Alone
Ben Harper, Burn One Down
Ben Harper, By My Side
Ben Harper, The Woman in You
Big Audio Dynamite, Innocent Child
Big Head Todd, Bittersweet
Billy Joel, Still Rock and Roll to Me
Billy Joel, We Didn't Start the Fire
Bill Monroe, Blue Moon of Kentucky
Black Crows, She Talks to Angels
Blind Faith, Can't Find My Way Home
Blind Melon, Change
Blind Melon, No Rain
Bob Dylan, A Hard Rains A-Gonna Fall
Bob Dylan, Baby Let Me Follow You Down
Bob Dylan, Don't Think Twice
Bob Dylan, Follow You Down
Bob Dylan, Girl From North Country
Bob Dylan, Highway 51
Bob Dylan, I shall be released
Bob Dylan, If Not For You
Bob Dylan, Shelter from the Storm
Bob Dylan, Simple Twist of Fate
Bob Dylan, Subterranean Homesick Blues
Bob Dylan, Tangled up in Blue
Bob Dylan, When The Ship Somes In
Bob Marley, Is This Love
Bob Marley, Jammin
Bob Marley, Mellow Mood
Bob Marley, No Woman no Cry
Bob Marley, Redemption Song
Bob Marley, Stir It up
Bob Marley, Trenchtown Rock
Bob Marley, Waiting in Vain
Bob Seeger, Turn the Page
Bodeans, Closer to Free
Bodeans, Good Things
Bon Iver, Blood Bank
Bon Iver, Holocene
Bon Iver, Skinny Love
Bon Iver, Flume
Boys II Men, End of the Road
Bruce Hornsby, The Way it Is
Bruce Springsteen, Ballad of Jesse James
Bruce Springsteen, Born to Run
Bruce Springsteen, Dancing in the Dark
Bruce Springsteen, Growin' up
Bruce Springsteen, I'm On fire
Bruce Springsteen, Spirit in the Night
Bruce Springsteen, Tenth Avenue Freezeout
Bruno Mars, Count on Me
Buddy Holly, Everyday
Buena Vista Social Club, Chan Chan
Buffalo Springfield, For What its worth
Canned Heat, Going up the country
Cars, Drive
Cary Kanno, Original Songs
Cat Power, Sea of Love
Cat Stevens, Here Comes My Baby
Cat Stevens, Moonshadow
Cat Stevens, Peace Train
Cat Stevens, The Wind
Cat Stevens, Wild World
Chantal Kreviazuk, Feels Like Home to Me
Chicago, 25 or 6 to 4
Chris Cornell, Sunshower
Chris DeBurgh, The Lady in Red
Chris Isaak, Wicked Game
Chuck Berry, Johnny B Goode
Chuck Berry, Roll Over Beethoven
Chuck Berry, Run Run Rudolph
Cindy Lauper, Time After Time
Citizen Cope, Sons Gonna Rise
Citizen Cope, Sideways
Coldplay, Clocks
Coldplay, Don't Panic
Coldplay, Fix You
Coldplay, Green Eyes
Coldplay, Parachutes
Coldplay, The Scientist
Coldplay, Yellow
Collective Soul, The World I know
Counting Crows, 40 years
Counting Crows, A Murder of One
Counting Crows, Anna Begins
Counting Crows, Einstein on the Beach
Counting Crows, Long December
Counting Crows, Mr. Jones
Counting Crows, Omaha
Counting Crows, Perfect Blue Bldgs
Counting Crows, Rain King
Counting Crows, Round Here
Counting Crows, The Ghost in You
Counting Crows, Wise Blood
Cracker, Low
Creedence Clearwater Revival, Bad Moon Rising
Creedence Clearwater Revival, Have you Ever Seen the Rain
Creedence Clearwater Revival, I heard It Through the Grapevine
Creedence Clearwater Revival, Lookin out my back door
Creedence Clearwater Revival, Long as I can see the Light
Crosby Stills Nash, Helplessly Hoping
Crosby Stills Nash, Marrakesh Express
Crosby Stills Nash, Our House
Crosby Stills Nash, Teach your Children
Crowded House, Don't Dream It's Over
Cure (The), Close to Me
Cure (The), Just Like Heaven
Cure (The), Love Song
Cyndi Lauper, Time after Time
Daft Punk, All Night
Damien Rice, Cannonball
Damien Rice, Volcano
Dave Matthews, #41
Dave Matthews, Ants Marching
Dave Matthews, Crash Into Me
Dave Matthews, Everyday
Dave Matthews, Gray Street
Dave Matthews, I'll back you up
Dave Matthews, Lover Lay Down
Dave Matthews, Mercy
Dave Matthews, One Sweet World
Dave Matthews, Satellite
Dave Matthews, Say Goodbye
Dave Matthews, So Much to say
Dave Matthews, Song that Jane Likes
Dave Matthews, Tripping Billies
Dave Matthews, Two Step
David Bowie, Young Americans
David Bowie, Ziggie Stardust
David Gray, Babylon
David Gray, Sail away
David Gray, Say Hello Wave Goodbye
Death Cab For Cuttie, I will Follow You Into the Dark
Dion and the Belmonts, Runaround Sue
Depeche Mode, Personal Jesus
Dire Straits, Romeo & Juliette
Don Henley, Boys of Summer
Don Mclean, American Pie
Dolly Parton, Jolene
Doors (The), Riders on the Storm
Doors (The), The End
Drifters (The), Hello Happiness
Drive By Truckers, My Sweet Annette
Eagle Eyed Cherry, Save Tonight
Eagles, Hotel California
Ed Shreehan, The A Team
Ed Sheeran, Thinking Out Loud
Edwin McCain, I Could Not ask for More
Edwin McCain, I'll Be
Elton John, Benny and the Jets
Elton John, Mona Lisas and Mad Hatters
Elton John, Rocket Man
Elton John, Tiny Dancer
Elvis Costello, Veronica
Elvis Costello, Watching the Detectives
Elvis Presley, I Can't Help Falling in Love
Elvis Presley, All Shook Up
Eric Clapton, Before you Accuse me
Eric Clapton, Cant find my way home
Eric Clapton, Cocaine
Eric Clapton, Hey Hey
Eric Clapton, Lay Down Sally
Eric Clapton, Nobody Knows You
Eric Clapton, Promises
Eric Clapton, Tears in Heaven
Eric Clapton, Wonderful Tonight
Everly Brothers, All I have to do is Dream
Everly Brothers, Bye Bye Love
Extreme, More Than Words
Faces (The), Ohh La La
Filter, Take a Picture
Fleetwood Mac, Dreams
Fleetwood Mac, Landslide
Fleetwood Mac, Never Going Back Again
Foo Fighters, Big Me
Foo Fighters, Everlong
Foo Fighters, Times like These
Foster the People, Pumped Up Kicks
Foundations (the), Build Me Up Buttercup
Four Non Blondes, Whats Up
G Love, Rodeo Clowns
George Michael, Careless Whisper
George Michael, Faith
George Michael, Freedom 90
George Michael, Last Christmas
Gillian Welch, Revelator
Gin Blossoms, Found out about you
Gin Blossoms, Hey Jealously
Gin Blossoms, I'll Follow you Down
Gin Blossoms, Until I Hear it From You
Glen Hansard & Marketa Irglova, Falling Slowly
Gnarles Barkley, Crazy
Goo Goo Dolls, Name
Gorillaz, Feel Good Inc
Gotye, Somebody that I used to know
Gram Parsons, Return of the grievous Angel
Grateful Dead, Bertha
Grateful Dead, Casey Jones
Grateful Dead, Friend of the Devil
Grateful Dead, Know you Rider
Grateful Dead, Ripple
Grateful Dead, Shakedown Street
Grateful Dead, Touch of Gray
Grateful Dead, Truckin
Greenday, Boulevard of Broken Dreams
Greenday, Time of Your Life
Guess Who, Hand me Down World
Guess Who, No Sugar Tonight
Harry Chapin, Cat's in the Cradle
Hank Williams Jr, Family Tradition
Hank Williams Sr, Hey Good Lookin
Hank Williams Sr, Move it on over
Huey Lewis, If This is It
Imagine Dragons, On Top Of the World
INXS, Never Tear Us Apart
Iron and Wine, Each coming night
Iron & Wine, Jezebel
Iron and Wine, Lions Mane
Iron and Wine, Love and some Verses
Iron and Wine, Naked as we Come
Iron & Wine, Such Great Heights
Iron and Wine, Sunset Soon Forgotten
Iron & Wine, The Trapeze Swinger
Israel Kamakawiwo Ole', Somewhere over the Rainbow *played on Uke
Jayhawks (The), Save it for a Rainy Day
Jayhawks (The), Tailspin
Jack Johnson, Bubble Toes
Jack Johnson, F Stop Blues
Jack Johnson, Flake
Jack Johnson, Inaudible Melodies
Jack Johnson, Rodeo Clowns
Jack Johnson, Taylor
Jack Johnson, The 3 R's
Jack Johnson, Upside Down
Jackson 5, Dancing Machine
Jackson 5, I want you Back
Jackson 5, I'll be There
James, Laid
James Blunt, You're Beautiful
James Taylor, Carolina In My Mind
James Taylor, Copperline
James Taylor, Fire and rain
James Taylor, Shower the People
James Taylor, Something in the Way
James Taylor, Sweet Baby James
Jason Mraz, I'm Yours
Jason Mraz, I Won't Give Up
Jayhawks, Save it for Rainy Day
Jefferson Starship, Nothings gonna Stop us Now
Jethro Tull, Thick As a Brick
Jim Croce, Don't Mess around w/ Jim
Jimi Hendrix, All Along the Watchtower
Jimi Hendrix, Castles Made of Sand
Jimi Hendrix, Hey Joe
Jimmy Buffett, Margaritaville
Joe Cocker, Feelin' Alright
Johann Pachelbel, Cannon in D
John Lennon, Happy Xmas
John Lennon, Instant Karma
John Lennon, Oh Yoko
John Lennon, Watching the Wheels
John Mayer, Neon
John Mayer, No Such Thing
John Mayer, Something like Olivia
John Mayer, Vultures
John Mayer, Why Georgia
John Mayer, Waiting on the World to Change
John Mayer, Your Body Is a Wonderland
John Mellencamp, Jack and Diane
John Mellencamp, Pink Houses
John Mellencamp, Small Town
Johnny Cash, Cocaine Blues
Johnny Cash, Folsom Prision Blues
Johnny Cash, Hurt
Johnny Cash, I walk the Line
Johnny Cash, Ring Of Fire
Johnny Cash, Ghost Riders In the Sky
Joni Mitchell, Big Yellow Taxi
Journey, Don't Stop Believing
Katrina and the Waves, Walking on sunshine
Kings of Leon, Use Somebody
Kinks, Lola
Kinks, Nothing in this World
Kip Moore - Hey Pretty Girl
Kermit the Frog, Rainbow Connection
Las (The), There She Goes
Led Zeppelin, Babe I'm going to Leave You
Led Zeppelin, Bron Y Are
Led Zeppelin, D'Yer Mak'er
Led Zeppelin, Hey Hey What can I do
Led Zeppelin, Rain Song
Led Zeppelin, Ramble On
Led Zeppelin, When The Levee Breaks
Lenny Kravtiz, Heaven Help
Lenord Cohen, Hallelujah
Lionel Richie, All Night Long
LMFAO, I'm Sexy and I Know it
Lucinda Williams, Can't Let Go
Lumineers (the), Hey Ho
Lyle Lovette Bears
Lyle Lovette If I had a Boat
Influences & Inspiration
Neil Young, Paul Simon, The Beatles, Johnny Cash, Bon Iver, Red Hot Chili Peppers, Counting Crows, etc
Setup Requirements
1 power outlet