Your list is empty.
Save musicians, entertainers, speakers, and services, and they'll appear here.
Free Quick Quote
This vendor provides virtual services
Back to Children's Party Entertainment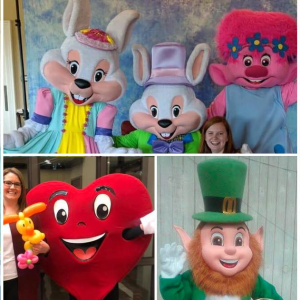 Bubbles Productions
4.74
(177 reviews)
Bowie, MD
Travels up to 90 miles
$125 - $2000
Get a Free Quick Quote
Overview
Bring the FUN to any event! We provide many different, exciting costume characters, princesses, other amazing costumes, face painting, balloon twisting, concessions, balloon decor and even a little magic! Let us make your child's day extra special! Best prices in the area for the high quality around! We are the biggest entertainment company of our kind in this area and have a lot of great reviews to prove it!
We serve most of Maryland, Washington, D.C. and Northern VA.
---
---
Booking Info
Price Range: $125 - $2000
Gig Length: 15 - 480 minutes
Insurance: $2,000,000 - Bodywork Liability Insurance Program
Unions: Greater Bowie Chamber Of Commerce
What to Expect
We do a variety of different services from face painting, balloon twisting, air brush tattoos, glitter tattoos and henna, to magic shows, mascots, super heroes, princesses, clowns, pirates and more!
We have done a lot of large scale events like the Welcome Home event for the Department of VA Affairs, Dr. Suess's Birthday at the State House for Maryland State Education Association, and we have done events for famous people, such as a telegram for James Murren, CEO of MGM Grands and two birthday parties for Bret Baier of Fox News, just to name a few!
We also do great private events, telegrams for adults, public events and anything else you want us for!
About
Check out our website, bubblesproductions.net for more information on our services!
About Us:
Bubbles Productions is run by Amanda Wisley. I grew up in Prince George's County Maryland and attended K-8 Grade at St. Bernard's in Riverdale, MD, High School at Elizabeth Ann Seton in Bladensburg, MD (Class of 2002), received my Associates Degree in General Studies at P.G. Community College in December of 2004 and lastly in May of 2008 I received my Bachelor's of Science in Psychology at Bowie State University. I have always had a high-energy, fun, exciting personality that entertains people. In the past I have been nicknamed 'Bubbles' for my personality and when I did my first clown performance I was asked what my name was and the first thing that popped into my head was Bubbles, so I went by Bubbles the clown. Bubble Productions matches my personality and what I do.
My costume experience started at a young age. I was a girl scout in the St. Mary's of Landover Hills troop and during my 6th, 7th, and 8th grade year of school, we performed 'Bunny Duty' at Capital Plaza Mall (when it was still around!) to raise money for the trip to Europe we took in 9th grade. Guess what? All 3 years in a row I was the Easter Bunny! Then in High School I was the mascot - The Road Runner - which was a huge professional mascot costume, which I wore with pride and had fun in! Likewise, I have been face painting since I was young as well. I started as a girl scout at different events we did as fundraisers. When I saw an ad on craigslist looking to hire princesses for parties, I thought, what a great idea and from there I grew my own business and expanded. It makes me so happy to hear all the positive feedback I get from events about how the kids and even adults loved the performance. This reason is the main reason why I love what I do.
Most events are performed by me, personally. In the event I am already booked, but have the costume available, I will send out one of my associates, who are personal friends that have experience doing the parties with me and strong backgrounds in working with children. Samantha, for example, is a professional baby sitter that loves children and entertaining them. Diana works full time in a day care and has direct experience with children every day. I only send people out to events that I am confident will do an equally good job. You will know before your party who will be performing.
Additional Booking Notes
If face painting is involved, the artist will need a small table and two chairs.
Past Booked Events
December 08, 2022

•

12:00pm - 12:15pm
Surprise

November 13, 2022

•

4:00pm - 6:00pm
Christmas Party

November 05, 2022

•

3:00pm - 3:30pm
Children's Birthday Party

October 23, 2022

•

5:30pm - 6:00pm
Children's Birthday Party

September 03, 2022

•

3:00pm - 4:00pm
Children's Birthday Party

June 22, 2022

•

11:00am - 2:00pm
Corporate Event

June 18, 2022

•

7:00pm - 8:30pm
Festival

June 11, 2022

•

11:00am - 11:30am
Children's Birthday Party

June 04, 2022

•

6:00pm - 6:45pm
Birthday Party

June 04, 2022

•

1:30pm - 2:00pm
Children's Birthday Party

June 02, 2022

•

10:00am - 12:00pm
Grand Opening

April 18, 2022

•

5:00pm - 6:00pm
Festival

April 17, 2022

•

10:00am - 11:00am
Easter Party

April 16, 2022

•

12:00pm - 1:00pm
Nonprofit Event

March 26, 2022

•

6:00pm - 6:45pm
Birthday Party

March 17, 2022

•

5:30pm - 6:30pm
Cocktail Party

February 19, 2022

•

3:00pm - 4:30pm
Children's Birthday Party

January 27, 2022

•

1:00pm - 1:15pm
Surprise

October 23, 2021

•

3:00pm - 4:00pm
Children's Birthday Party

September 05, 2021

•

5:30pm - 6:30pm
Children's Birthday Party

August 28, 2021

•

7:00pm - 7:15pm
Teen Birthday Party

August 28, 2021

•

6:00pm - 7:00pm
Children's Birthday Party

July 16, 2021

•

6:00pm - 6:15pm
Surprise

May 26, 2021

•

6:00pm - 7:00pm
Birthday Party

May 15, 2021

•

3:00pm - 5:00pm
Children's Birthday Party

May 15, 2021

•

11:30am - 12:00pm
Children's Birthday Party

May 13, 2021

•

4:00pm - 4:15pm
Children's Birthday Party

April 07, 2021

•

5:30pm - 6:30pm
Children's Birthday Party

April 05, 2021

•

2:00pm - 4:00pm
Children's Birthday Party

April 04, 2021

•

4:00pm - 5:00pm
Easter Party

April 04, 2021

•

9:00am - 9:15am
Surprise

April 03, 2021

•

11:00am - 12:30pm
Surprise

April 03, 2021

•

10:30am - 11:30am
Easter Party

March 07, 2021

•

11:00am - 11:15am
Birthday Party

December 20, 2020

•

5:30pm - 5:45pm
Birthday Party

October 25, 2020

•

2:00pm - 3:00pm
Children's Birthday Party

October 20, 2020

•

7:00pm - 7:15pm
Children's Birthday Party

September 26, 2020

•

2:30pm - 4:00pm
Children's Birthday Party

September 17, 2020

•

7:00pm - 7:15pm
Teen Birthday Party

September 13, 2020

•

5:00pm - 6:00pm
Children's Birthday Party

August 29, 2020

•

3:00pm - 3:30pm
Children's Birthday Party

August 05, 2020

•

3:00pm - 4:00pm
Personal Occasion

May 30, 2020

•

3:00pm - 3:15pm
Graduation

May 24, 2020

•

12:00pm - 12:30pm
Birthday Party

December 19, 2019

•

5:30pm - 6:30pm
Christmas Party

December 07, 2019

•

1:00pm - 4:00pm
Corporate Event

December 07, 2019

•

1:00pm - 3:00pm
Corporate Event

December 07, 2019

•

1:00pm - 3:00pm
Corporate Event

December 07, 2019

•

1:00pm - 3:00pm
Corporate Event

September 07, 2019

•

7:30pm - 8:30pm
Children's Birthday Party

September 01, 2019

•

3:30pm - 4:30pm
Children's Birthday Party

August 11, 2019

•

5:00pm - 6:00pm
Children's Birthday Party

August 10, 2019

•

6:00pm - 8:00pm
Children's Birthday Party

July 21, 2019

•

2:00pm - 2:30pm
Children's Birthday Party

May 31, 2019

•

4:30pm - 5:00pm
Fundraiser

May 04, 2019

•

4:00pm - 5:00pm
Children's Birthday Party

May 04, 2019

•

1:30pm - 3:00pm
Children's Birthday Party

April 27, 2019

•

12:00pm - 2:00pm
Nonprofit Event

April 21, 2019

•

3:30pm - 5:00pm
Easter Party

April 19, 2019

•

4:00pm - 5:00pm
Easter Party

April 13, 2019

•

5:00pm - 6:00pm
Children's Birthday Party

March 02, 2019

•

8:00pm - 8:15pm
Birthday Party

February 15, 2019

•

3:00pm - 4:00pm
Children's Birthday Party

February 14, 2019

•

5:30pm - 5:45pm
Surprise

December 16, 2018

•

12:00pm - 4:00pm
Nonprofit Event

November 17, 2018

•

5:00pm - 6:00pm
Children's Birthday Party

November 17, 2018

•

4:00pm - 4:45pm
Children's Birthday Party

October 31, 2018

•

6:00pm - 8:00pm
Personal Occasion

October 26, 2018

•

5:30pm - 7:30pm
Festival

October 12, 2018

•

9:30pm - 11:30pm
Birthday Party

September 30, 2018

•

2:30pm - 4:00pm
Children's Birthday Party

September 29, 2018

•

5:00pm - 7:00pm
Children's Birthday Party

June 08, 2018

•

12:00pm - 12:15pm
Birthday Party

June 02, 2018

•

4:00pm - 4:45pm
Children's Birthday Party

May 27, 2018

•

12:30pm - 1:30pm
Children's Birthday Party

May 19, 2018

•

7:00pm - 9:00pm
Children's Birthday Party

May 12, 2018

•

4:00pm - 5:00pm
Children's Birthday Party

April 29, 2018

•

5:00pm - 6:00pm
Children's Birthday Party

April 01, 2018

•

2:00pm - 4:00pm
Children's Birthday Party

February 10, 2018

•

3:30pm - 4:30pm
Children's Birthday Party

February 03, 2018

•

2:30pm - 5:00pm
Children's Birthday Party

January 03, 2018

•

2:00pm - 2:15pm
Surprise

December 01, 2017

•

8:30pm - 8:45pm
Retirement Party

October 07, 2017

•

12:30pm - 2:30pm
Birthday (Child)

September 12, 2017

•

3:30pm - 4:00pm
Birthday (Child)

July 16, 2017

•

2:00pm - 3:30pm
Birthday (Child)

July 01, 2017

•

6:00pm - 8:00pm
Birthday (Child)

July 01, 2017

•

11:30am - 12:30pm
Birthday (Child)

June 24, 2017

•

5:00pm - 6:00pm
Birthday (Child)

June 03, 2017

•

2:30pm - 4:00pm
Birthday (Child)

May 20, 2017

•

4:30pm - 5:30pm
Birthday (Child)

April 19, 2017

•

6:00pm - 6:15pm
Birthday (Adult)

April 17, 2017

•

12:00pm - 12:45pm
Holiday Party (Easter)

April 15, 2017

•

2:00pm - 3:00pm
Holiday Party (Easter)

April 14, 2017

•

12:30pm - 1:30pm
Holiday Party (Easter)

March 25, 2017

•

4:30pm - 6:30pm
Birthday (Child)

March 11, 2017

•

3:30pm - 5:30pm
Birthday (Child)

March 10, 2017

•

1:00pm - 1:15pm
Birthday (Adult)

March 04, 2017

•

6:00pm - 7:00pm
Birthday (Child)

March 04, 2017

•

4:00pm - 5:00pm
Birthday (Child)

March 04, 2017

•

3:00pm - 4:00pm
Birthday (Child)

January 07, 2017

•

2:00pm - 3:00pm
Birthday (Child)

December 07, 2016

•

12:00pm - 1:00pm
Birthday (Child)

December 04, 2016

•

9:30am - 11:30am
Holiday Party (Christmas)

December 03, 2016

•

6:30pm - 7:15pm
House Party

November 19, 2016

•

1:30pm - 2:30pm
Birthday (Child)

October 12, 2016

•

4:30pm - 6:00pm
Birthday (Child)

October 09, 2016

•

3:00pm - 4:00pm
Birthday (Child)

October 01, 2016

•

3:30pm - 5:00pm
Birthday (Child)

August 28, 2016

•

3:00pm - 5:00pm
Birthday (Child)

August 27, 2016

•

3:00pm - 4:30pm
Birthday (Child)

August 20, 2016

•

1:00pm - 2:30pm
Birthday (Child)

July 23, 2016

•

3:00pm - 4:00pm
Birthday (Child)

July 02, 2016

•

4:30pm - 5:30pm
Birthday (Child)

July 01, 2016

•

9:00am - 9:45am
Birthday (Child)

June 25, 2016

•

4:30pm - 5:00pm
Birthday (Child)

June 18, 2016

•

12:00pm - 2:00pm
Birthday (Child)

May 28, 2016

•

4:00pm - 5:00pm
Birthday (Child)

May 21, 2016

•

5:00pm - 6:00pm
Birthday (Child)

May 03, 2016

•

12:00pm - 12:45pm
House Party

April 30, 2016

•

3:00pm - 4:00pm
Birthday (Child)

April 24, 2016

•

1:00pm - 4:00pm
Birthday (Child)

March 26, 2016

•

2:00pm - 4:00pm
Birthday (Child)

December 19, 2015

Birthday (Child)

October 23, 2015

Birthday (Child)

August 16, 2015

Birthday (Child)

July 18, 2015

Birthday (Child)

July 18, 2015

Birthday (Child)

July 11, 2015

Birthday (Child)

June 28, 2015

Birthday (Child)

June 13, 2015

Birthday (Child)

June 06, 2015

Birthday (Child)

May 24, 2015

Birthday Party

May 23, 2015

Birthday Party

May 03, 2015

Birthday Party

May 02, 2015

Birthday (Child)

April 25, 2015

Birthday Party

March 31, 2015

Birthday Party

March 14, 2015

Birthday Party

March 14, 2015

Birthday Party

March 07, 2015

Birthday Party

September 18, 2014

Awards Night

September 06, 2014

Birthday Party

August 16, 2014

Corporate Event

August 16, 2014

Birthday Party

July 27, 2014

Birthday Party

July 23, 2014

Birthday Party

July 20, 2014

Fair

July 13, 2014

Birthday Party

July 13, 2014

Birthday Party

June 21, 2014

Birthday Party

June 14, 2014

Birthday Party

June 08, 2014

Other

June 07, 2014

Birthday Party

May 31, 2014

Birthday Party

May 18, 2014

Birthday Party

May 17, 2014

Birthday Party

May 17, 2014

Birthday Party

April 20, 2014

Restaurant

April 19, 2014

Birthday Party

April 19, 2014

Birthday Party

April 12, 2014

Birthday Party

April 12, 2014

Birthday Party

April 05, 2014

Birthday Party

March 29, 2014

Birthday Party

March 15, 2014

Birthday Party

March 09, 2014

Birthday Party

March 02, 2014

Restaurant

March 01, 2014

Other

February 22, 2014

Birthday Party

February 02, 2014

Birthday Party

January 04, 2014

Birthday Party

January 04, 2014

Birthday Party

December 21, 2013

Birthday Party

December 14, 2013

Birthday Party

November 23, 2013

Birthday Party

November 09, 2013

Birthday Party

November 04, 2013

Birthday Party

October 26, 2013

Halloween Party

October 24, 2013

Private Party

October 19, 2013

Birthday Party

October 19, 2013

Birthday Party

October 13, 2013

Birthday Party

October 08, 2013

Fundraiser

October 06, 2013

Birthday Party

October 05, 2013

Birthday Party

September 28, 2013

Birthday Party

September 28, 2013

Birthday Party

September 28, 2013

Birthday Party

September 28, 2013

Birthday Party

September 21, 2013

Birthday Party

September 19, 2013

Birthday Party

September 07, 2013

Baby Shower

September 07, 2013

Other

August 29, 2013

Birthday Party

August 24, 2013

Birthday Party

August 10, 2013

Birthday Party

August 10, 2013

Birthday Party

August 03, 2013

Other

July 14, 2013

Birthday Party
Setup Requirements
Varies