Your list is empty.
Save musicians, entertainers, speakers, and services, and they'll appear here.
Free Quick Quote
This vendor provides virtual services
Back to Circus Entertainment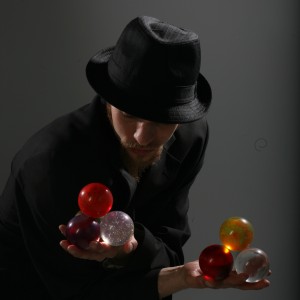 Bending Gravity Entertainment
5
(15 reviews)
Wayland, MA
Travels nationwide
$350 - $2000
Get a Free Quick Quote
Overview
Eric Girardi has been professionally performing object manipulation for over fifteen years as a world-ranked yoyo player, juggler, top spinner, diabolo'ist, contact juggler, stilt-walker, fire eater/breather/spinner, and an artist of over fifteen 'circus' skills. He can booked for his modern vaudeville show choreographed to music (may include historical/modern dialogue regarding the props); an interactive walk-around entertainer; run a workshop; or tailor to your needs. A client said, "You performance was really outstanding; I saw it as a kind of dance with props, and your choice of music made the work very beautiful and sophisticated. I will never think of yo-yo's as a mere toy anymore."
---
---
Booking Info
Price Range: $350 - $2000
Gig Length: 1 - 90 minutes
Insurance: $2,000,000.00 - Philadelphia Indemnity Insurance Company
What to Expect
I thought the best way to describe this, is in the words of others that have seen my show.
"You performance was really outstanding - I saw it as a kind of dance with props, and your choice of music made the work very beautiful and sophisticated. I will never think of yo-yo's as a mere toy anymore." - Described by a client
"It's not even like yo yo, it was like you were throwing and conjuring energy, casting spells.....I don't even know how to explain it. Inspiring would be a word." – Peter Irish, 5-Time World Footbag Freestyle Champion
"Your show has changed my daughter's life. She has never spent more than one hour doing anything before she saw your show." – Mother's e-mail after school show
"Eric truly captivated his audience when visited our middle school. In fact, the kids gave him a standing ovation. He wowed us with his awesome yo-yo, juggling, and stationary ball skills and connected with his upbeat and charismatic personality. Great entertainment!" – Timothy Brown, School Guidance Counselor
"If you can do 1/10 of those tricks with this yo-yo. I'll be thrilled." – Producer for Tiger Electronics commercial, commenting on audition tape
"At first, when I saw you I didn't think you could really be a person, because the tricks you were doing were soooo crazy." – Kid at a school show in Salem, NH
"I've never seen anything like that before in my life. That was wonderful."– Leader at Camp Sunrise in Suffield, CT
About
OBJECTIVE:
To provide a one-of-a-kind breathtaking performance of object manipulation choreographed to music… to bring once stagnant objects to life as art in motion.
SKILLS INCLUDE:
YoYos: (ranked 76th in the world and a member of the Duncan Yo-Yo Crew) - one or two yoyos at a time, freehand yoyo (string not attached to hand), offstring yoyo (string is not attached to yoyo)
Juggler: 5 ball, knives, fire, hatchet, etc.
Top Spinning: throw to hand and manipulated on string
Poi/Fire Spinning: may be done with or without fire
Diabolo/Chinese YoYo
Stilt-Walking: in costume - may do yoyos, juggling, contact juggling, etc. while on stilts
Fire Eating
Fire Breathing
Devilsticks: may be done with or without fire
Contact Juggling: 1 to 8 balls, may be done with fire with one ball
Rola Bola/Balance Board: with skills
Staff: may be done with or without fire
Dragon Staff: 10 fire wicks
Whips: 1 or 2, may be done with or without fire
Rope Knot Throwing
Paddleball: 1 or 2
Plate Spinning
Fire Jump Rope
PROGRAMS OFFERED (options can be combined):
Stage Performance (up to 1 hour): skills choreographed to music w/ or w/o talking and interaction … artist will provide own sound system
Walk-around/Strolling Entertainment (30 min. – full days): great for a cocktail hour, festival, corporate setting, party, etc.
Motivational Assembly/Show (15 min. – 1 hour): skill show based around general motivation, following your passions in life, importance of practice and study (also can discuss related history and science) … great for schools
Workshop/Classes/Private Lessons: (15 min. - full days) generally yoyos, juggling, devilsticks, plate spinning, etc. - any of the skills can be taught and equipment can be pre-ordered for participants or rented
Fire Show: (up to 30 min.)
Fire Walk-Around
Glow Show (5-25 min.): light-up yoyos, spinning glow sticks, juggling glowing balls, LED diabolo and more…great for a nightclub, party, or any night event
Glow Walk-Around
Product Demonstration: promote your product at a trade show, store event, or other promotion - will learn a new skill if necessary
Custom Show: at your disposal to work around your theme of event and create a show based on your needs
***Customized yoyos or juggling balls can be pre-ordered for your event…
WORK EXPERIENCE:
CORPORATE/TRADE SHOWS:
Aetna
Borders Books and Music
Bushnell Theater
CT Business Exposition
Commerce Bank
Comvey Business Convention
Foxwoods Resort and Casino
Greater Hartford Arts Council
Greenberg Taurig Company Picnic
Gunstock Mountain – Guilford, NH
Hartford Insurance
Hartford, CT New England's Rising Star
Lake Compounce
Make-A-Wish Foundation (donated show)
Meadowlands Racetrack
Metropolitan Museum of Art
Mount Wachusett
Noodle Kidoodle
New York City Toy Fair
Riverfront Recapture
Ronald McDonald House
Six Flags New England
Stratton Mountain
Village Toy Shoppes
TV, FILM, RADIO, & MAGAZINE:
Black Mamba Instruction YoYo Video
Duncan Juggling CD-ROM
Duncan Juggling Product Packaging Photo Shoot (featured on Duncan Juggling Packaging)
Duncan YoYo/Top/Juggling Commercial
Fiend Magazine (YoYos/Juggling) feature
FOX Magazine
FOX Phenom (FOX TV News Program)
"Sphereplay 2 – The Multisphere" Video
Tiger Electronics YoYo Commercial
WRCH, Light 100.5 Radio Guest
FESTIVALS/FAIRS (50 ):
Festivals/Fairs (50 )
Bristol, CT Arts in the Park
Camp Creek Music Festival
Clearwater Hudson River Revival Music Festival
Durham, CT County Fair
Gathering of the Vibes Music Festival
Hyannis, MA Main St. Festival
New York Renaissance Fair
Rhythm and Roots Music Festival
SoNo Arts Celebration
Summit on the Hudson Music Festival
Vermont Alternative Energy Festival
W. Hartford, CT American School for the Deaf Annual Festival
Yarmouth, MA Seaside Festival
COLLEGES:
America International College – Springfield, MA
Asnuntuck College – Enfield, CT
Bronx Community College – Bronx, NY
Keene State College – Keene, NH
McKendree College – Lebenon, IL
Missouri State College – Springfield, MO
Monmouth University – West Long Branch, NJ
Rivier College – Nashua, NH
Rochester Institute of Technology – Rochester, NY
University of New Haven - New Haven, CT
Worcester Polytechnic Institute – Worcester, MA
PERFORMANCE GROUPS/COLLABORATIONS:
Bindlestiff Family Cirkus in Times Square
Duncan USA YoYo Crew member
Fire Flight show for Southington, CT High School Graduation event
Forgot to Laugh Sideshow/Animation Show - New Haven, CT
FOODPLAY school assemblies - juggling and nutrition tour (100 shows)
The Latest Show on Earth collaboration
Team Zero Gravity collaboration show for WPI YoYo Competition
Try Out Toys Product Demonstrator
OTHER EVENTS:
200 birthday parties, scouting events, malls, nightclubs, parades, restaurants, school assemblies, YMCAs...
AWARDS RECEIVED (now focusing on performing rather than competition):
Best Trick @ Boston University Juggling Convention (2003)
Named CT state YoYo Champion – one-handed division (2003)
Won New York City Open YoYo Competition – one-handed division (2001)
Won New York City Open YoYo Competition – freestyle division (2000)
Eleventh at Y3A Annual World YoYo Competition – one-handed division (2000)
Third in North East YoYo Competition – one-handed division (2000)
Won New York City Open YoYo Competition – one-handed division (1999)
Ranked 76th overall yoyo player in the world at World YoYo Competition (Hawaii – 1999)
Eight in International YoYo Competition (Niagara Falls) – one-handed championship (1999)
Second at MA Dogbite YoYo Competition – expert division (1999)
Fourth in North East YoYo Competition – one-handed championship (1999)
Fourth in North East YoYo Competition – intermediate division (1998)
Additional Booking Notes
I can bring my own sound system and clip-on mic ... or they can be provided.
Past Booked Events
September 17, 2019

•

5:00pm - 7:00pm
Grand Opening

May 07, 2019–May 08, 2019

•

10:00pm - 12:00am
Birthday Party

July 19, 2018

•

9:00am - 10:00am
Corporate Event

March 04, 2017

•

3:00pm - 3:30pm
Birthday (Child)

June 18, 2016

•

4:30pm - 9:30pm
Birthday (Adult)

February 09, 2016

Holiday Party (Other)

May 25, 2015

Public Event
Team
| | |
| --- | --- |
| Eric Girardi | Owner/Performer |
Influences & Inspiration
I draw from many genres in entertainment: yoyos (Steve Brown, Paul Yath, and Sky Kiabu), juggling (Sergei Ignatov, Enrico Rastelli, Bobby May, and Francis Brunn), comedy (Buster Keaton, Charlie Chaplin, W.C. Fields, Jerry Seinfeld, Robert Nelson, Steve Martin, and George Carlin), devilsticks (Adam Dipert) and clowning (Avner Eisenberg).