Your list is empty.
Save musicians, entertainers, speakers, and services, and they'll appear here.
Free Quick Quote
This vendor provides virtual services
Back to Violinists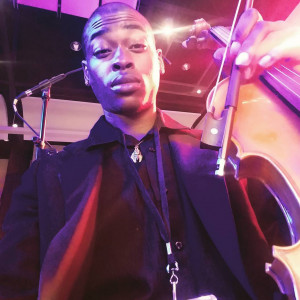 Bankhead Violinist
5.0
(32 reviews)
Atlanta, GA
Travels nationwide
Contact for rates
Get a Free Quick Quote
Overview
Professional Violinist in Atlanta, Ga that can provide R & B, Hip Hop, Pop, Classical, Gospel, Christmas, and many more types of music. I can play sheet music or by ear and am very comfortable improvising along to a track or band.
I have worked in a variety of environments: a resident musician at Sage Woodfire Tavern, Symphonies around Georgia, Musicals with Act 3 Productions, Dinners, Engagement Parties, Surprise Engagements, Weddings, Funerals, Churches, Grand Openings, and many more things.
But I can also give a full show I've also performed on stage at clubs, won competitions, perform as the main act, and can give an entertaining show with interactive elements if the event calls for it.
---
---
Booking Info
Price Range: Contact for rates
Gig Length: 30 - 360 minutes
About
My name is Derick Jones, DJ, and I am a professional violinist, app developer, bartender, and author from Bankhead in Atlanta, GA. I attended Grove Park Elementary School where I was given the distinction of being in the gifted program and being asked two different grades by two different teachers to be skipped, which my beautiful mother opted out of. In 5th grade, I was in the honor choir for Grove Park and I was in the Black History Quiz Bowl where we reigned for the two years I was a part of.
In Middle School, I started playing Alto Sax under the direction of Mr. Dallas at West Fulton Middle School. I also began playing the violin there under the direction of Mrs. Toni Butts. The story of me starting playing the violin is that since I was gifted I had clout in the school with the teachers and I spoke with the principal, Mr. Alexander, and asked to be transferred into orchestra because my girlfriend at the time was in the class. I was a complete beginner last chair last violin. Each day I would stay after school practicing my violin while Ms. Butts was doing whatever work she needed to get done. They found out I could sing as well and then I began going on gigs during school time to perform as a singer/performer with them. I was proficient on the tuba as well, enough so that I performed with Mays High School Marching Band in the 7th Grade over the summer. I lead the parade where our orchestra was marching in that lead to the name-changing ceremony of West Fulton Middle School to Benjamin S. Carson Honors Preparatory School and after the parade sang a solo of I believe the children are our future by Whitney Houston for the ribbon-cutting ceremony. In 8th grade, my family moved to Jonesboro and I was transferred to Pointe South Middle School and was the Concert Master for their orchestra and lead them to superior ratings at GMEA. There I was also a part of the band playing trumpet. To begin High School I entered Mundy's Mill High School where I began playing with Mrs. Jones. This was the last year Ms. Jones would be there. I was the only 9th grader that was allowed to perform in the 1st Violin section at the GMEA. On the day of GMEA, I was feeling exceedingly nervous to the point of dizziness. I walked over to Ms. Jones to try to explain and began to faint, she thought I was going to throw up on the music so she accidentally guided me to the floor. I came to and was given lots of candy and water and went on to do great at my performance. I was still a part of the gifted program and going through the rigorous programs that were AP Classes from 9th grade and every year on. The next year we had a new teacher, Ms. Corey Benton. She was an exceptional teacher. I was the concertmaster of the chamber orchestras and lead as the principal violist in the symphonic, for GMEA, since no member could play in more than one without playing a different instrument. I was a part of the Math, Spanish, and a plethora more clubs at Mundy's Mill High School. I performed as a pit musician at the Clayton County Performing Arts Center for Peter Pan the Musical, and Seussical the musical. I was also from 9th until 12th grade a part of the Emory Youth Symphony and the Southern Crescent Youth Symphonies. I later went on to join the Southern Crescent Symphony and be in the 1st Violin Section. In the 12th grade, I changed schools yet again because Clayton County was being threatened with Academic Dismissal, so I went back to Bankhead and decided to go to Fredrick Douglass High School, there I tried to skate by and not do the rigorous AP courses this year but Mr. Saylor, an alum of Georgia Tech, my Calculus teacher saw my potential and got me changed into AP Calc, AP Computer Science, and AP Economics. There I was in the Fredrick Douglass High Orchestra where I under Mr. Isaac I was the concertmaster and teacher most of the time. I would teach the class while he went around helping them with their form and habits. Since he also taught at Mays I was the concertmaster over there as well. I would also play seasonally with Adamsville Church. I lead the Atlanta Public School youth orchestra as Concertmaster. I culminated the year by finally showing my classmates what I had been doing all this time by performing the Accolay Violin Concerto at my senior recital in front of all of the seniors, juniors, and some class skippers. They loved it and I received a standing ovation from my peers and was asked to perform at an event to be televised congratulating Beverly Hall for her, now promiscuous, score exams that had her be Superintendent of the year for the entire nation. I performed a solo of Meditation from Thais and killed it!! I was also a part of the Junior Engineers Team and though it was our first year competing we won 1st place in the competition! I was also on the Academic Decathlon where I got first place in Art, Music, and Math, which helped lead our team to an overall Team victory as well. I had the highest SAT score in my class at Fredrick Douglass High but was denied being a Star student as I had only been at the school for one year and they felt it would be unfair. I got the Bill Gates Full Ride Scholarship for any school in the nation until your doctorate. I wanted to go to school for music but my mother told me to go to school for something else so I have something to fall back on. Since I knew I was good at math and computers I chose to go to Georgia Tech. Georgia Tech was the only school I applied to and luckily I got accepted. Over the summer I decided to take the Challenge program which is a program designed to get you ready for Georgia Tech where over the summer you live in a freshman dorm, take classes from Georgia Tech professors, and at the end if you get all A's you get a full refund. I was off by 1 A. So my mom got back Maybe 70% of the money she paid. I made great friends there and to my surprise, I was runner up for the most popular guy. I was the only person in the program to get an A in Computer Science and won the best in Computer Science award. I wanted to get away from my family a little so decided to go to Georgia Tech's Savannah Campus which I later found to be based on Armstrong Atlantic's Campus. There I made great friends, joined the Choir, and competed with The Armstrong Atlantic Choir. I also began doing Undergraduate Research as a freshman under Dr. Cameron Coates who was my Intro to an Engineering professor. I rocked it out and made a 4.0 my first semester. The next year I decided to transfer back to the Atlanta Campus. There I began playing in the Georgia Tech Symphony where I was in the 1st Violin Section and Georgia Tech chamber ensembles. I also played with the Drama Tech theatre of Georgia Tech where I was the solo violinist behind Jekyll and Hyde. I went on to work with Act 3 productions and playing in 3 musicals with them so far. I began bartending and bar managing through a friend who was a club owner of two clubs in New Jersey and Philadelphia. I currently bartend at different venues across Atlanta, as well as club promote. I am the 2nd chair 1st Violinist for the Atlanta Philharmonic and a 1st Violin member, but for this concert at Dragon Con, the Principle 2nd Violinist for the Georgia Philharmonic Orchestra. I just released an app to the google play store Weed Nation Games, which is an app that has games for every occasion non-alcoholic, hookah, beer, alcohol, wine, cigarette, e-cig, vape, any occasion. You simply click which items you have been it, you're at a pool, have playing cards, have a cup, etc. It generates games based on what you have to play with your friends or even alone, with tons of extras on the app like links to your favorite turn up videos like Tipsy Bartender, WorldStarHipHop, Media Takeout, and links to your favorite Social Media networks placing them all in one app there's always something to do. WEED NATION GAMES available on Google Play Store. WORK HARD PLAY HARD. I just also decided to start recording myself play my violin to some of the popular songs of today and yesterday under the name BANKHEAD VIOLINIST and people are really enjoying it, check me out. Xscape the group said they, " Loved it and Good Job" to my rendition of their hit Tonight. I currently have close to 300 videos on YouTube and a plethora more on Instagram.
Since turning into a full-time musician under the stage name Bankhead Violinist, I've performed as a Solo Violinist for the last 3 years for many locations. I've been a resident musician at Sage Woodfire Tavern Perimeter, Buckhead, and Alpharetta, Red Pepper Taqueria Buckhead, Red Pepper Taqueria Dunwoody, and Area 4 Restaurant. I also perform for private and public events around the city and beyond. I was once flown out to a beautiful destination wedding in Puerto Rico to perform for the flurry of events they had planned for their guests. I have begun doing lessons about 3 years ago both privately and through Lessons in Your Home and TakeLessons. I've performed at many schools around metro-Atlanta as well as have taught at many orchestra programs or camps including Marbut Elementary, Douglass High School, LoveJoy High School, and Mundys Mill High School.
I've performed for a range of events including but not limited to: Weddings, African Galas, Funerals, Birthdays, Private Gatherings, Surprise Proposals, Valentines Day Surprise, Elderly Home Visit, Hospital Visit, Graduation Party, Engagement Parties, Art Shows, Food Trucks, Grand Openings, Parades, Company Gatherings, Balcony Serenades,  Rap Video, Feature to Rap Artist(s) Live, Feature to Dj Live, and I'm currently working on a project where I'm composing and scoring music for a feature film.
I've won a host of talent competitions around Atlanta and frequently play at many of the local karaoke nights as a pop-up performer.
Check me out on social media!
Upcoming Booked Events
December 10, 2021

•

5:30pm - 7:00pm
Virtual Event

December 11, 2021

•

5:00pm - 6:00pm
Other christmas shekita

December 11, 2021

•

7:00pm - 8:00pm
Christmas event

December 17, 2021

•

6:00pm - 9:00pm
Birthday Party

December 18, 2021

•

8:30pm - 9:30pm
Birthday Party

December 19, 2021

•

6:15pm - 7:15pm
Shannon woods 4706860761

December 31, 2021

•

7:00pm - 9:00pm
Amazing Janelle 404-276-2770

December 31, 2021

•

10:00pm - 11:00pm
Sweet fusion don't know time

January 01, 2022

•

5:00pm - 6:00pm
Wedding Ceremony

January 25, 2022

•

8:00pm - 9:00pm
Event

February 05, 2022

•

5:00pm - 7:00pm
Nina johnson

April 04, 2022

•

6:30pm - 7:30pm
Personal Occasion

June 02, 2022

•

3:45pm - 5:00pm
25% paid of full $157/$630 Edishae shaeee_bby

June 02, 2022

•

6:00pm - 8:30pm
Wedding Djing

July 09, 2022

•

2:30pm - 6:00pm
Wedding Ceremony

September 16, 2022

•

1:30am - 2:30am
Brittany Davis Not sure time
Past Booked Events
December 05, 2021

•

7:30pm - 8:00pm
Event

December 04, 2021

•

3:00pm - 4:00pm
Hunter Williams instagram hidden leaf

December 03, 2021

•

8:00pm - 9:30pm
Birthday Party

December 02, 2021

•

7:00pm - 9:00pm
Rhodes

November 26, 2021

•

8:00pm - 9:00pm
Angela

November 25, 2021

•

3:00pm - 6:00pm
Event

November 24, 2021

•

7:30pm - 8:00pm
event

November 21, 2021

•

4:30pm - 6:30pm
Event

November 21, 2021

•

2:15pm - 3:15pm
Loretta

November 20, 2021

•

9:30pm - 10:30pm
Event

November 20, 2021

•

7:00pm - 8:00pm
shantle pittard

November 19, 2021

•

8:00pm - 9:00pm
Event

November 18, 2021

•

7:00pm - 9:00pm
Restaurant

November 14, 2021

•

1:00pm - 5:00pm
NOT A GIGColumbus, GA possi le

November 12, 2021–November 13, 2021

•

11:30pm - 12:30am
event

November 12, 2021

•

5:30pm - 6:30pm
Linda ma coworker

November 06, 2021

•

6:30pm - 8:00pm
Angela kidd $100/$300

October 30, 2021

•

6:00pm - 7:00pm
Event

October 30, 2021

•

2:30pm - 3:30pm
Tina

October 29, 2021

•

5:30pm - 6:00pm
Courtney real

October 29, 2021

•

5:00pm - 5:30pm
Wedding Ceremony

October 23, 2021

•

5:00pm - 8:00pm
Birthday Party

October 16, 2021

•

7:30pm - 8:30pm
Heavynsymone

October 10, 2021

•

7:00pm - 8:00pm
Wedding coordinator

October 10, 2021

•

3:30pm - 4:30pm
Christopher

October 09, 2021

•

8:00pm - 9:00pm
Event

October 09, 2021

•

4:00pm - 7:00pm
vineyard

October 09, 2021

•

1:00pm - 2:00pm
event

October 08, 2021

•

11:30am - 12:30pm
Tomeka

October 06, 2021

•

8:00pm - 11:00pm
Cigar bar

September 26, 2021

•

6:00pm - 10:00pm
event annastas

September 26, 2021

•

3:30pm - 4:30pm
330 event Wright instagram

September 26, 2021

•

1:30pm - 2:30pm
Cuz Jessica maybe

September 26, 2021

•

11:00am - 1:00pm
Brunch

September 25, 2021

•

6:00pm - 7:00pm
Wedding Reception

September 25, 2021

•

5:30pm - 6:30pm
Darryl real time

September 25, 2021

•

12:00pm - 1:00pm
cassandra

September 23, 2021

•

7:00pm - 8:00pm
Brittany

September 23, 2021

•

5:45pm - 6:15pm
rehearsal pristine chapel morrow ga

September 21, 2021

•

6:00pm - 6:30pm
Meet resraurant guy

September 18, 2021

•

5:00pm - 7:00pm
Taylor sharpe wedding

September 17, 2021

•

3:30pm - 4:00pm
event

September 11, 2021

•

9:30pm - 11:30pm
Laneatra darden

September 11, 2021

•

7:30pm - 8:30pm
event

September 11, 2021

•

4:30pm - 6:00pm
Wedding Ceremony

September 11, 2021

•

4:00pm - 5:30pm
Willesia real time

September 05, 2021

•

6:00pm - 7:00pm
Waco wedding

September 04, 2021

•

5:30pm - 7:30pm
Wedding Ceremony

September 03, 2021

•

8:00pm - 9:00pm
Aurora

August 28, 2021

•

6:00pm - 8:00pm
Saroya

August 28, 2021

•

11:00am - 12:00pm
Event

August 27, 2021

•

4:30pm - 6:30pm
Tamra fuller

August 22, 2021

•

6:00pm - 7:30pm
Russel

August 21, 2021

•

8:30pm - 10:00pm
event

August 21, 2021

•

12:00pm - 1:00pm
Irby

August 14, 2021

•

10:00pm - 10:30pm
Birthday Party

August 14, 2021

•

5:00pm - 7:00pm
Wedding Reception

August 07, 2021

•

6:45pm - 9:45pm
Shani wedding

July 31, 2021

•

7:45pm - 9:15pm
Monica gee

July 31, 2021

•

6:00pm - 7:30pm
Wedding Cocktail Hour

July 31, 2021

•

4:30pm - 7:00pm
Wedding Engagement

July 31, 2021

•

11:00am - 12:00pm
Shekita Johnson

July 30, 2021

•

8:30pm - 9:30pm
NC

July 25, 2021

•

6:00pm - 7:00pm
event

July 25, 2021

•

4:00pm - 5:00pm
new event

July 24, 2021

•

7:00pm - 8:00pm
event

July 24, 2021

•

4:30pm - 6:00pm
Wedding Ceremony

July 22, 2021

•

6:00pm - 10:00pm
Antonella wedding

July 21, 2021

•

7:30pm - 8:30pm
Event Grey goose referred

July 19, 2021

•

12:00pm - 12:30pm
Learn jagged edge let's get married remix

July 17, 2021

•

7:00pm - 9:30pm
ronyell rhodes

July 17, 2021

•

1:00pm - 5:00pm
cindy

July 10, 2021

•

6:00pm - 7:00pm
Arlene

July 10, 2021

•

3:00pm - 4:00pm
Meeting

July 09, 2021

•

7:00pm - 11:00pm
Brianna rogers

July 07, 2021

•

4:00pm - 4:45pm
Haleigh

July 06, 2021

•

7:45pm - 8:45pm
Shaneka real

July 06, 2021

•

7:00pm - 8:00pm
Birthday Party

July 05, 2021

•

5:30pm - 6:30pm
Johnie Wright Augusta wedding

July 03, 2021

•

9:30pm - 10:30pm
Ralph V.

July 01, 2021

•

7:30pm - 8:30pm
jhordan

June 30, 2021

•

8:00pm - 9:00pm
Robin (deposit not paid)

June 30, 2021

•

6:30pm - 7:30pm
Mrs allen

June 23, 2021

•

6:00pm - 6:30pm
derica not sure of time

June 22, 2021

•

6:30pm - 7:00pm
Birthday Party

June 20, 2021

•

7:00pm - 7:30pm
Surprise

June 20, 2021

•

5:00pm - 6:00pm
young lady

June 19, 2021

•

8:00pm - 9:00pm
Anniversary Party

June 19, 2021

•

5:45pm - 7:15pm
Young lady event

June 19, 2021

•

3:00pm - 5:00pm
Quatisha Robinson

June 19, 2021

•

1:15pm - 2:15pm
lakeeta

June 19, 2021

•

10:00am - 11:00am
nicole

June 18, 2021

•

7:00pm - 8:00pm
Birthday Party

June 18, 2021

•

5:30pm - 6:30pm
new young lady

June 17, 2021

•

2:00am - 2:30am
Learn song This is Why I love you for June 19th

June 15, 2021

•

11:00am - 12:00pm
Kee Williams

June 14, 2021

•

4:30pm - 6:30pm
Denise ward

June 13, 2021

•

4:30pm - 5:30pm
Tisha

June 12, 2021

•

6:30pm - 8:30pm
Monica gee

June 05, 2021

•

8:00pm - 10:00pm
Oge

May 29, 2021

•

9:00pm - 10:00pm
Ralph V.

May 29, 2021

•

6:00pm - 8:00pm
joy

May 25, 2021

•

7:00pm - 8:00pm
latasha smith

May 23, 2021

•

9:00pm - 10:00pm
skate event

May 23, 2021

•

12:00pm - 3:00pm
Red pepper brookhaven

May 21, 2021

•

10:00am - 11:00am
_dsmooth instagram

May 20, 2021

•

3:00pm - 4:00pm
Event

May 20, 2021

•

3:00pm - 3:30pm
Tanja

May 16, 2021

•

9:00pm - 10:00pm
skate event nono

May 15, 2021

•

6:30pm - 7:30pm
toi brown

May 14, 2021

•

8:30pm - 9:30pm
Birthday Party

May 09, 2021

•

7:00pm - 8:00pm
derica

May 08, 2021

•

9:00pm - 10:00pm
Parnell

May 08, 2021

•

6:30pm - 8:00pm
Atrium

May 04, 2021

•

12:00pm - 12:30pm
Primerica

May 01, 2021

•

10:00pm - 11:00pm
10 til 11 resched

May 01, 2021

•

4:00pm - 6:30pm
Wedding

May 01, 2021

•

1:00pm - 2:00pm
Personal Occasion

April 30, 2021

•

9:00pm - 10:00pm
Clinet B

April 30, 2021

•

7:00pm - 8:00pm
Anniversary Party

April 28, 2021

•

6:30pm - 9:30pm
Quivadis

April 28, 2021

•

11:00am - 12:00pm
Primerica

April 27, 2021

•

7:00pm - 10:00pm
Red pepper Buckhead

April 24, 2021

•

6:00pm - 6:45pm
Wedding Ceremony

April 24, 2021

•

3:15pm - 4:45pm
Wedding Berryman dennard

April 22, 2021

•

4:30pm - 5:00pm
Piedmont proposal

April 20, 2021

•

9:30pm - 11:00pm
Dinner Party

April 17, 2021

•

1:00pm - 2:30pm
Wedding Ceremony

April 16, 2021

•

6:00pm - 8:00pm
Joanna jones

April 12, 2021

•

8:30pm - 9:30pm
Treusha nolan

April 10, 2021

•

6:00pm - 7:30pm
Birthday Party

April 10, 2021

•

3:00pm - 3:30pm
Driq_official Instagram videoshoot

April 09, 2021

•

5:30pm - 6:00pm
Surprise

April 09, 2021

•

5:15am - 5:45am
Marquis

April 03, 2021

•

6:00pm - 7:30pm
Dinner Party

March 27, 2021

•

8:00pm - 9:00pm
New lady

March 27, 2021

•

6:00pm - 6:45pm
Ranch

March 27, 2021

•

12:30pm - 1:00pm
Kelsey real

March 27, 2021

•

12:00pm - 12:30pm
Wedding Engagement

March 26, 2021

•

7:30pm - 9:30pm
Nicole Harper

March 20, 2021

•

8:30pm - 9:30pm
Twelve hotel

March 20, 2021

•

6:30pm - 7:30pm
New Instagram lady event

March 20, 2021

•

5:30pm - 6:15pm
Wedding Ceremony

March 20, 2021

•

5:00pm - 5:45pm
Carlos real time

March 19, 2021

•

7:30pm - 8:00pm
Rapper video shoot

March 17, 2021

•

7:00pm - 9:00pm
Shanni

March 16, 2021

•

7:00pm - 10:00pm
Red Pepper Briarcliff

March 13, 2021

•

6:30pm - 8:30pm
@slushiewasted

March 05, 2021

•

10:15am - 10:45am
Massage lady

March 01, 2021

•

7:30pm - 8:00pm
Tweet

February 27, 2021

•

6:00pm - 10:00pm
Sage

February 26, 2021

•

11:00pm - 11:30pm
Rapper event

February 26, 2021

•

5:30pm - 8:30pm
Botica Atlanta

February 24, 2021

•

6:30pm - 9:30pm
B

February 20, 2021

•

6:00pm - 8:00pm
Dinner Party

February 19, 2021

•

6:30pm - 7:00pm
Batoya Celements

February 17, 2021

•

6:30pm - 9:30pm
Bot

February 14, 2021

•

3:45pm - 4:15pm
Rays on river

February 14, 2021

•

3:30pm - 4:00pm
Restaurant/Bar Event

February 14, 2021

•

9:30am - 10:00am
Shay

February 13, 2021

•

8:45pm - 10:15pm
Antonio

February 13, 2021

•

7:00pm - 7:15pm
Surprise

February 12, 2021

•

5:30pm - 8:30pm
Bo

February 11, 2021

•

10:30am - 11:30am
Birthday Party

February 10, 2021

•

6:30pm - 9:30pm
Botica Atl

February 06, 2021

•

7:00pm - 9:00pm
Bday party

February 06, 2021

•

6:00pm - 8:00pm
Birthday Party

February 03, 2021

•

8:00pm - 9:00pm
Jideco

January 30, 2021

•

5:30pm - 8:30pm
Botica atlanta

January 09, 2021

•

7:30pm - 8:30pm
Event

January 04, 2021

•

5:00pm - 6:00pm
Madam husband bday

January 03, 2021

•

6:00pm - 8:00pm
Nonprofit Event

December 31, 2020

•

12:00pm - 1:00pm
Djara wedding

December 26, 2020

•

4:00pm - 5:00pm
Lady event

December 24, 2020

•

3:30pm - 4:30pm
Primetime Wedding Proposal

December 23, 2020

•

2:00pm - 3:00pm
Alabama grandma

December 23, 2020

•

11:30am - 12:00pm
Birthday Party

December 19, 2020

•

8:00pm - 9:00pm
Felicia event

December 18, 2020

•

6:00pm - 6:30pm
Wedding Engagement

December 05, 2020

•

6:30pm - 6:45pm
Corporate Event