Your list is empty.
Save musicians, entertainers, speakers, and services, and they'll appear here.
Free Quick Quote
This vendor provides virtual services
Back to Balloon Twisters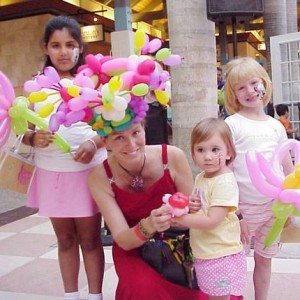 Balloon Art and Face Painting by Irina
5.0
(12 reviews)
Miami, FL
Travels up to 90 miles
Contact for rates
Get a Free Quick Quote
Overview
I am the happiest balloon artist, 🎈 face painter 🖌️ and more in the Miami-Dade, Broward and West Palm Beach, 🌴 South Florida. Almost two decades of serving families and corporations, with thousands of trilled parents and event planners. I paint. 🎨 I twist awesome balloon art, 🌺 am a Mime, a Clown, a Costumed Character and Storyteller. Text me any time. ❤️ Anything to do with event or film production. I am more than just a birthday entertainer, I have done weddings, baby showers, movies, commercials, advertising, and highly customized presentations for corporate functions, company picnics, seminars, Christmas and tea events! See my reviews and text me. Until then, Piece and Love 💕
---
---
Booking Info
Price Range: Contact for rates
Languages: English, Russian
What to Expect
Balloon Art:
My balloon art is not your common balloon animals. "Wow" is a usual reaction I have from grown-ups:)
But small kids just happy to participate and usually run crazy with my balloon creation and try to pump balloons themselves which I happily let them. At any time, I want to ensure happiness of every little soul at every party!
Your kids holding balloons or wearing balloon crowns will be incredibly cute and I am sure everyone will cherish those moments forever!
Face Painting:
Kids are always excited to be a princess or a superhero for a day! And my face painting let them be!
I use only approved for kids face paints in beautiful rainbow colors and truly enjoy creating work of art on those little faces!
And I also know that those cutest pictures and memories will be treasured forever!
Recently, I am getting a lot of requests for costumed character of queen Elsa from Disney's FROZEN. I am happy to come to your party as Elsa. But usually, I come as an original stylish balloon art princess. Kids often say, "Love your dress!" or "Love your shoes!"
EVENT SOLUTIONS Magazine: Profile: Balloon Redux: Event Planners are Taking a Second Look at Balloon Art.
Norma Jean Abraham, a philanthropist with more than 20 years of event planning experience, says Patterson's creations blow people away. "She's amazing and so quick," says Abraham. "At Alonzo Mourning's annual Christmas party last year, she made top hats, ladybug bracelets and dozen of swords for about 300 kids."
About
Some stories written about my party entertainment work:
July 2007. EVENT SOLUTIONS Magazine: Profile: Balloon Redux: Event Planners are Taking a Second Look at Balloon Art. By Sue Arrowsmith
"When people think about balloon art, they think clowns and balloon dogs," she says. "I want people to see that it really is an art suitable for upscale events."
Norma Jean Abraham, a philanthropist with more than 20 years of event planning experience, says Patterson's creations blow people away
"She's amazing and so quick," says Abraham. "At Alonzo Mourning's annual Christmas party last year, she made top hats, ladybug bracelets and dozen of swords for about 300 kids."
December 2004. COCONUT GROVE Magazine: The Balloon Lady
If you have been to Coconut Grove recently, you have likely seen Irina Patterson, the Balloon Lady, at least once. Wearing her trademark whimsical balloon crown, she has become a familiar face as she twists and turns balloons into a wide range of characters from monkeys and dragons to lizards and ladies. The Russian-born entertainer, who is many ways embodies the fun spirit of Coconut Grove, is available for events and parties.
August 9, 2004. THE MIAMI HERALD. By Wendy Doscher-Smith.
Irina Patterson turns balloons into works of art, creating everything from dachshunds ad dragons to monkeys and ballerinas.
In Irina Patterson's world, dragons don't breathe fire and dogs don't bite. Then again ballerinas aren't human and lady bugs don't crawl. Patterson, a balloon sculptor, uses her imagination and a felt-tipped pen, some latex and lots of hot air to get a smile. And she gets lots of them.
A former model and public relations consultant, Coral-Gables-based Patterson moved from Russia to Miami in 1992 after earning a four-year art degree in Russia. She worked as a model and computer graphics technician before setting in at a technology-oriented public relations firm. But last year she didn't feel challenged and lacked an outlet for her creativity.
While attending a children's party, she became fascinated with the balloon creatures.
'I thought, 'Oh, I can do that,' "says Patterson, "and it was so much fun I didn't stop."
Although there aren't any classes required to hone the skill, a balloon sculptor still must learn the trade, starting with the simple "basic dog" that requires one balloon to the more complex varieties, such as a monkey sitting on a tree, which consists of several balloons once it's completed. The best way to lean is through practice. Patterson estimates that she blows up 500 balloons a week during her regular digs.
Most requested are the monkey in the tree, dragons, flowers, ballerinas, dogs, cats and cartoon characters such as Scooby Doo and the dog Blue from Nickelodeon's Blue's Clues animated show. Patterson also creates specific canine breeds such as poodles (in pink, of course!), cocker spaniels and dachshunds and makes fancy multitiered hats for adults. Patterson inflates the balloon with a pump and rarely has one snap back at her, as she buys professional latex balloons that have more elasticity.
Busy times for Patterson include weekends from morning until evening and October through December. Patterson also is quite busy on Holidays such as Halloween, when she sculpts full-sized goblins, witches and ghouls. When she is not entertaining, Patterson makes full floral balloon bouquets, and yes, vase is made from a balloon.
Patterson considers her work a serious artistic endeavor. In fact, when she works at parties, she does not dress-up like a clown, since she believes that would detract from her sculptures. All of Patterson's creations last about five days, and that short life span is part of the beauty of balloons sculpture, she says.
"I love balloons" Patterson says. "They are like flowers, as their life expectancy is about five days and then they die. Balloons make beautiful photos. There should be a director in Hollywood who would build an entire movie around balloons because they are so photogenic. There should be balloon fashion shows. People who never saw balloon art, just don't know what thy have been missing.
READER'S DIGEST: Pop Artist:The Start of a Magical Life. By Gail Cameron Wescott. June 2006.
Irina Patterson has a job that's full of hot air.
The balloons on top of her head stop people in their tracks. They're not your ordinary birthday balloons, but spheres twisted into multicolored, outlandish towering crowns. Irina Patterson, known in South Florida as the balloon lady, also fashions bubble flower sculptures, mermaids, even monkeys hanging from trees.
Growing up in the bleak Cold War landscape of Soviet Russia, Irina, never imagined she'd one day make a living as a balloon artist. The daugher of an engineer and a teacher, she won top academic awards in high school, went on to medical school and became an emergency room physician in Izhevsk, the small city where she was raised.
"I loved the science of medicine," she says today, "but being a doctor was very hard. I saw things people don't normally see -- women giving birth in the street, people getting drunk and killing someone." Medications were scarce, making it very difficult to treat those in need. In 1992, when Irina was 33, a girlfriend showed her a correspondence magazine photo of an American psychologist named Wes Patterson. "He was gorgeous," Irina says. They began exchanging letters, and six months later the divorced Patterson invited Irina to visit him in Miami. "He said he knew by the way I expressed myself that he wanted to marry me," says Irina. "If someone had told me this story, I wouldn't have believed it."
Inflated Interest
The couple wed that December and settled in Patterson's Coral Gables apartment. Irina, a willowy blonde just under six feet tall, chose not to complete the extensive retraining needed to continue her medical career in the United States. After briefly pursuing modeling -- she was Cindy Crawford's body double in Fair Game -- she took a public relations job. Then, a few years ago, she watched a man at a party twist a skinny balloon into the shape of a dog. Kismet!
Irina was soon hooked. She purchased a tiny pump and a supply of balloons and began practicing on the sidewalks of Coconut Grove, experiencing a surge of creative energy she hadn't felt since childhood art class. Observers challenged her to create all kinds of figures -- alligators, butterflies, horses, ballerinas. And with each piece, she improved her technique. Now, Irina says, "There's nothing I can't make," including a huge likeness of Shaquille O'Neal that requires 50 balloons.
"Irina's a wonder," says Marlene Berg, chief development officer for the Florida Heart Research Institute, where the artist recently donated her services for a black-tie benefit. "She created these phenomenal sculptures, one after the other, and turned the evening into magic." "My whole life has become magic," Irina says, "and it's all come from a balloon."
Upcoming Booked Events
April 22, 2023

•

8:00pm - 10:00pm
Dinner Party
Past Booked Events
April 28, 2022

•

1:30pm - 2:30pm
Corporate Event

July 20, 2021

•

10:00am - 11:00am
School Assembly

October 28, 2017

•

10:00am - 2:00pm
Corporate Event

March 08, 2014

Birthday Party
Influences & Inspiration
I credit my Russian ancestors for my creativity and entrepreneurial spirit. My grandma Ksusha succeeded as a true entrepreneur in Soviet Russia all through Lenin's, Stalin's and long lasting Brezhnev's regimes.
My grandma earned her living primarily by raising greens in her small vegetable garden and selling them at a local farmer market aka agricultural bazaar, as it's called in Russia. She also was a talented healer, handcrafter, accordion player and a folk singer.
My mom, who is her daughter, inherited some of grandma's Ksusha's talents and passed on some to me. So, I always remember that I came from a line of these talented and awesome Russian women and try to carry on accordingly.