Your list is empty.
Save musicians, entertainers, speakers, and services, and they'll appear here.
Free Quick Quote
This vendor provides virtual services
Back to Face Painters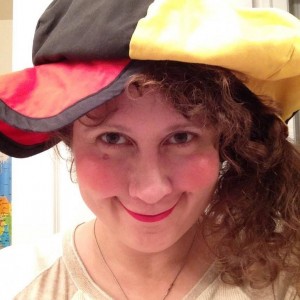 Andrea Michel artist and clown
4.95
(113 reviews)
Littleton, CO
Travels up to 200 miles
$100 and up
Get a Free Quick Quote
Overview
I've been painting arms and faces, performing Kiddie magic and twisting fancy balloons for about 15 years and professionally drawing caricature for just over 7. Cut my teeth in New York City working for a number of great booking agents on the east coast then eventually moved back to my home state* of Colorado and have been building my own business here. Have tons of experience working with kids of all ages (and adults, mainly with the caricatures) in lots of different situations. I love what I do and am often told it shows!
* not technically a native but my family moved here when I was 5 and it's where I grew up :)
---
---
Booking Info
Insurance: $1,000,000 - K&K Entertainer Insurance
Upcoming Booked Events
July 01, 2022

•

6:30pm - 8:30pm
Children's Birthday Party

July 04, 2022

•

6:00pm - 9:00pm
Holiday Party

July 08, 2022

•

4:00pm - 9:00pm
Festival

July 12, 2022

•

7:30pm - 9:30pm
Wedding Reception

July 23, 2022

•

11:30am - 12:30pm
Corporate Event

September 24, 2022

•

1:00pm - 3:30pm
Festival

September 25, 2022

•

12:30pm - 2:30pm
Corporate Event
Past Booked Events
June 29, 2022

•

4:00pm - 6:00pm
Children's Birthday Party

June 26, 2022

•

1:00pm - 3:30pm
Nonprofit Event

June 25, 2022

•

1:30pm - 3:30pm
Birthday Party

June 25, 2022

•

10:30am - 12:00pm
Children's Birthday Party

June 18, 2022

•

6:00pm - 8:30pm
Teen Birthday Party

June 11, 2022

•

2:00pm - 4:00pm
House Party

June 08, 2022

•

7:00pm - 9:00pm
Holiday Party

June 05, 2022

•

2:00pm - 4:00pm
Graduation

May 31, 2022

•

3:00pm - 6:00pm
Nonprofit Event

May 31, 2022

•

1:00pm - 2:30pm
Campus Event

May 28, 2022

•

6:00pm - 7:00pm
Wedding Reception

May 28, 2022

•

1:30pm - 2:30pm
Children's Birthday Party

May 27, 2022

•

11:00am - 4:00pm
Corporate Event

May 24, 2022

•

12:30pm - 1:30pm
Children's Birthday Party

May 15, 2022

•

2:00pm - 4:00pm
Children's Birthday Party

May 14, 2022

•

11:30am - 1:30pm
Children's Birthday Party

May 07, 2022

•

2:30pm - 3:30pm
Children's Birthday Party

April 17, 2022

•

3:00pm - 4:30pm
Children's Birthday Party

April 16, 2022

•

4:00pm - 5:30pm
House Party

April 16, 2022

•

11:00am - 1:00pm
Nonprofit Event

April 15, 2022

•

3:00pm - 5:00pm
Children's Birthday Party

April 09, 2022

•

12:00pm - 2:00pm
Children's Birthday Party

April 03, 2022

•

3:30pm - 4:15pm
Children's Birthday Party

March 26, 2022

•

2:00pm - 4:00pm
Children's Birthday Party

March 20, 2022

•

12:00pm - 1:30pm
Children's Birthday Party

March 12, 2022

•

10:30am - 11:15am
Children's Birthday Party

March 06, 2022

•

2:30pm - 4:30pm
Children's Birthday Party

March 05, 2022

•

4:00pm - 6:00pm
Children's Birthday Party

March 05, 2022

•

12:30pm - 1:15pm
Children's Birthday Party

March 02, 2022

•

4:30pm - 6:30pm
Children's Birthday Party

January 09, 2022

•

3:00pm - 3:45pm
Children's Birthday Party

January 03, 2022

•

4:00pm - 6:00pm
Children's Birthday Party

December 31, 2021

•

8:00pm - 9:30pm
New Year's Party

December 05, 2021

•

2:00pm - 3:30pm
Children's Birthday Party

December 04, 2021

•

4:00pm - 6:00pm
Children's Birthday Party

November 29, 2021

•

3:00pm - 6:00pm
Grand Opening

November 27, 2021

•

3:30pm - 5:30pm
Children's Birthday Party

November 14, 2021

•

2:00pm - 3:30pm
Children's Birthday Party

November 13, 2021

•

1:00pm - 3:00pm
Children's Birthday Party

November 06, 2021

•

2:00pm - 4:00pm
Children's Birthday Party

November 05, 2021

•

6:00pm - 7:30pm
Nonprofit Event

October 31, 2021

•

12:30pm - 2:30pm
Festival

October 30, 2021

•

6:30pm - 9:30pm
Halloween Party

October 29, 2021

•

4:00pm - 6:30pm
Halloween Party

October 28, 2021

•

6:00pm - 10:00pm
Halloween Party

October 23, 2021

•

8:00pm - 11:00pm
School Assembly

October 23, 2021

•

2:00pm - 4:00pm
Children's Birthday Party

October 16, 2021–October 17, 2021

•

8:00pm - 12:00am
Wedding Reception

October 10, 2021

•

11:30am - 12:45pm
Baby Shower

October 09, 2021

•

4:00pm - 6:00pm
Children's Birthday Party

September 26, 2021

•

3:00pm - 5:00pm
Festival

September 26, 2021

•

11:00am - 12:30pm
Children's Birthday Party

September 25, 2021

•

2:00pm - 4:00pm
Festival

September 25, 2021

•

11:00am - 12:30pm
Children's Birthday Party

September 05, 2021

•

6:00pm - 6:30pm
Teen Birthday Party

August 15, 2021

•

4:00pm - 6:30pm
Teen Birthday Party

August 08, 2021

•

2:00pm - 3:00pm
Children's Birthday Party

July 31, 2021

•

5:00pm - 10:00pm
Wedding Reception

July 25, 2021

•

12:00pm - 5:00pm
Birthday Party

July 24, 2021

•

5:30pm - 7:30pm
Children's Birthday Party

July 11, 2021

•

2:30pm - 4:30pm
Children's Birthday Party

July 09, 2021

•

3:30pm - 4:00pm
Children's Birthday Party

July 07, 2021

•

5:30pm - 7:00pm
Nonprofit Event

July 04, 2021–July 05, 2021

•

6:00pm - 3:00am
Holiday Party

June 27, 2021

•

2:30pm - 3:30pm
Children's Birthday Party

June 26, 2021

•

11:00am - 1:00pm
Children's Birthday Party

June 23, 2021

•

9:30am - 11:30am
School Assembly

June 19, 2021

•

11:30am - 1:00pm
Children's Birthday Party

June 18, 2021

•

4:00pm - 6:00pm
Children's Birthday Party

June 13, 2021

•

3:00pm - 4:00pm
Children's Birthday Party

June 12, 2021

•

1:30pm - 3:30pm
Fair

June 05, 2021

•

2:00pm - 4:30pm
Children's Birthday Party

May 30, 2021

•

5:00pm - 9:00pm
Graduation

May 29, 2021

•

3:00pm - 4:30pm
Children's Birthday Party

May 29, 2021

•

10:30am - 12:00pm
Children's Birthday Party

May 28, 2021

•

1:00pm - 2:00pm
Personal Occasion

May 24, 2021

•

3:00pm - 4:30pm
Children's Birthday Party

May 22, 2021

•

1:30pm - 2:30pm
Children's Birthday Party

May 16, 2021

•

1:00pm - 3:00pm
Children's Birthday Party

May 15, 2021

•

4:30pm - 6:00pm
Children's Birthday Party

May 08, 2021

•

12:00pm - 2:00pm
Fair

April 27, 2021

•

10:30pm - 11:30pm
Children's Birthday Party

March 27, 2021

•

4:30pm - 6:00pm
Children's Birthday Party

March 20, 2021

•

4:30pm - 5:15pm
Children's Birthday Party

January 16, 2021

•

1:00pm - 1:30pm
Children's Birthday Party

October 31, 2020

•

12:00pm - 6:00pm
Halloween Party

September 12, 2020

•

4:00pm - 5:00pm
Children's Birthday Party

August 23, 2020

•

4:00pm - 5:00pm
Teen Birthday Party

August 11, 2020

•

10:00am - 11:00am
Children's Birthday Party

August 09, 2020

•

5:00pm - 8:00pm
Children's Birthday Party

July 30, 2020

•

2:30pm - 4:00pm
Children's Birthday Party

July 26, 2020

•

3:30pm - 5:30pm
Children's Birthday Party

July 11, 2020

•

10:30am - 1:00pm
Festival

July 04, 2020

•

6:00pm - 7:00pm
Children's Birthday Party

May 30, 2020

•

11:00am - 11:30am
Children's Birthday Party

March 15, 2020

•

2:30pm - 3:00pm
Children's Birthday Party

March 13, 2020

•

1:00pm - 2:00pm
Birthday Party

February 15, 2020

•

2:30pm - 5:00pm
Children's Birthday Party

February 06, 2020

•

6:00pm - 7:30pm
Personal Occasion

February 04, 2020

•

5:30pm - 7:30pm
Restaurant/Bar Event

February 02, 2020

•

3:00pm - 4:00pm
Children's Birthday Party

January 12, 2020

•

3:30pm - 4:30pm
Children's Birthday Party

January 03, 2020

•

5:30pm - 7:30pm
Children's Birthday Party

December 31, 2019

•

6:00pm - 8:00pm
Holiday Party

December 21, 2019

•

5:00pm - 5:45pm
Children's Birthday Party

December 17, 2019

•

11:00am - 12:30pm
Corporate Event

December 14, 2019

•

8:00pm - 9:30pm
Corporate Event

December 14, 2019

•

11:00am - 3:00pm
Christmas Party

December 08, 2019

•

3:00pm - 3:45pm
Children's Birthday Party

December 01, 2019

•

2:30pm - 4:30pm
Children's Birthday Party

November 30, 2019

•

3:00pm - 5:00pm
Children's Birthday Party

November 23, 2019

•

6:00pm - 7:00pm
Birthday Party

November 17, 2019

•

10:30am - 11:00am
Children's Birthday Party

November 09, 2019

•

1:00pm - 3:00pm
Children's Birthday Party

October 31, 2019

•

6:00pm - 8:00pm
Halloween Party

October 26, 2019

•

6:00pm - 8:00pm
Halloween Party

October 26, 2019

•

1:30pm - 4:45pm
Halloween Party

October 25, 2019

•

6:00pm - 8:00pm
Fundraiser

October 25, 2019

•

2:00pm - 3:00pm
Christmas Party

October 24, 2019

•

1:30pm - 3:30pm
Holiday Party

October 19, 2019

•

12:00pm - 5:00pm
Festival

September 28, 2019

•

1:00pm - 2:00pm
Children's Birthday Party

September 27, 2019

•

4:00pm - 6:00pm
Children's Birthday Party

September 20, 2019

•

7:00pm - 8:30pm
Children's Birthday Party

September 15, 2019

•

11:00am - 12:00pm
Children's Birthday Party

September 14, 2019

•

4:30pm - 6:30pm
Children's Birthday Party

September 14, 2019

•

12:30pm - 2:30pm
Nonprofit Event

August 31, 2019

•

11:30am - 12:30pm
Children's Birthday Party

August 29, 2019

•

5:00pm - 7:00pm
Nonprofit Event

August 17, 2019

•

2:00pm - 2:30pm
Children's Birthday Party

August 10, 2019

•

10:30am - 12:30pm
Children's Birthday Party

July 20, 2019

•

11:00am - 1:00pm
Festival

July 19, 2019

•

12:00pm - 2:00pm
Corporate Event

July 04, 2019

•

11:00am - 4:00pm
Holiday Party

June 26, 2019

•

4:00pm - 6:00pm
Children's Birthday Party

June 14, 2019

•

7:00pm - 9:00pm
Wedding Reception

June 12, 2019

•

2:30pm - 7:30pm
Festival

May 25, 2019

•

2:00pm - 2:30pm
Children's Birthday Party

May 18, 2019

•

4:00pm - 6:00pm
Children's Birthday Party

May 18, 2019

•

12:00pm - 1:00pm
Children's Birthday Party

May 18, 2019

•

11:30am - 12:00pm
Children's Birthday Party

May 17, 2019

•

11:00am - 1:00pm
Fair

May 05, 2019

•

1:30pm - 3:00pm
Children's Birthday Party

April 25, 2019

•

4:00pm - 6:00pm
Fundraiser

April 20, 2019

•

12:00pm - 1:00pm
Children's Birthday Party

April 14, 2019

•

4:00pm - 4:30pm
Children's Birthday Party

March 30, 2019

•

4:00pm - 6:00pm
Children's Birthday Party

March 29, 2019

•

7:00pm - 8:00pm
Children's Birthday Party

March 15, 2019

•

9:30am - 10:30am
Children's Birthday Party

March 09, 2019

•

3:00pm - 3:45pm
Children's Birthday Party

February 23, 2019

•

2:00pm - 2:30pm
Children's Birthday Party

February 17, 2019

•

1:30pm - 3:30pm
Children's Birthday Party

February 16, 2019

•

12:00pm - 12:30pm
Children's Birthday Party

February 08, 2019

•

8:30pm - 9:00pm
Birthday Party

February 02, 2019

•

10:00am - 11:30am
Children's Birthday Party

January 19, 2019

•

1:00pm - 2:00pm
Children's Birthday Party

December 29, 2018

•

3:00pm - 4:00pm
Children's Birthday Party

December 09, 2018

•

2:00pm - 2:30pm
Christmas Party

December 08, 2018

•

12:00pm - 2:30pm
Christmas Party

December 07, 2018

•

7:00pm - 9:00pm
Christmas Party

December 04, 2018

•

5:30pm - 7:30pm
Restaurant/Bar Event

December 01, 2018

•

4:00pm - 4:45pm
Children's Birthday Party

November 17, 2018

•

3:30pm - 4:00pm
Children's Birthday Party

November 10, 2018

•

3:30pm - 5:00pm
Children's Birthday Party

November 03, 2018

•

4:00pm - 6:00pm
Children's Birthday Party

October 31, 2018

•

10:00am - 1:00pm
Halloween Party

October 27, 2018

•

2:00pm - 5:00pm
Halloween Party

October 13, 2018

•

4:00pm - 5:00pm
Children's Birthday Party

October 07, 2018

•

5:00pm - 5:45pm
Children's Birthday Party

September 30, 2018

•

12:00pm - 2:30pm
Religious Celebration

September 22, 2018

•

1:00pm - 3:00pm
Children's Birthday Party

September 08, 2018

•

12:00pm - 2:00pm
Corporate Event

August 08, 2018

•

2:30pm - 3:15pm
Children's Birthday Party

August 05, 2018

•

1:00pm - 3:00pm
Children's Birthday Party

August 01, 2018

•

12:00pm - 2:00pm
Personal Occasion

July 21, 2018

•

12:00pm - 1:30pm
Children's Birthday Party

June 10, 2018

•

3:30pm - 5:00pm
Children's Birthday Party

June 02, 2018

•

3:00pm - 4:30pm
Teen's Birthday Party

June 02, 2018

•

11:00am - 11:45am
Children's Birthday Party

May 27, 2018

•

12:30pm - 2:00pm
Children's Birthday Party

May 23, 2018

•

12:00pm - 3:30pm
Corporate Event

April 06, 2018

•

4:00pm - 5:00pm
Children's Birthday Party

March 17, 2018

•

5:00pm - 6:30pm
Fundraiser

December 07, 2017

•

6:00pm - 8:00pm
Corporate Event

September 10, 2017

•

11:30am - 2:00pm
Nonprofit Event

August 12, 2017

•

5:30pm - 6:30pm
Birthday (Child)

May 06, 2016

•

1:00pm - 1:30pm
Children's Birthday Party

August 02, 2015

•

12:00pm - 1:00pm
Children's Birthday Party

June 06, 2015

•

6:00pm - 7:00pm
Grand Opening

May 23, 2015

•

2:30pm - 3:15pm
Children's Birthday Party

December 20, 2014

•

1:30pm - 3:00pm
Birthday Party