Your list is empty.
Save musicians, entertainers, speakers, and services, and they'll appear here.
Free Quick Quote
This vendor provides virtual services
Back to Santa Clauses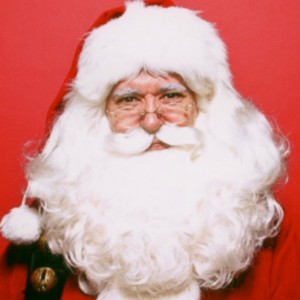 A New York City Santa
5.0
(12 reviews)
New York City, NY
Travels up to 30 miles
Contact for Quote
Get a Free Quick Quote
Overview
Welcome back from A New York City Santa for 2022
As always…
Great look. Magical performance.
The Red Cross' original Santa for their 9/11 orphans' holiday event in December 2001. So gentle and joyful with grieving 9/11 children and families, the Red Cross sent their counselors to witness the phenomenon.
Annual appearances include:
Carnegie Hall
Lincoln Center
Rockefeller Center
Brooklyn's Metrotech Plaza Tree Lighting
NY Yacht Club
Yale Club
Most Popular Packages:
Classic Visit - photos with Santa (client provided), kids tell Santa what they want, gift giving (client provided)
Deluxe Visit - carol sing-along, reading of Night Before Christmas, and show-n-tell with Rudolph's bells
---
---
Booking Info
Price Range: Contact for Quote
Gig Length: 30 - 480 minutes
What to Expect
SANTA (Deluxe Package)
Your guests are enjoying their holiday party, when a clanging of sleigh bells is heard outside and Santa's laughter. Children gasp and become very excited, and Santa sweeps in briskly, carrying a sack of toys. Santa joyously greets the children, and they help him settle in (a very funny bit of comic business). Santa tells the children he's brought something special down from the roof—he doesn't do this all the time, so they're very lucky—and he shows them a set of reindeer sleigh bells (great photo opp). They are in fact Rudolph's bells. The children are gobsmacked! Together they ring the bells and everyone sings "Jingle Bells." Next, Santa pulls out a large book and reads "The Night Before Christmas" or "How the Grinch Stole Christmas" (client's choice). The children and adults are invited to call out famous refrains, and older children may be asked to come up and read as well (a proud loving "family moment" and a great photo opp). Everyone sings "We wish you a Merry Christmas" (lyric sheets provided). Now, one by one the children are called up to tell Santa what they want, and Santa gives each an early gift (gifts are client provided to ensure that children get gifts that are just right. major photo opp). Santa interacts with everyone as children enjoy their gifts and parents clean up wrapping. Santa asks for volunteers to help him with this last song, and everyone sings "Twelve Days of Christmas." All children are asked to join Santa for a final photo opp. The excitement reaches it's peak, when Santa suddenly calls for silence. He hears something urgent. His reindeer are getting restless. It's time to go. And with that, he sweeps up his sack and bells, bids everyone farewell and exits as joyously and briskly as he entered, leaving kids and parents to marvel "Wow! Can you believe that. Santa came to see us! That was so special!"
Naturally, the Classic Visit is simpler in structure, and terrific for larger groups, while keeping all the excitement and joy.
About
R David Robinson is a professional actor & variety entertainer celebrating over 20-years performing for New York Theatre, corporate & private events.
His first performance as Santa was for the Red Cross for their 9/11 orphans' holiday party in 2001. So gentle and joyful with grieving 9/11 children and families, the Red Cross sent their counselors to observe the phenomenon.
His Santa clients include, Carnegie Hall, Lincoln Center, Rockefeller Center, Brooklyn's Metrotech Plaza Tree Lighting, NY Yacht Club, Yale Club. Most of his business includes annual repeat clients averaging between five to ten years.
Other clients include HBO/Thames Television, Macy's, Royal Caribbean, Toys 'R' Us, New York Knicks, New Jersey Nets, Rockefeller Center and Top of the Rock, and Walt Disney. He can be seen as the Ghost of Christmas Present in the Grand Falloons' hysterical vaudeville rendering of "Scrooge" at the Morgan Library. R David was comic-foil to magician David Copperfield (Las Vegas: LV Hilton, Caesar's, MGM Grand; Washington DC (Fords Theater); and on national television, winning praise from Gene Kelly.
R David has trained extensively with internationally known master clowns, including: Philippe Gaulier (Founder, L'École Philippe Gaulier; his alumni include Emma Thompson and Simon McBurney, Helena Bonham Carter and Sacha Baron Cohen), Dick Monday (past Director, Ringling Bros. Clown College), Kenny Raskin (Broadway: Beauty and the Beast, LeFou, original cast; Cirque du Soliel), Larry Pisoni (Co-Founder, Artistic Director, Pickle Family Circus), and Avner Eisenberg (Off-Broadway: Avner the Eccentric). He holds a BFA in Acting from Boston University's School for the Arts and is a member of AEA, SAG-AFTRA, and the Dramatists Guild.
Additional Booking Notes
Family Events: R David will arrive approximately 1 hour prior to performance, change into Santa costume and begin promptly. A private clean and secure changing space is required. Private family visit times are approximate, as it's always best to make a dramatic exit to my sleigh as soon as all requested services are completed so kids can focus on their toys. Be ready with cameras and gifts, and assign a helper in case there is any confusion on names or assignments of gifts. The performance itself is quite dynamic. Rudolph's bells make for a thrilling entrance and exit. The pace is brisk but fun and playful (the kids know Santa's a very busy man and has other children to attend to. That's part of the excitement).
Corporate Events: rehearsals and early report times are paid at the same hourly rate as performance. Once performer is "required" to be on site, the clock starts and doesn't stop till end of full appearance (no exceptions). For large or corporate appearances, an escort is required to ensure Santa's safety, and to act as stage manager, coming to get Santa at the appointed time and escort him to the performance area, and then at the end to escort him back to his dressing room. The changing space must be locked and/or guarded during performance.
All sound, music, and photographic elements are the responsibility of the client.
Please note that since Santa is all about "unconditional love," the corporate clients' escort/security/stage manager is responsible for protecting performer from any aggressive action or crowd control. (example: rowdy teens who think it's funny to tug at Santa's beard in public, etc.)
Services Offered
Past Booked Events
December 24, 2021

•

8:30pm - 9:30pm
Christmas Party

December 24, 2021

•

8:00pm - 9:00pm
Christmas Party

December 22, 2021

•

10:00am - 2:00pm
Personal Occasion

December 18, 2021

•

12:00pm - 2:00pm
Fundraiser

December 16, 2021

•

2:00pm - 5:00pm
Fundraiser

December 15, 2021

•

5:00pm - 8:00pm
Corporate Event

December 14, 2021

•

2:00pm - 5:00pm
Fundraiser

December 12, 2021

•

11:00am - 3:00pm
Santa - Lunch w Santa, Rye NY

December 11, 2021

•

7:00pm - 8:00pm
Santa - Apawamis Country Club, Rye NY

December 11, 2021

•

12:00pm - 3:00pm
Santa & Mrs Clays - NY Yacht Club

December 10, 2021

•

5:00pm - 7:30pm
Christmas Party

December 10, 2021

•

5:00pm - 7:30pm
Christmas Party

December 08, 2021

•

3:00pm - 3:15pm
Surprise

December 05, 2021

•

9:30am - 3:30pm
Fundraiser

December 04, 2021

•

2:00pm - 4:00pm
Personal Occasion

November 28, 2021

•

5:00pm - 7:00pm
A New York City Santa - Rye NY Tree Lighting

December 24, 2020

•

7:30pm - 7:45pm
Virtual Event

December 19, 2020

•

6:00pm - 8:00pm
Personal Occasion

December 13, 2020

•

2:00pm - 3:00pm
House Party

December 24, 2019

•

7:30pm - 7:45pm
Christmas Party

December 24, 2019

•

4:00pm - 5:00pm
House Party

December 21, 2019

•

10:00am - 2:00pm
Christmas Party

December 18, 2019

•

4:00pm - 6:00pm
Corporate Event

December 15, 2019

•

2:00pm - 4:30pm
Grand Falloons Christmas Carol

December 14, 2019

•

12:00pm - 3:00pm
A NYC Santa @ NY Yacht Club

December 13, 2019

•

12:30pm - 1:30pm
Christmas Party

December 07, 2019

•

12:00pm - 2:00pm
Corporate Event

December 01, 2019

•

1:00pm - 4:30pm
A NYC Santa @ Carnegie Hall

November 19, 2019

•

5:00pm - 7:00pm
A NYC Santa -Bronx Term. Market

November 09, 2019

•

5:30pm - 9:30pm
Balloon Hysteria @ Tavern on the Green

October 17, 2019

•

12:00pm - 5:00pm
Balloon Hysteria NYC

December 24, 2018

•

7:00pm - 7:30pm
Dinner Party

December 22, 2018

•

1:00pm - 3:00pm
Corporate Event

December 15, 2018

•

9:00am - 4:00pm
Personal Occasion

December 13, 2018

•

2:00pm - 4:30pm
Corporate Event

December 07, 2018

•

9:00pm - 9:30pm
Christmas Party
Set List
Songs (with Deluxe Package)
Jingle Bells (singalong)
We Wish You a Merry Christmas (singalong)
Twelve Days of Christmas (singalong)
Readings (choose one with Deluxe Package)
Night Before Christmas
How the Grinch Stole Christmas