Your list is empty.
Save musicians, entertainers, speakers, and services, and they'll appear here.
Free Quick Quote
This vendor provides virtual services
Back to Santa Clauses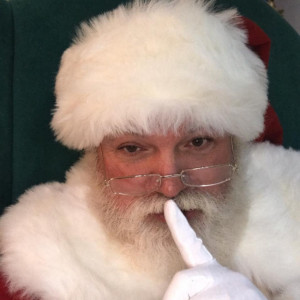 Santa Claus Tracy
5.0
(8 reviews)
Blue Ridge, GA
Travels nationwide
$175 & up, plus travel (typically from Canton, GA)
Get a Free Quick Quote
Overview
Santa Tracy is the premier Atlanta & Nashville Santa Claus. Professional, insured and trained. Santa Tracy with his real beard, naturally sparkling eyes and rosy red cheeks; but mostly his heart for others, community service, and his ministry makes Santa Tracy the embodiment of Father Christmas and the truest meaning of Christmas.
Make Santa Tracy your new tradition for any event where you want Santa. Virtual Visits Available.
I am Santa Claus; aka Kris Kringle, Saint Nicholas, Pelznickle, Pere Noel, and Father Christmas.
www.SantaTracy.com
Merry Christmas
Covid 19 Disclaimer: To protect Santa and everyone involved, Santa has been fully vaccinated against the Flu and the China Covid 19
---
---
Booking Info
Price Range: $175 & up, plus travel (typically from Canton, GA)
Gig Length: 30 - 9999 minutes
Insurance: $2,000,000 - Full Liability
What to Expect
Please read my Bio for more information
What you can expect is a genuine, and real Santa. Warm, Jolly and and filled with the love and true meaning of Christmas.
About
I am 58 years old.
Height is 6'2"
Wgt: 260 lbs
ABOUT SANTA TRACY
Santa Tracy is an A+ rated, Tier 1 Claus. Professionally trained, and is always right where you want him to be...
"PERSONAL APPEARANCES, EXTENDED EVENTS, WEDDINGS, & MORE"
Santa Tracy can be booked for most any event though out the year, and is already being booked for Christmas in July and the 2021 Thanksgiving & Christmas Season. Santa is available for personal appearances, commercials, TV shows, school, church, office parties, private parties, malls, stores, cruise ship, hotel talent, and more; and since Santa Tracy is Saint Nicholas, as an ordained minister, he can also officiate your wedding.
Custom quotes available.
Refer Santa Tracy, and you will not only hear from Santa; but for every booking, Santa will send you a very special Christmas Gift. Send your referrals to Santa directly at SantaClausTracy@gmail.com
Don't forget to order your Original Letters from Santa today & throughout the year for any occasion. (Birthdays, Promotions, Anniversary's, Etc)
More About Santa Tracy: I have a stellar background, and am very well known in my church, and community. I am a family man with three married children and five grand children. I'm also a Christian with a deep and genuine belief in the spirit of Christmas and what it truly means. I have been an ordained minister since 1997, have officiated many wedding and funerals. I have pastored at Lifepoint Church, and associate Pastor and Certified Lay Speaker at the United Methodist Church, and have helped with several church plants and church growth. I do provide Christian weddings in accordance to Gods holy scriptures.
In 2015 I thought it would be fun to play Santa for family and friends and over the course of that time, I was chosen to become Santa. I became a trained professional Santa and I love it. I have been very blessed and successful with the events I've done in the past. Corporate, Birthdays and even a Pet event.
I am Santa Claus: and when I am not building, delivering toys to children of all ages, writing personal Real Santa Letters, or attending special events and functions; I spend much of my time working with the homeless issues that seems to be a growing. I have and still do spend time going into the woods, under bridges, or where ever the homeless men, women and children are, to feed, cloth, and give gifts. The Gift Ark and Cross Roads ministry is a 501c3 ministry that I founded approx 14 years ago for the purpose of giving back to communities and ensuring that families who are truly in need can have warm coats for the children, food and gifts at Christmas (through out the year)
My Professional Memberships/Associations
FORBS | Federal Order of Real Bearded Santas
IBRBS | International Brotherhood of Real Bearded Santas
Additional Booking Notes
Each event is so different. My hope is that the best equipment is avail for Santa so that each child is mesmerized and feels that their time with Santa is truly magical. In a perfect setting, this will require an ear piece and an invisible microphone for Santa that connects exclusively to Santa's Elf at hand, so mom or dad can prompt Santa on their child's name & interest. Also, Santa's Elf at hand will take notes of what the child tells Santa.
Santa loves pets and we ask that the host provide a Christmas Lap Blanket as Santa's suit and those precious pet fur are not an ideal time for Elf Andrea, Santa's senior manager over laundry and dry cleaning.
Services Offered
Upcoming Booked Events
November 20, 2021

•

10:00am - 6:00pm
Studio Session

December 02, 2021

•

4:00pm - 7:00pm
Wedding Ceremony
Past Booked Events
July 28, 2021

•

10:00am - 10:15am
Wedding Ceremony

July 24, 2021

•

3:30pm - 4:30pm
Christmas In July

July 23, 2021

•

5:00pm - 5:30pm
Wedding Ceremony

January 06, 2020–January 10, 2020

•

3:00pm - 8:00pm
Cruise Carnival with Santa. Cape Canaveral, FL

December 14, 2019

•

6:00pm - 6:30pm
Christmas Party

December 14, 2019

•

8:00am - 11:00am
Fundraiser

December 08, 2019

•

11:00am - 2:30pm
Christmas Party

December 07, 2019

•

9:00am - 6:00pm
The Foundry, Cullman, AL

December 01, 2019

•

2:30pm - 4:30pm
Photos with Santa

November 16, 2019

•

1:00pm - 4:00pm
Photos

October 12, 2019

•

10:00am - 2:00pm
Photo's with Santa. Cumming, GA

July 22, 2019–July 26, 2019

•

10:00am - 4:00pm
Christmas In July with Santa

June 15, 2019

•

1:00pm - 3:00pm
Fishing with Santa. Cumming, GA

May 28, 2019–June 01, 2019

•

3:00pm - 9:00pm
Beach Time with Santa @ Daytona Beach, FL

April 12, 2019–April 14, 2019

•

12:00pm - 7:00pm
CE Santa School

December 25, 2018

•

12:00pm - 5:00pm
Family Christmas

December 09, 2018–December 23, 2018

•

11:00am - 8:00pm
Ther Galleria / Warner robbins

December 08, 2018

•

8:00am - 5:30pm
Cullman, AL

December 01, 2018–December 07, 2018

•

11:00am - 8:00pm
The Galleria / Warner Robbins

November 30, 2018

•

11:00am - 8:00pm
Warner Robbins

November 28, 2018

•

11:00am - 3:00pm
Alpharetta, GA

November 27, 2018

•

9:00am - 3:00pm
Cartersville, GA

November 25, 2018

•

1:00pm - 5:00pm
Warner Robins, GA

November 24, 2018

•

11:00am - 8:00pm
The Galleria

November 22, 2018

•

4:00pm - 5:00pm
House Party

November 21, 2018

•

1:00pm - 4:00pm
Office Party

November 20, 2018

•

2:00pm - 3:00pm
Private Party

November 15, 2018

•

5:00pm - 8:00pm
Jingle Mingle - Gainesville

November 10, 2018

•

9:30am - 11:30am
Mini Sessions - Cartersville, GA

November 06, 2018

•

6:00pm - 8:00pm
Mini Sessions
Set List
Elves; a Large Santa Chair; Christmas Decorations, and a couple of fans
Influences & Inspiration
Of course first and foremost my influence is Jesus Christ.
- - - - - - - - -
While anyone can put on a red suit, and grow a beard, there is more, much more to being, vs portraying St. Nicholas, Father Christmas, the fat man in red, and Santa Claus. It's not what is on the outside but everything about what is on the inside that makes one the real Santa Claus.
I've been Santa since 2016 and have had many times that affirmed I am the real Santa Claus, and this past January, I had another one of those affirmations and influences that shouts "I am Santa".
I had a special booking that required a clean shaven face, so I shaved my beard off, and I wasn't wearing glasses, and in the natural I looked nothing like Santa while in my blue jeans, brown vest and navy blue baseball cap.
But sometime late January 2021, I went into a business in Clarksville, GA, where I talked to a lady (the owner of the business) and behind the counter where her precious 3 & 5 year old children. As I spoke with the lady, her 3 year old daughter pointed at me and said "Santa" (again, I looked nothing like the usual Santa Claus). Her mother looked at her and ask "what did you say?", and the little girl said again with the sweetest little grin, "Santa". Her mother ask, "do you think he's Santa Claus?", and the little girl replied, "Santa Claus" as she nodded her head yes.
I pulled out my phone for photos and said to the mother, she's wouldn't be wrong, I am Santa Claus as I shared with her some photos. I thought she was going to fall over.
That was another moment like many times before that God affirmed my gift of being Santa Claus. (and yes, my beard is very real 🙂 ho ho ho) and I am Santa Claus all year long, with or without my beard, from in my home and out into the world. Merry Christmas everyday of every month, Love!
- - - - - - - - - - - - - - - - - - - - -