Your list is empty.
Save musicians, entertainers, speakers, and services, and they'll appear here.
Free Quick Quote
Jenna A.
•
October 12, 2020
I hired Peppa the Pig for my daughters 4th birthday party on Oct 11, 2020. Everything was fine after the contract the signed but then things took a turn. This company gives you a window of time as to when they will be there- you can't book a certain time which is strange to me since I am a musician myself and if I say the show starts at 2pm then I make sure I am there EARLY to start at 2pm. I stressed the importance of a 2pm start time and the owner said she would try as they do have this "window" which is a half hour of whatever time/float time. Needless to say, Peppa was late (to me). She got there at 2:30 and she came all disorganized. She never wore the customer before, she could barely see through the top of the head piece and I had to hand walk her through my yard. I stated to the owner that I didn't have a Bluetooth speaker for Peppa beforehand and that Peppa would have to bring her own- needless to say the first words out of Peppa's mouth when she got there was... can I use your speaker for the show? Peppas speakers that she brought were so quiet we couldn't use them so we had to stop playing the music at the party and plug in the music for Peppa via the blue tooth so the kids could actually hear the music. We had to do everything for Peppa- she was so unprepared. I held all her papers, balloons, speakers and her phone while she tried to adjust her head piece- it was horrible and I felt so bad for this teenager. Peppa danced in one spot. No interaction with the kids- didn't know who the birthday girl was because she was too worried about the head piece falling off. The adults and myself literally had to jump in and dance just to get the kids motivated to move and dance. I said let's do pictures with Peppa and then I said let's go. I paid for 45 mins but I was done. This company really needs to take a good look at their products and practice what they are selling. No interaction with the kids. No dancing with them- standing in one spot. Come on??? The girl was sweet under the mask and I felt horrible for her- totally not her fault but she should have done some research before she came.
Hired as:
Children's Party Entertainment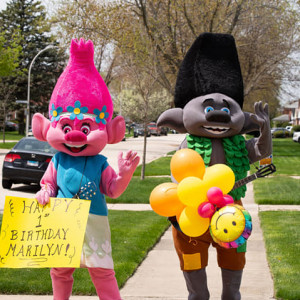 Response from Party Fanatics:
This client was extremely difficult and unfriendly to work with from our first interaction with her, which is very unusual when parents are typically excited about planning an event as special as their child's birthday party. We assumed that maybe she was just having a bad day, but after the way she treated our performer in person, we knew that this was simply her combative personality. She kept reminding us that she was a singer, not sure why. We have been in business for over 23 years with many repeat customers because of how much they love our performances! Our costumes are all very high-quality and though I sent her multiple photos of the costume prior to executing a contract, she kept insisting that she could see a person through the mouth area of the costume, when infact, that was not the case (it was the character's mouth/tongue. It is customary in the children's party entertainment industry that performers request a window of arrival time, rather than an "exact" start time. Most entertainment companies request a 1-hour window. We feel that is alot to ask so we have always requested a 1/2 hour window for our performers to arrive within and have never received a complaint. The 1/2 hour window allows for any unexpected delays the performer may encounter on their way to the event. Upon arrival at our clients' event sites, our performers call or text our clients to alert them of their arrival so that they can prepare the children and their event space. Our performers are ALL over the age of 21 and most are parents themselves so they have a very good understanding as to what it takes to provide a fun and interactive experience for the children they entertain. We do not use "teenagers" as this client has indicated, but I'm sure our performer will greatly appreciate this compliment! The performer we sent has worked with our company for several years so this client's claim that our performer said she never wore this costume is completely untrue.