Your list is empty.
Save musicians, entertainers, speakers, and services, and they'll appear here.
Free Quick Quote
This vendor provides virtual services
Back to Bartenders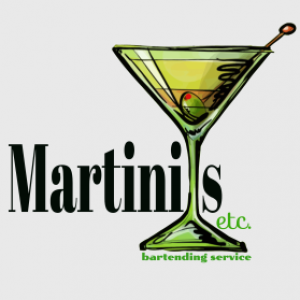 Martini's Etc Professional Event Staffing Service
4.76
(25 reviews)
Hooksett, NH
Travels up to 90 miles
Please contact for Rates
Get a Free Quick Quote
Overview
Welcome ! Think of us as the Uber for parties, weddings, Corporate events
& Fundraisers!
We are the 1 stop shop for all your event needs! Whether your getting married or celebrating a special day, or Grand opening or Holiday Party- We CAN assist We have been in the Industry for 28 years! ​I'm so excited to be part of your next event! We also offer party helpers!
Shopping / Prepping/ Cooking/Serving
Assisting with the day of planner
​Don't feel like shopping or cooking?
Let us take over! Our professional staff is here to help & make it all happen! We will come help you set up, heat, serve and clean everything up..Your very own personal helper!
---
---
Booking Info
Price Range: Please contact for Rates
Gig Length: 240 - 720 minutes
Languages: English, French
Insurance: $2,000,000 - There is a Fee required for a certificate to be sent to a venue.
What to Expect
Our staff are extremely professional. They will make sure your guests have a wonderful experience.
We arrive 60 to 90 minutes before to set up and ice everything down. We can accommodate venues that require a certificate of insurance for a fee. Please let us know at the time of booking so we may quote you correctly.
About
Martini's Etc is based out of NH, we will travel to MA, all over NH and ME. We specialize in weddings and corporate events.We started off as 2 bartenders sharing the same thought of owning our own business, collaborated ideas and Martini's was Born! We have evolved over the years, and hope to continue evolving into something great.... We take pride in what we do!
We can cater to your guests so you can enjoy yourself!
Be the guest at your own party and leave the rest to us! Give us a call today!
Additional Booking Notes
We will provide you with a shopping list at no extra charge!
Past Booked Events
October 17, 2020

•

All-day event
Wedding

October 10, 2020

•

All-day event
Wedding

September 12, 2020

•

All-day event
Wedding

August 15, 2020–August 18, 2020

•

1:00pm - 7:00pm
Transcendental meditation event

July 28, 2018

•

5:30am - 8:00am
Corporate Event

May 05, 2018

•

5:00pm - 10:00pm
Birthday Party

April 14, 2018

•

4:00pm - 10:00pm
Booked Boys and girls club of america

December 31, 2017–January 01, 2018

•

6:00pm - 1:00am
Bolton Ma

December 16, 2017

•

4:00pm - 9:00pm
Haverhill MA

December 15, 2017

•

3:30pm - 6:30pm
Christmas Party

November 04, 2017

•

2:00pm - 9:00pm
Tamworth NH

November 02, 2017

•

5:00pm - 8:00pm
Black Diamond ANdover

October 28, 2017

•

12:00pm - 9:00pm
Tamworth NH

October 14, 2017

•

12:00pm - 7:00pm
audubon center

September 30, 2017

•

2:00pm - 7:00pm
Audubon Center Concord

September 28, 2017

•

3:00pm - 7:00pm
NHAI

September 23, 2017

•

2:00pm - 8:00pm
audubon center

September 17, 2017

•

12:00pm - 5:00pm
Cremation Society

September 16, 2017

•

12:00pm - 7:00pm
Biddeford Pool Maine

September 09, 2017

•

3:00pm - 10:00pm
Kitz Farm

September 02, 2017

•

3:00pm - 10:00pm
wedding

August 20, 2017

•

2:30pm - 6:30pm
Wedding Reception

August 19, 2017

•

3:00pm - 10:20pm
Cobb Hill Wedding

August 19, 2017

•

12:00pm - 6:00pm
Rocks Estate Wedding

August 12, 2017

•

5:00pm - 10:00pm
Windham BBQ

August 12, 2017

•

2:00pm - 10:00pm
Linnell farm wedding

August 05, 2017

•

2:00pm - 10:00pm
Andover NH Wedding

August 05, 2017

•

1:00pm - 9:00pm
Audubon Center Wedding

August 05, 2017

•

1:00pm - 7:00pm
Hampton Beach Wedding

July 29, 2017

•

2:00pm - 8:00pm
Audubon wedding

July 01, 2017

•

2:00pm - 9:00pm
Kitz Farm

July 01, 2017

•

1:00pm - 8:00pm
Audubon Wedding

July 01, 2017

•

12:00pm - 11:00pm
Wells wedding

June 10, 2017

•

6:00pm - 9:00pm
Maine Wedding

June 10, 2017

•

5:00pm - 10:00pm
Birthday (Adult)

May 28, 2017

•

1:00pm - 6:00pm
Wedding Rye NH

May 27, 2017

•

1:00pm - 8:00pm
lake Winn Wedding

May 06, 2017

•

3:00pm - 11:00pm
Wedding Reception

March 25, 2017

•

5:00pm - 10:00pm
Fundraiser

March 11, 2017

•

6:00pm - 9:00pm
Sharon Arts Center

December 22, 2016

•

6:00pm - 8:00pm
Holiday Party (Christmas)

December 15, 2016

•

6:00pm - 8:00pm
Holiday Party (Christmas)

October 09, 2016

•

1:00pm - 7:00pm
Wedding Reception

October 08, 2016

•

4:00pm - 11:00pm
Kitz Farm Wedding

October 01, 2016

•

4:00pm - 9:00pm
Fundraiser Temple NH

September 17, 2016

•

7:00pm - 8:00pm
Sunapee NH

September 17, 2016

Wedding Reception

September 17, 2016

•

3:00pm - 7:00pm
Wedding Reception

September 10, 2016

•

2:00pm - 9:00pm
Private Wedding Strafford NH

September 10, 2016

•

12:00pm - 5:00pm
Vineyard Wedding Hollis NH

August 27, 2016

Wedding Reception

July 30, 2016–July 31, 2016

•

7:00pm - 12:00am
Anniversary Party

July 29, 2016

•

12:00pm - 4:00pm
House Party

July 16, 2016

•

12:00pm - 4:00pm
Birthday (Adult)

July 11, 2016

•

5:00pm - 8:00pm
Corporate Event

June 25, 2016

•

6:00pm - 10:00pm
Weston Ma

June 25, 2016

Wedding Reception

June 12, 2016

Wedding Reception

June 11, 2016

•

7:00pm - 8:00pm
Audubon Center

June 04, 2016

•

7:00pm - 8:00pm
Wells Maine

June 04, 2016

•

7:00pm - 8:00pm
Upper Village derry

June 03, 2016

•

7:00pm - 8:00pm
Wells Maine

May 16, 2016

•

3:30pm - 7:30pm
Wedding Reception

May 14, 2016

•

6:00pm - 11:00pm
Wedding Reception

April 02, 2016

•

2:00pm - 10:00pm
Audubon Center

March 05, 2016

•

7:00pm - 8:00pm
Amherst NH

February 27, 2016

•

7:00pm - 8:00pm
Concord Audubon

December 31, 2015

Holiday Party (New Year)

December 31, 2015

•

7:00pm - 8:00pm
Westboro ma

December 19, 2015

Holiday Party (Christmas)

December 17, 2015

Corporate Event

December 05, 2015

•

7:00pm - 8:00pm
Hopkinton nh

December 05, 2015

Holiday Party (Christmas)

October 24, 2015

Cultural Event

October 17, 2015

•

7:00pm - 8:00pm
Claremont Private Estate

October 17, 2015

Wedding Reception

October 10, 2015

•

7:00pm - 8:00pm
Kitz Farm

October 10, 2015

•

7:00pm - 8:00pm
Lake Shore Village Resort

September 12, 2015

•

7:00pm - 8:00pm
Kitz Farm

September 12, 2015

•

7:00pm - 8:00pm
McIlvain Estates- Wedding

September 12, 2015

Wedding Reception

August 01, 2015

Wedding Reception

August 30, 2014

Wedding Reception

August 16, 2014

Wedding Reception

June 07, 2014

Wedding Reception

May 10, 2014

Graduation
Set List
Please contact for details, we can provided cocktail napkins, straws
Setup Requirements
you provide the liquor and or beer ( Ice and cups can be provided at a fee)