Your list is empty.
Save musicians, entertainers, speakers, and services, and they'll appear here.
Free Quick Quote
This vendor provides virtual services
Back to Mariachi Bands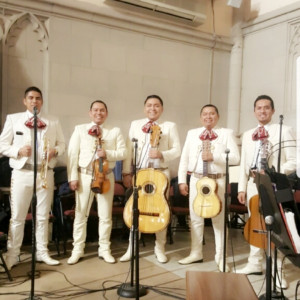 Mariachi Sangre Mexicana
4.96
(56 reviews)
Corona, NY
Travels up to 3000 miles
Contact for rates
Get a Free Quick Quote
Overview
Hello everyone we are Mariachi Sangre Mexicana based in N.Y.C and tristate area . We offer authentic mariachi music from Mexico .Our services include music for birthday parties, wedding, anniversaries, sweet 16s,
Quinceñeras, masses, serenades, funerals.
---
---
Booking Info
Price Range: Contact for rates
About
Hi My name is Edwin Gonzalez
Born and raised in Queens NYC
Was raised in a Mariachi influenced family.
Our group is formed of 5 or more musicians with authentic music and suits .
Services Offered
Upcoming Booked Events
August 23, 2022

•

6:00pm - 7:00pm
Fundraiser
Past Booked Events
August 14, 2022

•

4:00pm - 4:45pm
Wedding Engagement

August 13, 2022

•

1:30pm - 2:00pm
Children's Birthday Party

August 05, 2022

•

11:00am - 11:15am
Surprise

July 24, 2022

•

5:00pm - 5:15pm
Birthday Party

July 23, 2022

•

12:00pm - 12:15pm
Children's Birthday Party

July 09, 2022

•

7:00pm - 9:00pm
House Party

July 08, 2022

•

10:00pm - 11:00pm
Birthday Party

July 05, 2022

•

9:30am - 9:45am
Birthday Party

July 03, 2022

•

6:30pm - 7:00pm
Birthday Party

June 25, 2022

•

12:30pm - 1:30pm
Anniversary Party

May 06, 2022

•

1:00pm - 2:00pm
Corporate Event

March 05, 2022

•

7:30pm - 8:00pm
Birthday Party

February 13, 2022

•

3:30pm - 3:45pm
Wedding Engagement

January 08, 2022

•

11:00am - 11:15am
Surprise

December 25, 2021

•

10:00am - 10:15am
Surprise

November 07, 2021

•

3:00pm - 3:30pm
House Party

October 29, 2021

•

7:30pm - 9:30pm
Birthday Party

October 17, 2021

•

4:30pm - 5:30pm
House Party

October 15, 2021

•

6:00pm - 7:00pm
Birthday Party

September 18, 2021

•

1:00pm - 1:30pm
Surprise

September 07, 2021

•

8:00am - 8:30am
Birthday Party

August 30, 2021

•

7:00am - 7:45am
Birthday Party

August 25, 2021

•

7:00pm - 7:30pm
Birthday Party

August 11, 2021

•

6:00am - 7:00am
Birthday Party

August 08, 2021

•

4:30pm - 5:30pm
Funeral/Memorial Service

August 07, 2021

•

6:00pm - 7:00pm
Birthday Party

August 06, 2021

•

7:30pm - 8:30pm
Birthday Party

August 01, 2021

•

3:00pm - 5:00pm
Birthday Party

July 17, 2021

•

7:30pm - 8:30pm
Birthday Party

July 11, 2021

•

1:30pm - 2:30pm
Birthday Party

June 30, 2021

•

5:00pm - 6:00pm
Dinner Party

June 19, 2021

•

9:00pm - 10:00pm
House Party

June 06, 2021

•

11:00am - 11:15am
Grand Opening

May 14, 2021

•

10:30pm - 10:45pm
Wedding Engagement

May 09, 2021

•

3:30pm - 4:00pm
Surprise

May 08, 2021

•

4:30pm - 5:30pm
Religious Celebration

May 07, 2021

•

12:00pm - 2:00pm
Corporate Event

May 01, 2021

•

6:00pm - 6:15pm
Birthday Party

April 24, 2021

•

10:00pm - 10:15pm
Birthday Party

April 23, 2021

•

9:30pm - 10:00pm
Wedding Reception

March 28, 2021

•

10:00am - 10:15am
Surprise

March 20, 2021

•

8:30pm - 8:45pm
Birthday Party

March 20, 2021

•

7:00pm - 7:45pm
Dinner Party

March 20, 2021

•

5:00pm - 5:30pm
Surprise

March 13, 2021

•

4:00pm - 4:15pm
Birthday Party

March 05, 2021

•

8:30am - 8:45am
Birthday Party

March 02, 2021

•

6:30pm - 6:45pm
Birthday Party

February 21, 2021

•

4:00pm - 4:15pm
Birthday Party

February 03, 2021

•

9:00pm - 9:15pm
Surprise

January 24, 2021

•

9:30am - 9:45am
Surprise

December 25, 2020

•

11:00am - 11:30am
Surprise

November 07, 2020

•

3:00pm - 3:30pm
Birthday Party

October 17, 2020

•

10:00am - 10:30am
Personal Occasion

October 11, 2020

•

8:00pm - 8:45pm
Birthday Party

October 01, 2020

•

3:00pm - 3:15pm
Surprise

September 26, 2020

•

6:00pm - 7:00pm
Birthday Party

September 12, 2020

•

5:00pm - 5:15pm
House Party

September 12, 2020

•

4:00pm - 5:00pm
Cocktail Party

September 05, 2020

•

6:00pm - 6:30pm
Birthday Party

August 30, 2020

•

5:00pm - 5:45pm
Surprise

August 29, 2020

•

4:00pm - 5:30pm
Birthday Party

August 23, 2020

•

4:00pm - 4:30pm
House Party

August 22, 2020

•

6:00pm - 6:30pm
Birthday Party

August 18, 2020

•

8:00pm - 8:30pm
Birthday Party

July 31, 2020

•

5:30pm - 6:15pm
Birthday Party

July 22, 2020

•

9:00pm - 9:45pm
Birthday Party

July 20, 2020

•

6:00pm - 6:45pm
Birthday Party

July 15, 2020

•

8:00am - 8:15am
Birthday Party

July 13, 2020

•

6:00pm - 7:00pm
Birthday Party

June 21, 2020

•

8:00pm - 8:30pm
Birthday Party

June 16, 2020

•

6:00am - 6:15am
Personal Occasion

June 08, 2020

•

10:30am - 11:00am
Birthday Party

June 06, 2020

•

6:00pm - 6:30pm
Graduation

May 30, 2020

•

1:00pm - 2:00pm
Baby Shower

May 23, 2020

•

3:00pm - 3:30pm
Birthday Party

May 21, 2020

•

6:00pm - 6:30pm
Birthday Party

May 15, 2020

•

8:00am - 9:00am
Birthday Party

May 10, 2020

•

5:00pm - 5:15pm
Surprise

May 10, 2020

•

3:00pm - 3:30pm
Personal Occasion

May 10, 2020

•

12:30pm - 2:30pm
Personal Occasion

February 25, 2020

•

4:30pm - 5:00pm
Corporate Event

February 14, 2020

•

10:00am - 10:45am
Wedding Engagement

February 08, 2020

•

1:30pm - 2:30pm
Birthday Party

February 01, 2020

•

8:30pm - 9:30pm
Birthday Party

January 16, 2020

•

7:30pm - 7:45pm
Birthday Party