Your list is empty.
Save musicians, entertainers, speakers, and services, and they'll appear here.
Free Quick Quote
This vendor provides virtual services
Back to Violinists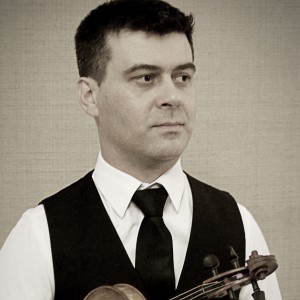 Lev Ryadchenko
4.97
(46 reviews)
Dallas, TX
Travels up to 500 miles
Contact for rates
Get a Free Quick Quote
Overview
My name is Lev Ryadchenko, I have been playing violin for 25 years. I am an active member of the Tulsa (OK) Symphony and recent graduate from Eastman School of Music with a Master's degree in Violin Performance. I have performed with renowned orchestras including the Bolshoi Ballet, Moscow Symphony, and given a solo recital in Kilbourn Hall. Aside from my commitment to performing, I devoted my spare time as a Teaching Assistant to Professor Kopelman, former soloist of Tokyo Quartet. I would be pleased to play for your wedding or other party.
---
---
Booking Info
Price Range: Contact for rates
Services Offered
Upcoming Booked Events
March 03, 2022

•

5:30pm - 6:30pm
Wedding Ceremony

March 27, 2022

•

2:00pm - 4:00pm
Wedding Reception

May 16, 2022

•

6:00pm - 7:30pm
Wedding Ceremony
Past Booked Events
January 08, 2022

•

3:00pm - 3:45pm
Wedding Ceremony

December 30, 2021

•

6:30pm - 7:30pm
House Party

December 27, 2021

•

7:00pm - 7:30pm
Wedding Reception

December 19, 2021

•

7:00pm - 8:30pm
Dinner Party

December 16, 2021

•

5:00pm - 6:00pm
Wedding Ceremony

December 04, 2021

•

4:00pm - 5:00pm
Wedding Ceremony

December 03, 2021

•

3:30pm - 4:30pm
Wedding Ceremony

November 27, 2021

•

4:00pm - 4:15pm
Wedding Ceremony

November 13, 2021

•

4:00pm - 5:30pm
Wedding Ceremony

November 07, 2021

•

4:00pm - 4:15pm
Wedding Ceremony

November 02, 2021

•

8:00am - 9:00am
Corporate Event

November 01, 2021

•

11:00am - 12:00pm
Wedding Ceremony

October 30, 2021

•

7:30pm - 8:30pm
Wedding Reception

October 23, 2021

•

5:00pm - 6:00pm
Wedding Ceremony

October 15, 2021

•

4:00pm - 4:45pm
Wedding Ceremony

October 10, 2021

•

7:30pm - 10:30pm
Wedding Reception

October 10, 2021

•

10:00am - 11:00am
Wedding Ceremony

October 09, 2021

•

6:30pm - 7:30pm
Cocktail Party

October 03, 2021

•

12:00pm - 2:00pm
Studio Session

October 02, 2021

•

6:00pm - 7:00pm
Wedding Ceremony

October 02, 2021

•

11:00am - 12:00pm
Funeral/Memorial Service

September 30, 2021

•

6:00pm - 7:00pm
Funeral/Memorial Service

September 25, 2021

•

6:00pm - 6:30pm
Wedding Ceremony

September 25, 2021

•

1:00pm - 1:45pm
Wedding Ceremony

September 24, 2021

•

8:00pm - 9:00pm
Birthday Party

September 19, 2021

•

4:30pm - 4:45pm
Wedding Ceremony

September 18, 2021

•

4:30pm - 5:15pm
Wedding Ceremony

September 11, 2021

•

8:00pm - 9:00pm
Wedding Ceremony

September 06, 2021

•

5:00pm - 6:30pm
Birthday Party

August 29, 2021

•

4:00pm - 7:00pm
Wedding Ceremony

August 28, 2021

•

12:00pm - 1:00pm
Funeral/Memorial Service

August 14, 2021

•

5:00pm - 6:00pm
Birthday Party

July 31, 2021

•

9:00am - 11:00am
Wedding Ceremony

July 17, 2021

•

3:00pm - 3:45pm
Restaurant/Bar Event

June 19, 2021

•

4:00pm - 6:00pm
Wedding Ceremony

June 12, 2021

•

5:30pm - 6:15pm
Wedding Reception

May 22, 2021

•

4:30pm - 5:30pm
Wedding Ceremony

May 08, 2021

•

5:30pm - 6:00pm
Wedding Ceremony

April 23, 2021

•

5:00pm - 7:00pm
House Party

April 18, 2021

•

7:00pm - 7:30pm
Personal Occasion

April 10, 2021

•

3:00pm - 4:00pm
Wedding Ceremony

April 03, 2021

•

1:30pm - 2:15pm
Wedding Engagement

March 26, 2021

•

6:00pm - 6:15pm
Surprise

March 23, 2021

•

6:00pm - 6:15pm
Virtual Event

February 27, 2021

•

6:00pm - 6:45pm
Personal Occasion

February 23, 2021

•

6:00pm - 6:15pm
Surprise

February 20, 2021

•

7:00pm - 7:15pm
Surprise

February 13, 2021

•

7:00pm - 8:30pm
Surprise

February 13, 2021

•

10:00am - 10:45am
Wedding Ceremony

January 31, 2021

•

2:30pm - 3:00pm
Personal Occasion

December 26, 2020

•

2:00pm - 2:45pm
Dinner Party

December 12, 2020

•

6:00pm - 7:00pm
Teen Birthday Party

December 12, 2020

•

3:30pm - 4:30pm
Wedding Ceremony

November 28, 2020

•

5:30pm - 6:00pm
Wedding Ceremony

November 26, 2020

•

6:00pm - 6:30pm
Dinner Party

November 20, 2020

•

1:00pm - 1:45pm
Surprise

October 31, 2020

•

5:30pm - 7:00pm
Wedding Ceremony

October 30, 2020

•

4:00pm - 4:15pm
Surprise

October 27, 2020

•

2:00pm - 3:30pm
Wedding Ceremony

October 23, 2020

•

6:00pm - 7:00pm
Wedding Engagement

September 26, 2020

•

5:00pm - 5:45pm
Wedding Ceremony

September 19, 2020

•

6:00pm - 8:00pm
Wedding Ceremony

September 17, 2020

•

6:00pm - 6:30pm
Birthday Party

September 02, 2020

•

8:30pm - 9:30pm
Surprise

August 31, 2020

•

7:00pm - 7:15pm
Surprise

August 29, 2020

•

6:30pm - 6:45pm
Wedding Engagement

August 01, 2020

•

10:00am - 11:00am
Funeral/Memorial Service

February 14, 2020

•

5:00pm - 7:30pm
Dinner Party

August 15, 2019

•

8:00pm - 8:15pm
Personal Occasion

July 06, 2019

•

6:00pm - 7:00pm
Wedding Ceremony

July 06, 2019

•

12:00pm - 1:00pm
Wedding Ceremony

May 18, 2019

•

5:00pm - 6:00pm
Wedding Ceremony

May 11, 2019

•

12:00pm - 12:30pm
Nonprofit Event

December 24, 2018

•

6:00pm - 8:30pm
Religious Celebration

December 18, 2018

•

6:30pm - 8:00pm
Dinner Party

August 04, 2018

•

3:30pm - 5:30pm
Personal Occasion

June 24, 2018

•

1:00pm - 1:15pm
Surprise

June 20, 2018

•

3:00pm - 5:00pm
Nonprofit Event

November 25, 2017

•

12:30pm - 2:30pm
Wedding Ceremony

August 04, 2017

•

12:00pm - 12:30pm
Anniversary Party
Set List
Classical:
Canon in D - Pachelbel
Ave Maria - Schubert
Air on the G String - Bach
Jesu Joy of Man's Desiring - Bach
Meditation by Thais - Massanet
Minuet - Boccherini
Hornpipe from the Water Music - Handel
Ode to Joy - Beethoven
Minuet No. 1 in G - Bach
Minuet No. 2 in G - Bach
Trumpet Voluntary - Clarke
Largo from Winter - Vivaldi
Gavotte - Gossec
The Swan from Carnival of the Animals - Saint-Saens
Amazing Grace
Simple Gifts - Copland
Arioso - Bach
Minuet in G - Beethoven
Rondeau - Mouret
Londonderry Air - Grainger
Pop:
Beauty and the Beast (Disney)
Can't Help Falling in Love
Somewhere Over the Rainbow
What a Wonderful World
Hallelujah - Leonard Cohen
Moon River
All I Ask of You (Phantom of the Opera)
You Raise Me Up
Perfect - Ed Sheeran
Thinking Out Loud - Ed Sheeran
A Thousand Years - Christina Perri
Adore You - Miley Cyrus
Sky Full of Stars - Coldplay
Yellow - Coldplay
Paradise - Coldplay
Marry You - Bruno Mars
If I Ain't Got You - Alicia Keys
L.O.V.E. - Frank Sinatra
Halo - Beyonce
Make You Feel My Love - Adele
Can You Feel The Love Tonight - Elton John
I Won't Give Up - Jason Mraz
Lucky - Jason Mraz
Turning Page - Sleeping At Last
Jazz:
Autumn Leaves
Fly Me to the Moon
Beyond The Sea
Don't Get Around Much Anymore
It's Only A Paper Moon
On the Sunny Side of the Street
Pennies From Heaven
Till There Was You
All Of Me
Dream a Little Dream of Me
The Way You Look Tonight
Wave
Christmas:
The First Noel
God Rest Ye Merry Gentlemen
O Come, O Come Emmanuel
Frosty the Snowman
Rudolph, The Red-Nosed Reindeer
A Holly Jolly Christmas
The Christmas Song (Chestnuts Roasting on an Open Fire)
Silent Night
The Messiah Medley
It's Beginning to Look a Lot Like Christmas
Rockin' Around the Christmas Tree
Greensleeves (What Child is This?)
***These are just the most popular songs that I've played. More repertoire can be learned as requested!***