Your list is empty.
Save musicians, entertainers, speakers, and services, and they'll appear here.
Free Quick Quote
This vendor provides virtual services
Back to Singing Guitarists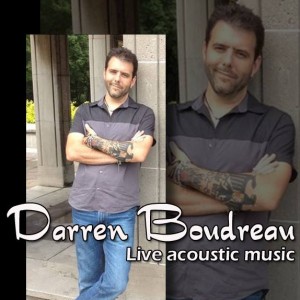 Darren Boudreau
5.0
(6 reviews)
Brantford, ON
Travels up to 120 miles
$400 - $1500
Get a Free Quick Quote
Overview
Personable, versatile and adaptable musician with 30+ years of performance experience. I play from a huge selection of material (430+ songs and growing) covering a great many genres, as well as original material. My performances tend to be highly interactive and dynamic and I am as comfortable on a sunny patio as a darkened club stage...
---
---
Booking Info
Price Range: $400 - $1500
Gig Length: 30 - 360 minutes
What to Expect
Highly interactive and flexible.. I play with the crowd as well as for them.. I don't follow assigned sets but let the crowd, though requests or flow of the evening decide where we go next...
About
I have been playing music professionally in one capacity or another for 30+ years. My shows tend to be highly interactive (where appropriate), engaging and dynamic.. I play from a list of 450+ songs (and growing) and love the interactivity of requests and engaging the audience. I play from a number of genres and styles and strive to maintain the integrity of each while providing an ever changing, energetic acoustic experience.
Additional Booking Notes
I have very few requirements beyond approx 4 ft. square of space with access to power.
Services Offered
Past Booked Events
September 11, 2021

•

5:00pm - 8:00pm
Birthday Party

September 29, 2018

•

12:30pm - 2:30pm
Fundraiser

September 15, 2018

•

4:00pm - 9:00pm
Birthday Party

August 13, 2018–September 04, 2018

•

12:00pm - 12:00pm
Unavailable

August 05, 2018

•

8:00pm - 11:00pm
Birthday Party

August 03, 2018

•

5:00pm - 11:00pm
BOOKED

April 07, 2018

•

6:30pm - 10:30pm
Birthday Party

December 17, 2016

•

6:00pm - 9:00pm
Dinner Party

October 08, 2016

•

8:30pm - 10:30pm
House Party
Set List
Not a set list per se, but a portion of the ever growing massive list I perform from....
3 AM Matchbox 20
38 Years Old Tragically Hip
4 AM Our Lady Peace
5 Days in May Blue Rodeo
50 Ways to Say Goodbye Train
(phone number hidden) (Jenny Jenny) Tommy Tu-Tone
Africa Toto
After the Rain Blue Rodeo
Against the Wind Bob Seger
Ahead By a Century Tragically Hip
Alcohol Brad Paisley
All For You Sister Hazel
All Out of Love Air Supply
All Summer Long Kid Rock
Alone Heart
Already Gone Eagles (The)
American Kids Kenny Chesney
American Pie Don McLean
And It Stoned Me Van Morrisson
Angel Eyes Jeff Healey
Angie Rolling Stones
Apartment Song (The) Tom Petty
As Good As I Once Was Toby Keith
As She's Walking Away Zac Brown Band
Austin Blake Shelton
Authority Song (The) John Cougar
Baby I Love Your Way Peter Frampton
Baby's Grown Darren Boudreau
Back in the U.S.S.R Beatles
Back To You Bryan Adams
Back When Tim McGraw
Bad Company Bad Company
Bad Moon Rising CCR
Bad Timing Blue Rodeo
Bad, Bad Leroy Brown Jim Croce
Baker Street Gerry Rafferty
Ballad of John and Yoko (The) John Lennon
Bang a Gong T-Rex
Beaches of Cheyenne (The) Garth Brooks
Bed of Roses Bon Jovi
Beer For My Horses Toby Keith w/ Willie Nelson
Beer In Mexico Kenny Chesney
Best Thing You Never Had Butch Walker
Bible Belt Travis Tritt
Black Pearl Jam
Blister In The Sun Violent Femmes
Bobcaygeon Tragically Hip
Boots or Hearts Tragically Hip
Boulevard of Broken Dreams Green Day
Boxer (The) Paul Simon
Boy Named Sue (A) Johnny Cash
Break It To Them Gently Burton Cummings
Brian Wilson Barenaked Ladies
Brown Eyed GIRL Van Morrison
Bulletproof Blue Rodeo
Can't You See Marshall Tucker
Cat's In The Cradle Harry Chapin
Centerfield John Fogerty
Change (The) Garth Brooks
Chasin' That Neon Rainbow Alan Jackson
Cherry Bomb John Mellencamp
Chicken Fried Zac Brown Band
Closest Thing To You I'll Ever Find Butch Walker
Closing Time Semmisonic
Colder Weather Zac Brown Band
Colorful Verve Pipe (The)
Come Dancing Kinks (The)
Come Together Beatles
Copperhead Road Steve Earle
Country Roads John Denver
Courtesy the Red, White and Blue Toby Keith
Cover of the Rolling Stone Dr. Hook
Crazy Little Thing Called Love Queen
Creep Radiohead
Cruel to be Kind Nick Lowe
Cuts Like A Knife Bryan Adams
Dancing in the Dark Bruce Springsteen
Daniel Elton John
Desire U2
Desperado Eagles (The)
Diamonds and Rust Judas Priest
Die a Happy Man Thomas Rhett
Digging Up Bones Randy Travis
Dock of the Bay (Sittin' on the) Otis Redding
Don't Dream It's Over Crowded House
Don't Stop Believing Journey
Don't Stop Believing Journey
Down Under Men At Work
Downtown Came Uptown David Wilcox
Downtown Train Rod Stewart
Drift Away Dobie Gray
Drink a Beer Luke Bryan
Drive Cars (The)
Drive By Train
Easy To Tame Kim Mitchell
End of the Innocence (The) Don Henley
End of the Line Travelling Wilburys
Enid Barenaked Ladies
Escape (The Pina Colada Song) Rupert Holmes
Eve of Destruction Barry McGuire
Every Breath You Take Police
Every Rose Has It's Thorn Poison
Everything Michael Buble
Faithfully Journey
Fall At Your Feet Crowded House
Fire Bruce Springsteen
Fire and Rain James Taylor
Fire Lake Bob Seger
Folsom Prison Blues Johnny Cash
Forever and Ever Amen Randy Travis
Forget You Cee Lo Green
Friday I'm In Love Cure (The)
Friends in Low Places Garth Brooks
Gambler (The) Kenny Rogers
Gentle On My Mind Glen Campbell
Get Back Beatles
Get Rhythm Johnny Cash
Gimme Shelter Rolling Stones
Gimme Three Steps Lynrd Skynrd
Give a Little Bit Supertramp
Glory Days Bruce Springsteen
Good Stuff (The) Kenny Chesney
Guitar Town Steve Earle
Hallelujah Leonard Cohen
Handle With Care Travelling Wilburys
Hard Luck Woman Kiss
Hard to Be Humble Mac Davis
Hasn't Hit Me Yet Blue Rodeo
Haunted Darren Boudreau
Have You Ever Seen the Rain? CCR
Heart of Gold Neil Young
Heaven Bryan Adams
Heaven Warrant
Here For A Good Time Trooper
Hey Soul Sister Train
Hey There Delilah Plain White T's
High Cotton Alabama
Home For a Rest Spirit of the West
Honky Tonk Woman Rolling Stones
Horse With No Name America
Hot and Cold Katy Perry
Hotel California Eagles (The)
House of the Rising Sun Animals (The)
How Do You Like Me Now? Toby Keith
How Forever Feels Kenny Chesney
How Long Eagles (The)
Hungry Heart Bruce Springsteen
Hurts So Good John Cougar
Husbands and Wives Brooks and Dunn
I Believe in You and Me Darren Boudreau
I Hate My Life Theory of a Deadman
I Love This Bar Toby Keith
I Remember You Skid Row
I Saw Her Standing There Beatles
I Told You So Randy Travis
I Wanna Be Sedated Ramones
I Want To Come Over Melissa Etheridge
I Will Survive Gloria Gaynor
If Love Was a Plane Brad Paisley
If You Could Only See Tonic
I'm a Believer Monkees (The)
I'm Coming Over Chris Young
I'm Eighteen Alice Cooper
I'm Gonna Hire a Wino David Frizell
I'm Gonna Hire a Wino David Frizell
I'm Gonna Miss Her Brad Paisley
I'm Not Supposed To Love You Anymore Bryan White
I'm On Fire Bruce Springsteen
I'm Still a Guy Brad Paisley
I'm Yours Jason Mraz
Into the Great Wide Open Tom Petty
Into The Mystic Van Morrisson
Iris Goo Goo Dolls (The)
Is That a Tear Tracy Lawrence
It's a Great Day to be Alive Travis Tritt
It's Five O'Clock Somewhere Alan Jackson
It's Still Rock and Roll to Me Billy Joel
Jack and Diane John Cougar
Jacky Don Tucker Toby Keith
Jailhouse Rock Elvis Presley
Jessie's Girl Rick Springfield
Jesus He Knows Me Genesis
John the Revelator Curtis Steiger
Just The Way You Are Bruno Mars
Just What I Needed Cars (The)
Keep Your Hands To Yourself Georgia Satellites
King of the Hill Roger McGuinn
King of the Road Roger Miller
Knee Deep Zac Brown Band
Knock Three Times Tony Orlando & Dawn
Knockin' on Heavens Door Bob Dylan
Kodachrome Paul Simon
Last Kiss Pearl Jam
Last Worthless Evening (The) Don Henley
Learn to Fly Foo Fighters
Leave the Pieces Wreckers (The)
Let Her Cry Hootie and the Blowfish
Let It Be Beatles
Let It Go Zac Brown Band
Letter (The) Joe Cocker
Letter to Me Brad Paisley
Levon Elton John
Lido Shuffle Boz Skaggs
Life in a Northern Town Dream Academy
Life is Wonderful Jason Mraz
Lightning Crashes Live
Little Less Talk and A Lot More Action Toby Keith
Little Red Riding Hood Sam the Sham
Livin' on a Prayer '94 Bon Jovi
Locamotive Breath Jethro Tull
Lodi CCR
Lola Kinks (The)
Lonely and Gone Montgomery Gentry
Long Cool Woman in a Black Dress Hollies (The)
Lookin' Out My Back Door CCR
Losing My Religion R.E.M
Lost Together Blue Rodeo
Love, Me Colin Raye
Lovers In a Dangerous Time Barenaked Ladies
Lullabye Shawn Mullins
Lyin' Eyes Eagles (The)
Maggie May Rod Stewart
Make Me Do Anything You Want A Foot in Cold Water
Mama Tried Merle Haggard
Man on the Moon R.E.M
Maneater Hall and Oates
Margaritaville Jimmy Buffet
Mary Janes Last Dance Tom Petty
Me and Bobby Mcgee Janis Joplin
Me and Julio Down by the Schoolyard Paul Simon
Me And You Kenny Chesney
Measure of a Man Darren Boudreau
Meet Virginia Train
Message In a Bottle Police
The Middle Jimmy Eat World
Midnight Special CCR
Modern Day Bonnie and Clyde Travis Tritt
Mother Pink Floyd
Mother's Little Helper Rolling Stones
Moves Like Jagger Maroon 5
Mr Jones Counting Crows
Mrs. Robinson Simon and Garfunkel
Much Too Young To Fell This Damn Old Garth Brooks
My Life Billy Joel
New Favourite Memory Brad Paisley
New Orleans is Sinking Tragically Hip
New York City Song John Cafferty
Night Moves Bob Seger
Night That Pat Murphy Died (The) Great Big Sea
Nights in White Satin Moody Blues (The)
No More Bob Seger
Nobody Home Pink Floyd
Not Ready to Make Nice Dixie Chicks (The)
Nothing Else Matters Metallica
Nowhere With You Joel Plaskett Emergency
Ob-La-Di Ob-La-Da Beatles
Old Man Down The Road (The) John Fogerty
Old Time Rock and Roll Bob Seger
One Headlight Wallflowers (The)
One U2
One Headlight Wallflowers (The)
One Hell of an Amen Brantley Gilbert
One Night Love Affair Bryan Adams
Online Brad Paisley
Only God Knows Why Kid Rock
Only The Good Die Young Billy Joel
Oscar Thomas FInn Brian Byrne
Pancho and Lefty Willie Nelson & Waylon Jennings
Paparazzi Lady Gaga
Patience Guns and Roses
Patio Lanterns Kim Mitchell
People Are Strange Doors (The)
Piano Man Billy Joel
Picture Kid Rock & Sheryl Crow
Pieces Darren Boudreau
Pink Houses John Cougar
Push Matchbox 20
R.O.C.K in the U.S.A John Cougar
Race Cars and Goth Rock Butch Walker
Rain on the Scarecrow John Cougar
Rainbow Connection Kermit the Frog
Reason To Believe Rod Stewart
Rest Stop Matchbox 20
Ring of Fire Johnny Cash
Riverboat Fantasy David Wilcox
Roadhouse Blues Doors (The)
Rocket Man Elton John
Rockin' in the Free World Neil Young
Rockstar Nickelback
Roll Me Away Bob Seger
Runaway Train Roseanne Cash
Runaway Train Soul Asylum
Running Down a Dream Tom Petty
Running On Empty Jackson Browne
Safety Dance Men Without Hats
Save Me San Francisco Train
Save Tonight Eagle Eye Cherry
Say It Ain't So Weezer
Second Hand News Fleetwood Mac
Secrets One Republic
Shameless Billy Joel
Shattered Glass Brad Paisley
She Ain't Pretty Northern Pikes (The)
She Likes Hair Bands Butch Walker
She Talks to Angels Black Crows (The)
Shooting Star Bad Company
Shouldv'e Been a Cowboy Toby Keith
Show Me The Way Peter Frampton
Signs Five Man Electrical Band
Silver Thunderbird Marc Cohn
Simple Man Lynrd Skynrd
Sister Golden Hair America
Slide Goo Goo Dolls (The)
Slow Turning John Hiatt
Small Town John Cougar
Small Town Saturday Night Hal Ketchum
Smoky Mountain Rain Ronnie Milsap
Sober Butch Walker
Solitary Man Neil Diamond
Some Beach Blake Shelton
Somebody's Baby Jackson Browne
Something So Strong Crowded House
Something To Believe In Poison
Somewhere Other Than the Night Garth Brooks
Sorry Buckcherry
Space Oddity David Bowie
Squeeze Box Who (The)
Stays in Mexico Toby Keith
Still the Same Bob Seger
Stranger in my House Ronnie Milsap
Stuck in the Middle With You Stealers Wheel
Summer of '69 Bryan Adams
Summer of '89 Butch Walker
Sundown Gordon Lightfoot
Superman's Song Crash Test Dummies
Sweet Caroline Neil Diamond
Sweet Home Alabama Lynrd Skynrd
Sympathy for the Devil Rolling Stones
Take It Easy Eagles (The)
Take the Money and Run Steve Miller
Ten Rounds With Jose Cuervo Tracy Byrd
Tennessee Plates John Hiatt
Tequila Makes Her Clothes Fall Off Joe Nichols
When You Come Back To Me Again Garth Brooks
Whiskey Girl Toby Keith
Who Says You Can't Go Home Bon Jovi
Who'll Stop the Rain? CCR
Who's Your Daddy? Toby Keith
Wild World Cat Stevens
Winds of Change Scorpions
Wish You Were Here Pink Floyd
Wonderwall Oasis
Working at the Car Wash Blues Jim Croce
Working Class Hero John Lennon
Wrapped Around Your Finger Police
Wreck of the Edmund Fitzgerald (The) Gordon Lightfoot
Yer So Bad Tom Petty
Yes Chad Brock
You Ain't Much Fun Toby Keith
You and Tequila Kenny Chesney
You Can't Always Get What You Want Rolling Stones
You Don't Know How It Feels Tom Petty
You Don't Mess Around With Jim Jim Croce
You Took the Words Right Out Of My Mouth Meatloaf
You Won't Dance With Me April Wine
Your Love Outfield
Your Song Elton John
You're Gonna Miss This Trace Adkins
You're So Vain Carly Simon
Influences & Inspiration
Far too many to list, from Billy Joel to Johnny Cash, Chris DeBurg to Metallica... I like MUSIC, pinning that down to one genre or artist is like trying to herd cats,.. nearly impossible and I'd look silly trying :)
Peace.
Setup Requirements
No Special Requirements