Your list is empty.
Save musicians, entertainers, speakers, and services, and they'll appear here.
Free Quick Quote

Adriana D.
•
October 30, 2018
Overall, my guests were complaining the entire time that the time it took to get a cocktail was entirely too long & they had opted for different options that were self serve (Beer/Punch I had made). I was not told that there were issues with having a dog in our home & that started the evening with us having anxiety as he was uncomfortable with him being around him. The time it took for set up/leaving was extremely long & ended up having him leave early due to the terrible service. He kept chatting with the guests which made the process of getting drinks even longer - he also had business cards on the bar which he did run by me prior. Overall, would never recommend!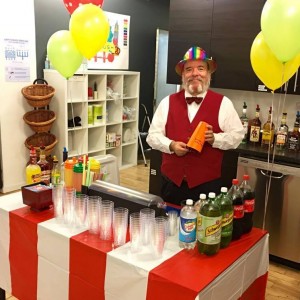 Response from Daniel Easton Deluxe Bartending SVCS, Inc.:
Adriana's response to my services here is a total lie, point by point, and she knows that quite well. She wants her money back now because it turns out that she and her husband had overextended themselves on their event and are now trying to scam it back, this even though she paid me the balance that she owed me right as the party was ending. Now she wants it back. The finances issue came up while I was on the job in that during the time I was working the bar area she was yelling at her husband about it, highly unprofessional. I was totally enjoying working their Halloween costume party and the signature drinks that she had sent me the recipes for ahead of time were quite popular as I fixed them. I received extra gratuities from other guests during the evening, this without my putting out any tip jars, and I had a quite fun time chatting with those guests as I fixed their cocktails. There were other issues at play, too, a dog that was causing trouble for both me and some guests, this pet's not being put on a leash and left in a room by itself. Adriana did not hire me through GigSalad but through another service. You can read many fine testimonials of my previous work on other sites.