Your list is empty.
Save musicians, entertainers, speakers, and services, and they'll appear here.
Free Quick Quote
This vendor provides virtual services
Back to One Man Bands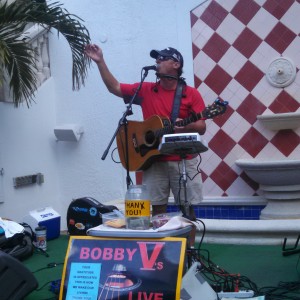 Bobby 5 Live! A One Man Band Like No Other
5.0
(1 review)
Monroeville, PA
Travels up to 3000 miles
$200 and up
Get a Free Quick Quote
Overview
I sing and play over 1000 songs of all genres with no backing tracks! I have also written more than 300 songs and am a Nashville song writer and Nashville recording artist. I have a full band sound playing guitar, harmonica and percussion. I was voted one of the best one man bands in the country! I travel all over the country and do all types of events. I am a full time professional musician, living in Nashville, South Florida and Pittsburgh.
---
1 Review

Amy Z.
•
September 18, 2015
This guy is the best I have ever seen, he is really amazing and should be touring nationally!
---
Booking Info
Languages: Chinese, English, Italian
Insurance: $1,000,000 - state farm
What to Expect
Acoustic Music for Everyone Playing the most requested songs of all time!
Covering Over 1000 Songs and Writer of Over 300 Original Songs!
Classic Rock, Blues, Country, Alt. Country, Lite Rock, Southern Rock, Original, Reggae, Blue grass, Alternative, Holiday Music, Island, Pop, and More!
"He just gets people to have fun at his shows,that's his goal" Zac Brown
Voted one of the best one man bands in the country!
About
A fun entertaining acoustic act covering all types of songs and performing original tunes with gusto and talent!
Bobby5live is a well known musician in Western Pennsylvania,Nashville, and South Florida. He spends his winters languishing in the summer sun of Florida, and hops between Nashville, TN, and Pittsburgh, PA for the remainder of the year. He has been called one of the best entertainers in the music industry!
As a singer/songwriter he is an acoustic guitarist, mixing in percussion and harmonica. He covers over 1000 songs, from the 50's to the latest. He uses no backing tracks, and plays a selection for classic rock, sounthern rock, modern rock, light rock, blues, folk, bluegrass, and country. He has written more than 200 original songs. When he is not flying solo, he features some of the finest musicians in the country music industry to join him on stage at his shows.
He has always been a great supporter of local, regional, and national music. With his great passion for the acoustic guitar he has been performing for professionally for more than 20 years.
Bobby has made a career in the music industry. He is currently working on a new album, which will feature the best musicians in western Pennsylvania and South Florida! Keep an eye on the calendar for release dates!
Bobby V & Friends or Bobby V & Company
With the addition of additional musicians, comes the birth of an amazing acoustic Jam Band!
Additional Booking Notes
All I need is a 110 power outlet and to be under cover!
Past Booked Events
October 28, 2016

•

6:00pm - 9:00pm
Wedding Cocktail Hour
Set List
Bobby V's 250 Favorite Songs To Play!
For Booking Info Please Call
1. 3 AM (MATCHBOX 20)
2.7 TURNS (THE ALLMAN BROS BAND)
3.A BETTER YOU (BOBBY V)
4.A COUNTRY BOY CAN SURVIVE (HANK JR)
5.AINT EVEN DONE WITH THE NIGHT (J.M.)
6.AINT NO SUNSHINE (BILL WITHERS)
7.A LITTLE BIT OF SUNSHINE (BOBBY V)
8.A PIRATE LOOKS AT 40 (JIMMY BUFFET)
9.AGAINST THE WIND (BOB SEGER)
10.ALL ALONG THE WATCHTOWER (BOB DYLAN)
11.ALL FOR YOU (SISTER HAZEL)
12.ALL SUMMER LONG (KID ROCK)
13.ALL WE NEED IS LOVE (BOBBY V)
14.ALREADY GONE (THE EAGLES)
15.ALWAYS THE LOVE SONGS(ELI YOUNG BAND)
16.AMARILLO BY MORNING (GEORGE STRAIT)
17.AMERICAN GIRL (TOM PETTY)
18.AMY (PURE PRAIRIE LEAGUE)
19.AND IT STONED ME (VAN MORRISON)
20.ANGEL FROM MONTGOMERY (JOHN PRINE)
21.ANGEL FROM YESTERDAY (BOBBY V)
22.ANTS MARCHING (DAVE MATHEWS)
23.ANYTHING BUT MINE (KENNY CHESNEY)
24.ATLANTIC CITY (BRUCE SPRINGSTEEN)
25.BABY I LOVE YOUR WAY (PETER FRAMPTON)
26.BABY I NEED YOUR LOVIN (FOUR TOPS)
27.BAD MOON RISING (CCR)
28.BEFORE YOU ACUSE ME (ERIC CLAPTON)
29.BELIEVE IN ME (BOBBY V)
30.BETTER THAN I USE TO BE (TIM McGRAW)
31.BLACK WATER (THE DOOBIE BROS.)
32.BLISTER IN THE SUN (THE VIOLENT FEMMES)
33.BOAT DRINKS (JIMMY BUFFET)
34.BORDERLINE (MADONA)
35.BRANDY (LOOKING GLASS)
36.BREAK DOWN (TOM PETTY)
37.BRIAN WILSON (THE BARE NAKED LADY'S)
38.CATS IN THE CRADDLE (HARRY CHAPIN)
39.CANT YOU SEE (MARSHALL TUCKER BAND)
40.CHANGES IN LATITUDE (JIMMY BUFFET)
41.CHERRY BOMB (JOHN MELLONCAMP)
42.COME MONDAY (JIMMY BUFFET)
43.COOL WAVES AND WARM SUNSHINE(BOBBY V)
44.COST OF LIVING (RONNIE DUNN)
45.COUNTRY ROADS (JOHN DENVER)
46.COVER OF THE ROLLING STONE (DR HOOK)
47.CRAZY LOVE (VAN MORISON)
48.CURTIS LOWE (LYNYRD SKYNYRD)
49.DEAD FLOWERS (THE ROLLING STONES)
50.DESPARADO (THE EAGLES)
51.DOCK OF THE BAY (OTIS REDDING)
52.DO WHAT YOU WANNA DO (BOBBY V)
53.DON'T BLINK (KENNY CHESNEY)
54.DON'T COME CRAWLING (BOBBY V)
55.DON'T LET ME DOWN (THE BEATLES)
56.DON'T THINK TWICE (BOB DYLAN)
57.DOWN BY THE RIVER (NEIL YOUNG)
58.DREAMS (FLEETWOOD MAC)
59.DRIFT AWAY (DOBEY GRAY)
60.DROPS OF JUPITER (TRAIN)
61.EVERYBODY WANTS TO GO TO HEAVEN (K .C.)
62.EVIL WAYS (SANTANA)
63.FATE (BOBBY V)
64.FAR AWAY EYES (THE ROLLING STONES)
65.FAT BOTTOM GIRLS (QUEEN)
66.FEEL LIKE MAKING LOVE (BAD COMPANY)
67.FEELIN ALRIGHT (TRAFFIC)
68.FINS (JIMMY BUFFET)
69.FIRE AND RAIN (JAMES TAYLOR)
70.FIRE LAKE (BOB SEGER)
71.FIVE DAYS IN MAY (BLUE RODEO)
72.FOLSOM PRISON BLUES (JOHNNY CASH)
73.FOR WHAT IT'S WORTH (CSNY)
74.FOR YOU (BOBBY V)
75.FREE (THE ZAC BROWN BAND)
76.FRIEND OF THE DEVIL (THE DEAD)
77.FRIENDS IN LOW PLACES (GARTH BROOKS)
78.GET DOWN (BOBBY V)
79.GOING HOME TONIGHT (BOBBY V)
80.GOOD DIRECTIONS (BILLY CURRINGTON)
81.GOOD RIDDENCE (GREENDAY)
82.GRAVITY (JOHN MAYER)
83.HARVEST MOON (NEIL YOUNG)
84.HEARD IT IN A LOVE SONG (MARSH. TUCKER)
85.HEART OF GOLD (NEIL YOUNG)
86.HELPLESS (NEIL YOUNG)
87.HOLD MY HAND (HOOTIE)
88.HERES A QUARTER (TRAVIS TRITT)
89.HORSE WITH NO NAME (AMERICA)
90.I COULD GET OFF ON YOU (BOBBY V)
91.I LOVE THIS BAR (TOBY KEITH)
92.I SHALL BE RELEASED (BOB DYLAN)
93.I WONT GIVE UP (BOBBY V)
94.I'LL BE THE ONE (WARREN HAYNES)
95.I'M A FOOL (THE CLARKS)
96.I'M ON FIRE (BRUCE SPRINGSTEEN)
97.INTO THE MYSTIC (VAN MORRISON)
98.IS THIS LOVE (BOB MARLEY)
99.IT AINT ME BABE (BOB DYLAN)
100.IT'S FIVE OCLOCK SOMEWHERE (A. JACKSON)
101.JACK AND DIANE (JOHN MELLONCAMP)
102.JET AIRLINER (STEVE MILLER)
103.JOHN BROWN (BOB DYLAN)
104.JUST GIVE ME SUNDAY (BOBBY 5)
105.JUST MOVING ON (BOBBY 5)
106.KEEP ON SMILING (WET WILLIE)
107.KNEE DEEP (ZAC BROWN)
108.KNOCKIN ON HEAVENS DOOR (BOB DYLAN)
109.KRYPTONITE (THREE DOORS DOWN)
110.LAST KISS (PEARL JAM)
111.LAYLA (ERIC CLAPTON)
112.LEARN TO LOVE (BOBBY 5)
113.LET HER CRY (HOOTIE AND THE BLOWFISH)
114.LETS GET IT ON (MARVIN GAYE)
115.LET ME DOWN EASY (BILLY CURRINGTON)
116.LIKE A HURRICANE (NIEL YOUNG)
117.LIKE A ROLLING STONE (BOB DYLAN)
118.LIVIN IN FEAR (BOBBY V)
119.LONG DECEMBER (COUNTING CROWS)
120.LONG HAIRED COUNTRY BOY (CDB)
121.LONG MAY YOU RUN (NEIL YOUNG)
122.LOVE THE ONE YOUR WITH (CSNY)
123.LOVER LOVER (JAROD NEIMAN)
124.LOVE WITHOUT END AMEN (GEORGE STRAIT)
125.MAGGIE MAE (ROD STEWART)
126.MAIN STREET (BOB SEGER)
127.MAMA TRIED (MERLE HAGGARD)
128.MARY JANES LAST DANCE (T.P.)
129.ME AND JULIO (PAUL SIMON)
130.MELISSA (ALLMAN BROS)
131.MIDNIGHT RIDER (ALLMAN BROS BAND)
132.MOONDANCE (VAN MORRISON)
133.MOTOR CYCLE MAMA (NEIL YOUNG)
134.MUCH TOO YOUNG (GARTH BROOKS)
135.MUST OF GOT LOST (J GEILS)
136.NEEDLE AND THE DAMAGE DONE (N.Y.)
137.NEVER SAY GOODBYE (BOBBY V)
138.NIGHT MOVES (BOB SEGER)
139.NO WOMEN NO CRY (BOB MARLEY)
140.NOBODY BUT YOU (BOBBY V)
141.OCEAN VIEW (BOBBY V)
142.OLD RED (BLAKE SHELTON)
143.ON THE ROAD AGAIN (WILLIE NELSON)
144.ONE (U2)
145.ONE FOR THE ROAD (BOBBY 5)
146.ONLY WOMEN BLEED (ALICE COOPER)
147.PANAMA RED (N.R.O.T.P.S.)
148.PATIENCE (G&R)
149.PEACEFUL EASY FEELING (THE EAGLES)
150.PENNY ON THE FLOOR (THE CLARKS)
151.PEOPLE ARE CRAZY (BILLY CURRINGTON)
152.PIANO MAN (BILLY JOEL)
153.PEACE OF MIND (BOBBY 5)
154.PINK HOUSES (JOHN MELLONCAMP)
155.PLEASE COME TO BOSTON (DAVID LOGGINS)
156.PLEASE DON'T BURY ME (JOHN PRINE)
157.PLUSH (STP)
158.POSITIVELY FOURTH STREET (BOB DYLAN)
159.POWDERFINGER (NEIL YOUNG)
160.PRIDE AND JOY (SRV)
161.PROUD MARY (CCR)
162.RAIN KING (COUNTING CROWS)
163.RAMBLIN MAN (ALLMAN BROS)
164.RING OF FIRE (JOHNNY CASH)
165.ROCKIN IN THE FREE WORLD (NEIL YOUNG)
166.ROCKY RACOON (THE BEATLES)
167.ROLL ME AWAY (BOB SEGER)
168.ROLL WITH THE PUNCHES (BOBBY 5)
169.RUNNIG DOWN A DREAM (TOM PETTY)
170.SEEING THINGS (THE BLACK CROWS)
171.SHE'S GOT THE TOUCH (BOBBY V)
172.SHE TALKS TO ANGELS (THE BLACK CROWS)
173.SHJAMAKIN YOU CRAZY (BOBBY FIVE)
174.SIGNS (FIVE MAN ELECRICAL BAND)
175.SIMPLE MAN (LYNYRD SKYNYRD)
176.SITTING WISHING WAITING (JACK JOHNSON)
177.SIXTH AVE HEARTACHE (WALLFLOWERS)
178.SLEEPING TO DREAM (JASON MRAZ)
179.SLIP AWAY (CLARENCE CARTER)
180.SLIP SLIDING AWAY (PAUL SIMON)
181.SOMEBODY LIKE YOU (KIETH URBAN)
182.SON OF A SAILOR (JIMMY BUFFET)
183.SOUL SHINE (WARREN HAYNES)
184.SOUTHERN CROSS (CSNY)
185.SPRINGSTEEN (ERIC CHURCH)
186.STAND BY ME (BEN E. KING)
187.STAY (SUGARLAND)
188.STEELING (URIAH HEEP)
189.STEEL MY KISSES (BEN HARPER)
190.STICK BY MY SIDE (BOBBY V)
191.STILL MAKE CHEYANNE (GEORGE STRAIT)
192.STIR IT UP (BOB MARLEY)
193.STRONGER BY THE DAY (BOBBY 5)
194.SUGAREE (THE GRATEFUL DEAD)
195.SUNDAY MORNING COMING DOWN (K.K./JOHN C)
196.SUNDOWN (GORDON LIGHTFOOT)
197.SUNSPOT BABY (BOB SEGER)
198.SUSPICIOUS MINDS (ELVIS PRESLEY)
199.SYMPATHY FOR THE DEVIL (THE STONES)
200.SWEET CAROLINE (NEIL DIAMOND)
201.TAKE IT EASY (JACKSON BROWN)
202.TAKE IT ON THE RUN (REO SPEED WAGON)
203.TANGLED UP IN BLUE (BOB DYLAN)
204.TEACH YOUR CHILDREN (CSNY)
205.TEAR STAINED EYES (SUNVOLT)
206.TEQUILA SUNRISE (THE EAGLES)
207.THE FIRE IN YOU (BOBBY V)
208.THE GAMBLER (KENNY ROGERS)
209.THE GUINNESS SONG (BOBBY V)
210.THE HURRICANE (BOB DYLAN)
211.THE JOKER (STEVE MILLER)
212.THE LETTER (THE BOXTOPS)
213.THE NIGHT THEY DROVE DIXIE (THE
Influences & Inspiration
Too many to list! visit website
Setup Requirements
I have over 100,000 dollars worth of equipment for all types of shows.