Your list is empty.
Save musicians, entertainers, speakers, and services, and they'll appear here.
Free Quick Quote
This vendor provides virtual services
Back to Waitstaff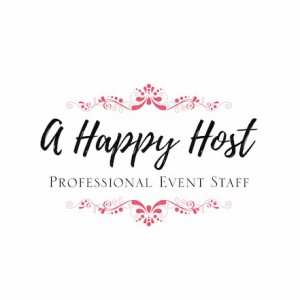 A Happy Host
4.94
(17 reviews)
Easton, MA
Travels up to 30 miles
Starting at $35.00 an hour
Get a Free Quick Quote
Overview
Bartenders & Servers for parties, weddings, showers and everything in between.
If you want to feel like a guest at your own party, you've come to the right place.
Our friendly & experienced staff gets right to work assisting with setting up, heating and serving of catered & restaurant prepared food. We will clean up your party area as well as consolidate all leftover food - We even do the dishes!
All of our staff are fully insured and our bartenders have 2 years + experience as well as being (TIP )
Certified they make a great addition to any party and or event.

OUR GOAL? That's simple, we want you (THE HOST ) to feel like a guest at your own party.
---
---
Booking Info
Price Range: Starting at $35.00 an hour
Gig Length: 180 - 820 minutes
Insurance: $1,000,000 - We are fully insured
What to Expect
Expect our servers to come to you 45 minutes before the party and expect our servers to stay until everything is completed and you are 100% happy!
Things that we do ~
Set up, serving, cutting & serving of the cake & all deserts, coffee and dessert display set up, light food prep, heating up, buffet setup & breakdown, plating and serving, passing hors-d'oeuvres, dishwashing, hand washing, consolidating, empty all trash,& lastly storing leftover food for you-
We do it all for you so you can sit back and enjoy your evening and your guests.
About
Hello and thank you for visiting.
My name is Stacy Lee Murphy and I have been in the food and service industry for over 27 years which includes fine dining, bartending, banquet server, and lead on many jobs that span over 27 years
I truly feel A Happy Host stands out from the rest for so many reasons but let's start with our attention to details that many other companies overlook sadly.
We at A Happy Host pay attention to those small little details that I personally feel are a pretty big deal when you enter into an event space ~ I feel when you are having a large event or maybe its just an intimate event in your home details make the first impression right and it is so true , you have only one chance to make that first impression so make it a good one!!
Examples of how you can easily get that lasting first impression
Put out a gorgeous flower arrangement and small candles carefully lit in every room, maybe it's the dimming of lights or the smell of a fire so guests can comfortably gather around, these few things make a party and set an instant "relax" tone and feel to your event.
When I have my own events my first thought is "how can I make my guests feel comfortable" I take this with me to every party I staff
I have trained my staff in these same details from the lighting and the small little things that make a party YOUR party from the decor and staging.
And not to mention we only have the friendliest and experienced staff in the area !!
I promise my staff will work their hardest to make sure your event is perfect and enjoyable for every single guest at your event ~ We guarantee you will feel like a guest at your own party and we make that happen time and time again.
As no extra cost to you, any party over one hundred guests I will attend your party and personally work with you to make sure your event is perfect in every way ~ My hostess skills are top notch I bring to you my professionalism and expertise to any event. I am experienced in party planning and all types of service.
I hope to hear from you soon and as always, thank you !!
Additional Booking Notes
We truly make you feel like a guest at your own party.
We come on time to your event and take care of all of your needs.
We are here to help YOU, we want you to relax & truly enjoy every second of your event with your friends and family.
While you're making memories we are making sure everything is perfect for you and your guests.
You worked to hard to put this all together, now its time for us to help!
Services Offered
Upcoming Booked Events
August 14, 2021

•

5:30pm - 11:00pm
Dricols party
Past Booked Events
July 24, 2021

•

12:00pm - 4:00pm
Party

July 24, 2021

•

12:00pm - 5:00pm
remembrance

July 18, 2021

•

10:30am - 3:30pm
Baby shower Brunch

June 26, 2021

•

1:30pm - 7:30pm
Birthday party

June 18, 2021

•

6:00pm - 10:00pm
Kristens 50th Bday

June 12, 2021

•

2:00pm - 6:00pm
Cocktail Party

June 11, 2021

•

6:00pm - 10:00pm
Stacy Janice

June 06, 2021

•

3:00pm - 7:00pm
Graduation Party

March 30, 2019

•

5:00pm - 10:30pm
Birthday Party

January 26, 2019

•

5:00pm - 10:00pm
Birthday Party

November 22, 2018

•

4:00pm - 10:00pm
Christmas Party

November 16, 2018

•

4:00pm - 10:00pm
Corporate Event

November 06, 2018

•

8:00pm - 11:00pm
School Assembly

September 29, 2018

•

4:00pm - 10:00pm
Personal Occasion

September 08, 2018

•

4:30pm - 10:30pm
Personal Occasion

September 08, 2018

•

12:30pm - 4:00pm
House Party

September 01, 2018

•

2:00pm - 8:00pm
Personal Occasion

July 15, 2018

•

1:00pm - 4:00pm
Wedding Reception

July 15, 2018

•

10:30am - 12:30pm
Baby Shower

July 07, 2018

•

3:00pm - 6:30pm
Personal Occasion

July 01, 2018

•

3:00pm - 7:00pm
Graduation

June 15, 2018

•

6:30pm - 10:30pm
Birthday Party

December 16, 2017

•

5:00pm - 7:00pm
Christmas Party

November 23, 2017

•

12:00pm - 4:30pm
Holiday Party (Other)

October 28, 2017

•

3:30pm - 7:30pm
Birthday (Adult)

October 14, 2017

•

4:00pm - 9:30pm
Wedding Reception

August 06, 2017

•

3:00pm - 8:00pm
Birthday (Adult)

July 29, 2017

•

4:30pm - 10:00pm
Wedding Reception

July 02, 2017

•

3:00pm - 8:00pm
House Party

July 01, 2017

•

4:00pm - 10:00pm
Birthday (Adult)

June 06, 2017

•

4:00pm - 7:00pm
Graduation

June 02, 2017

•

7:00pm - 10:00pm
Religious Celebration

May 27, 2017

•

4:30pm - 10:30pm
Wedding Reception

May 26, 2017

•

5:00pm - 8:00pm
House Party

May 21, 2017

•

2:00pm - 6:00pm
Funeral/Memorial Service

May 06, 2017

•

2:00pm - 6:00pm
Wedding Reception

December 31, 2016

•

6:00pm - 10:00pm
Holiday Party (New Year)

December 23, 2016

•

5:30pm - 8:30pm
Cocktail Party

December 17, 2016

•

5:00pm - 11:00pm
House party Holidays

December 09, 2016

•

8:00pm - 11:00pm
Holiday party

December 08, 2016

•

6:00pm - 10:00pm
Company party